This Week, May 13-17, 2019
Read the latest news from the Academy.

Recent Academy Activity, May 13–17, 2019
Reminder—Please Take the Academy Member Survey
A reminder to check your email for the Academy's member survey, sent this week from an independent email address. The survey will anonymize your answers. We want to gain a deeper understanding of your views on what is fundamental to the needs of our self-regulating profession and what is most important to you in our engagement with our key stakeholder groups. The email was sent from noreply@qemailserver.com—please add this address to your safe senders list and/or check your junk-mail folder if you don't think you have received it. The deadline to respond is Thursday, May 30.
Academy Serves as Host to IAA Meeting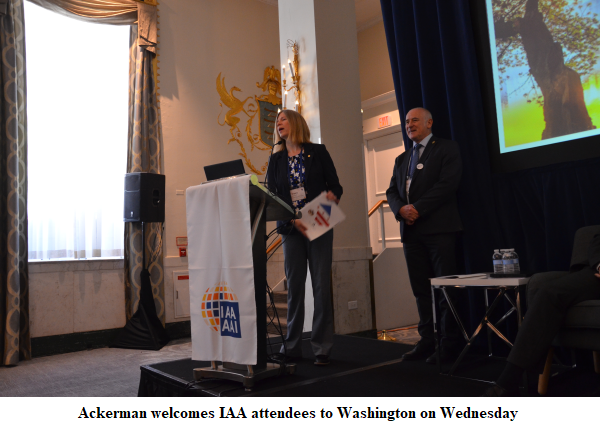 The Academy is the host organization for the International Actuarial Association's (IAA) council and committee meetings in Washington, D.C., this week. President Shawna Ackerman welcomed IAA attendees from around the world to Washington on Wednesday, and highlighted the Academy-produced locals' guide to D.C. (for a mobile-friendly version, click here). The meetings continue through this weekend.
Linda K. Stone Named the Academy's New Senior Pension Fellow
The Academy announced Thursday that Linda K. Stone will be its new senior pension fellow, effective Monday. Stone, a leading pension actuary and nonprofit volunteer with more than 25 years' experience dedicated to improving defined-benefit and defined-contribution retirement solutions, will help shape and communicate the Academy's work on pension, Social Security, and other retirement security issues to the public, policymakers, and the news media. Read the news release.
Next Week—Register for Capitol Forum Webinar on Cyber Risk Insurance
Join the Academy next Thursday for a Capitol Forum webinar, "Cyber Risk Insurance: Evolving Legal and Regulatory Environment," which will provide an overview of the current state of cyber risk insurance. Speakers will focus on the evolving legal and regulatory environment for this fast-growing coverage, discuss terrorist or foreign government-backed attacks, compare policy and regulation across national borders as well as information-sharing, and more. The webinar will be held May 23 from noon to 1:30 p.m. EDT. Continuing education credit will be available. Register today.
Academy Practice Areas Comment on Modeling ASOP
The Academy's five practice-area councils all commented this week on a fourth exposure draft of a proposed modeling actuarial standard of practice (ASOP). Comments were due Wednesday to the Actuarial Standards Board (ASB). See each practice-area comment letter below—all comments on the proposed ASOP are available on the ASB website.
Professionalism Outreach
Former Council on Professionalism and Academy Board member Al Beer provided an overview of the role and processes of the Actuarial Board for Counseling and Discipline (ABCD) for attendees of the Actuarial Society of Greater New York's spring meeting in New York City on Monday.

Committee on Professional Responsibility member Geoffrey Sandler delivered a presentation, "Professionalism: Self-Regulation in Action," to attendees of the Actuaries Club of Philadelphia's meeting on Tuesday. Club Secretary Art Lucker noted that "ACP members especially enjoyed the professionalism case studies" on which Sandler facilitated discussion.

Council on Professionalism member Al Bingham Jr. provided insights into how the professionalism infrastructure housed within the Academy can help actuaries address ethical challenges in a presentation to actuaries attending KPMG's Advisory University Live event in Orlando, Fla., on Wednesday. Bingham reviewed the basic structures and key elements of U.S. actuarial professionalism, identified tools and resources available to help actuaries keep up to date on professionalism, and examined case studies to stimulate discussion.

Academy General Counsel and Director of Professionalism Brian Jackson provided an overview of the role and processes of the ABCD to attendees of the Mid-Atlantic Actuarial Club's meeting in Columbia, Md., on Wednesday.
Public Policy Outreach
Academy Assistant Director for Research (Public Policy) Steve Jackson reviewed the Academy's original research paper on reference pricing in health care at the Actuaries Club of Philadelphia meeting on Tuesday. Jackson's session received many compliments from attendees.
Recently Released
The Academy updated its Essential Elements reports on Medicare's Long-Term Sustainability Challenge and Securing Social Security with information from the newly released 2019 Medicare and Social Security trustees' reports. The Essential Elements series is designed to make actuarial analyses of public policy issues clearer to general audiences.

The Congressional Research Service cited the Academy in four footnotes (12, 74, 88, 119) in its updated report on issues surrounding the market for private flood insurance.
Public Policy Activity
The Intersector Group released the notes of its March meeting with the Pension Benefit Guaranty Corporation.
Upcoming Events
In the News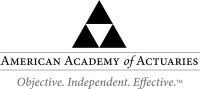 Follow the Academy on Facebook, LinkedIn, and Twitter.

---
1850 M Street NW • Suite 300 • Washington, DC 20036 • 202.223.8196 • www.actuary.org
Copyright 2019 American Academy of Actuaries. All rights reserved.