Cyber Risk Insurance: Evolving Legal and Regulatory Environment
Slides and audio are now available. To view them, log in to your Academy member account.

Capitol Forum Webinar
Cyber Risk Insurance: Evolving Legal and Regulatory Environment
Thursday, May 23, 2019 | Noon to 1:30 p.m. EDT | CE Available
Member: $50 (Discount code required.)

Nonmember: $100

Government Regulators: Free (Register by email)
ABOUT THIS WEBINAR
During this webinar, our speakers presented an overview of the current state of cyber risk insurance, focusing on the evolving legal and regulatory environment for this fast-growing coverage. They discussed terrorist or foreign government-backed attacks, comparisons of policy and regulation across national borders, complementary efforts by government and the private sector, information-sharing, and more. The discussion was led by Edmund Douglas, chairperson of the Academy's Cyber Risk Task Force.
PRESENTERS
Wyatt Hoffman
Senior Research Analyst, Cyber Policy Initiative at the Carnegie Endowment for International Peace
Scott Kannry
Chief Executive Officer, Axio
Leigh Wolfrom
Policy Analyst, Organisation for Economic Co-operation and Development, Directorate for Financial and Enterprise Affairs
MODERATOR
Edmund Douglas, MAAA, FCAS
Chairperson, Cyber Risk Task Force
CONTINUING EDUCATION CREDIT
The American Academy of Actuaries believes in good faith that attendance at this live webinar constitutes an organized activity as defined under the current Qualification Standards for Actuaries Issuing Statements of Actuarial Opinion in the United States, and that attendees may earn up to 1.8 CE credits for attending this live webinar.
ABOUT OUR PRESENTERS
 
Edmund Douglas, MAAA, FCAS
Edmund Douglas is the chairperson of the Cyber Risk Task Force at the American Academy of Actuaries. He has led the Academy's efforts in this area since 2017, representing the Academy on various cyber-related matters including a Congressional Cybersecurity Caucus on Capitol Hill as well as discussions with the Nuclear Regulatory Commission. He has spoken and written on the topic several times. Douglas began his career at Willis Towers Watson where he worked with a diverse array of clients, including global property and casualty insurers, excess and surplus lines writers, and non-traditional reinsurers. While at Willis Towers Watson he served as a subject matter expert on cyber risk and contributed to the firm's thought leadership on the topic. He currently works at QBE North America where he leads the reserving work for the firm's Alternative Markets portfolio.
Wyatt Hoffman
Wyatt Hoffman is a senior research analyst with the Cyber Policy Initiative at the Carnegie Endowment for International Peace. His research focuses on cyber strategy, private sector cyber capabilities, emerging technologies, and the intersection of nuclear weapons and cybersecurity. He is a graduate of Carnegie's James C. Gaither Junior Fellows Program and was a Rotary Global Grant Scholar in Peace and Conflict Prevention and Resolution at King's College London's Department of War Studies. Wyatt recently co-authored the article, "Addressing the Private Sector Cybersecurity Predicament: The Indispensable Role of Insurance."
Scott M. Kannry
Scott M. Kannry is the chief executive officer of Axio, a cyber resilience optimization company that helps organizations effectively align controls and capabilities to minimize cyber risk and maximize the ability to recover fully when security failures occur. He is the architect of Axio's 4-quadrant cyber loss impact taxonomy and the methodology for evaluating and stress testing insurance portfolios, a process designed specifically to better align overall cyber exposure with insurability. This approach was the first to codify the reality that cyber predicated losses can trigger numerous lines of insurance coverage. Previously, Kannry worked at Aon PLC where he established and led the eastern region professional and cyber solutions team. While at Aon, he specialized in advising firms on emerging cyber exposures and designing customized risk transfer solutions. Kannry worked with firms in all sectors but focused on critical infrastructure industries including energy, utility, and transportation.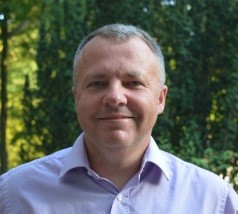 Leigh Wolfrom
Leigh Wolfrom is a policy analyst in the OECD's Directorate for Financial and Enterprise Affairs, focused on undertaking research and policy analysis on the financial management of disaster risks. In this role, he provides analysis and reports to the OECD Insurance and Private Pensions on a variety of disaster risk financing issues, including the financial management of flood risk, the contribution of reinsurance markets to managing catastrophe risks and financial instruments for managing disaster risks related to climate change. He also led the development of the OECD guidance on establishing disaster risks financing strategies to address the financial impacts of natural and man-made catastrophes. He recently developed a report on the cyber insurance market, examining the types of coverage available as well as the challenges to the further development of the market. Prior to joining the OECD, Wolfrom worked in the Financial Sector Policy Branch at the Canadian Department of Finance and at Global Affairs Canada on international financing issues.


QUESTIONS
For technical support, please contact BlueSky customer support at 888-705-6002 or 

support@blueskyelearn.com

.

For more information about this webinar, contact the Academy at 202-223-8196.
The "Academy Capitol Forum: Meet the Experts" webinar series is an opportunity for actuaries from across all practice areas to learn about a wide variety of public policy topics from the policy experts themselves. Webinars feature topics in health care, risk management, financial reporting, pensions and retirement income, property/casualty, and life insurance.