This Week, June 8–12, 2020
Read the latest news from the Academy.

Recent Academy Activity, June 8–12, 2020
Remembrance: Mary D. Miller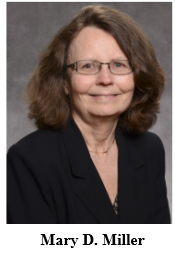 Mary D. Miller, past president of the Academy and recipient of the 2019 Jarvis Farley Service Award and the 2011 Robert J. Myers Public Service Award, died June 7 after a long battle with cancer.
Miller was the Academy's president during its milestone 50th anniversary and presided over the 2015 Annual Meeting and Public Policy Forum, which included many special events and a book, movie, and timeline celebrating the Academy's history. She was also prominently featured in an Academy-produced video about women in the actuarial profession released in conjunction with the anniversary, "A Great Career for a Man?"
She received the 2019 Farley award—which honors an actuary whose volunteer efforts on behalf of the Academy have made significant contributions to the advancement of the profession—in recognition of her prolific contributions of two decades of volunteer service and her efforts on behalf of the Academy as representative to the NAIC. Miller's many volunteer roles included serving on the Council on Professionalism, the Actuarial Board for Counseling and Discipline, the Committee on Property and Liability Financial Reporting, and as casualty vice president, among others.
Those who wish to do so may leave an online condolence at www.PenwellTurner.com.
Issue Brief Examines COVID-19's Effect on 2021 Health Insurance Premiums
As health insurers file proposed premium rates for 2021, a new Academy issue brief reveals how the COVID-19 pandemic has brought new uncertainties and complexities to the development of health insurance rates insureds will pay next year. The issue brief, Drivers of 2021 Health Insurance Premium Changes: The Effects of COVID-19, explains that the coronavirus pandemic will affect 2021 premiums dependent on a number of different assumptions.
"Premium changes are based on how costs of care, enrollment, and other factors are expected to change relative to insurers' assumptions that were used in setting premiums for the current year, and the COVID-19 pandemic has brought new unknowns and opposing trends into the mix," said Academy Senior Health Fellow Cori Uccello. "The pandemic has introduced both positive and negative cost pressures within the health care system, and uncertainties to key projections such as claims that could be sensitive to possible subsequent waves of infection and illness."
ASB Approves Exposure Draft of Revision of ASOP No. 28
The Actuarial Standards Board (ASB) approved an exposure draft of a revision of Actuarial Standard of Practice (ASOP) No. 28, now titled Statements of Actuarial Opinion Regarding Health Insurance Assets and Liabilities. The ASOP provides guidance to actuaries when performing actuarial services with respect to issuing or reviewing a statement of actuarial opinion regarding health insurance assets and liabilities. The comment deadline for the exposure draft is Nov. 13. Information on how to submit comments can be found in the exposure draft.
June 30 Comment Deadline for ASOP No. 11: A reminder that the June 30 deadline is approaching for comments on the exposure draft of ASOP No. 11, Reinsurance Involving Life Insurance, Annuities, or Health Benefit Plans in Financial Reports. The ASB extended a previous deadline because of the coronavirus pandemic. The exposure draft can be viewed here.
COPLFR Releases FAQ for Appointed Actuaries on COVID-19 Considerations
The Committee on Property and Liability Financial Reporting (COPLFR) released frequently asked questions (FAQs) on financial reporting topics related to COVID-19. P&C Financial Reporting Considerations With Respect to COVID-19 was developed to assist appointed actuaries as they contend with the various uncertainties and challenges pertaining to loss reserving in light of the pandemic and related financial and regulatory developments. COPLFR expects to release periodic updates; email casualty@actuary.org with thoughts and questions for the committee to consider.
Professionalism Outreach
ASB member Cande Olsen delivered a remote presentation, "The ASOP Advantage: The Latest on ASB Standards-Setting," to the Actuaries Club of Boston on Wednesday that was attended by more than 140 people. The presentation reviewed the ASB standards-setting process and provided an update on life, health, and cross-practice standards. Olsen concluded by urging attendees to engage in the ASB's transparent process for proposing and commenting on standards and changes to standards, including using the ASB's new template for commenting on exposure drafts.
Academy's Service and Volunteerism Award Nominations—Deadline Is Two Weeks Away
The deadline for nominations for the Academy's service awards is June 26. Nominate a deserving colleague who has made a difference through public service, or has demonstrated an enduring contribution to the U.S. actuarial profession, or has made a meaningful volunteer contribution in the past year, by nominating him or her for one of the Academy's annual prestigious service and volunteerism awards.
NAIC Summer Meeting to Be Virtual
The National Association of Insurance Commissioners announced this week that its Summer 2020 National Meeting will be virtual. The meeting—which was scheduled to be held Aug. 8–11 in Minneapolis—is tentatively planned to be spread over a three-week period beginning the week of July 27 and wrapping up the week of Aug. 10. Registration will open June 23, and meeting times will be available by July 6 on https://www.naic.org/meetings_events.htm.
Public Policy Activity
The Academy published an issue brief examining the potential impact of the Setting Every Community Up for Retirement Enhancement (SECURE) Act. The issue brief was developed by Senior Pension Fellow Linda K. Stone in conjunction with the Retirement System Assessment and Policy Committee and the co-chairpersons of the Lifetime Income Risk Joint Committee.

The Annuity Reserves Work Group gave an update to the NAIC VM-22 (A) Subgroup on the preliminary framework elements for fixed annuity PBR.
Upcoming Events
In the News
Several media outlets, including Bloomberg Law, Fierce Healthcare, and Healthcare Dive, cited the Individual and Small Group Markets Committee's issue brief outlining the major factors driving premium changes for 2021, including the impact of COVID-19.

A CNBC article highlighted the Academy's Pension Assistance List (PAL) program, which provides professional services to consumers who have questions about their pension plans.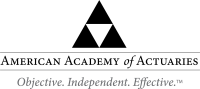 If you would like more information or to contact the Academy, please visit us at www.actuary.org/content/about-us
Follow the Academy on Facebook, LinkedIn, and Twitter. Listen to our podcast.
---
1850 M Street NW • Suite 300 • Washington, DC 20036 • 202.223.8196 • www.actuary.org
Copyright 2020 American Academy of Actuaries. All rights reserved.