This Week, July 6–10, 2020
Read the latest news from the Academy.

Recent Academy Activity, July 6–10, 2020
PPC Releases Asset Allocation Issue Brief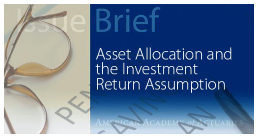 The Pension Practice Council (PPC) published an issue brief, Asset Allocation and the Investment Return Assumption, which details why the investment return assumption is usually determined by the asset allocation, and not the other way around. Subtitled "Don't Put the Cart Before the Horse," the issue brief's highlights include discussions on:
The expected investment return for a pension plan's assets used as the discount rate for public and multiemployer pension plan valuations is sometimes referred to as the "actuarial" rate of return;

The investment return assumption used to measure pension liabilities is sometimes treated as a return target for determining the asset allocation for a pension fund. Some find this practice can lead to increased investment risk; and

Why investment risk is typically reduced as a plan matures.
July Webinars Coming Up—Workers' Comp, IFRS 17, Professionalism
Stay plugged in—and obtain continuing education (CE) credit with three Academy webinars coming later this month.
Workers' Comp, July 22: In conjunction with a recent property/casualty issue brief, Workers' Compensation: Impact of COVID-19, this webinar will run from noon to 1:30 p.m. EDT. Dave Heppen, chairperson of the Workers' Compensation Committee, will moderate, and speakers will be committee members Derek Jones, Katrina Redelsheimer, and Doug Ryan. Register today.
IFRS 17, July 23: "IFRS 17 Insurance Contracts: Amendments to the Standard and Current Implementation Challenges" will explore the final amendments to International Financial Reporting Standard 17 (IFRS 17) issued by the International Accounting Standards Board (IASB), and highlight the industry feedback and deliberations by the IASB in reaching the final language. Presenters will be Rodrigo Careaga, Rich Isherwood, and Marc Oberholtzer, with IFRS 17 Work Group Chairperson Doug Van Dam moderating. The webinar will be from 2 to 3:30 p.m. EDT. Register today.
Professionalism, July 29: At the professionalism webinar "In Times of Uncertainty, Professionalism is Certain," presenters—Academy past presidents Shawna Ackerman, Bob Beuerlein, Tom Terry, and Tom Wildsmith, and President-Elect nominee Maryellen Coggins—will discuss the Code of Professional Conduct and the certainty of our standards to guide practice. Academy President D. Joeff Williams will moderate. Both CE and Joint Board for the Enrollment of Actuaries (JBEA) continuing professional education credit will be available. The webinar will run from noon to 1:30 p.m. EDT. Register today.
Bringing the Experts to You: PBR Boot Camp, P/C Loss Seminar Going Virtual
Experience two of the Academy's signature events—PBR Boot Camp and the Seminar on Effective P/C Loss Reserve Opinions: Tools for the Appointed Actuary—virtually this year. You'll get all the benefits of our top-rated seminars at these multi-day events, plus opportunities to earn valuable CE credit, in a convenient format. The Virtual PBR Boot Camp will be held in September, and the Seminar on Effective P/C Loss Reserve Opinions occurs in December. Stay tuned for more information on these can't-miss events—dates and details will be coming soon.
Upcoming CE Opportunities Next Month: Social Security, ASOP 51 Webinars
Mark your calendars for two pension webinars coming in August. Learn about Social Security and reform options during our Aug. 13 webinar and, in the Aug. 20 webinar, gain insights into ASOP No. 51, Assessment and Disclosure of Risk Associated with Measuring Pension Obligations and Determining Pension Plan Contributions. CE credit will be available. Registration for both events will open soon.
CLRS Moves to a Virtual Event
This year's Casualty Loss Reserve Seminar (CLRS) & Workshops will be a virtual event. To be held Sept. 15–17, this virtual meeting, co-sponsored by the Academy and the Casualty Actuarial Society, will offer opportunities for CE credit, networking, and meeting with exhibitors. Learn more by visiting the Virtual CLRS & Workshops website.
Upcoming Events
In the News
A WorkCompCentral column surveying state laws on compensability highlighted the Academy's June issue brief on presumptive benefits as a resource.

MLive reported that a primary challenger for a county commissioner seat in Muskegon County, Mich., referenced the Academy on pension funding issues in response to a candidate questionnaire.

Several local Illinois news outlets—Metro East Sun, Lake County Gazette, Will County Gazette, and North Cook News—used analysis from the Academy to help readers understand the reported funded status of local public pension plans.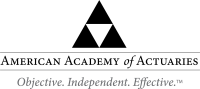 If you would like more information or to contact the Academy, please visit us at www.actuary.org/content/about-us
Follow the Academy on Facebook, LinkedIn, and Twitter. Listen to our podcast.
---
1850 M Street NW • Suite 300 • Washington, DC 20036 • 202.223.8196 • www.actuary.org
Copyright 2020 American Academy of Actuaries. All rights reserved.