This Week, July 27–31, 2020
Read the latest news from the Academy.

Recent Academy Activity, July 27–31, 2020
Reminder—Volunteer Survey Due Today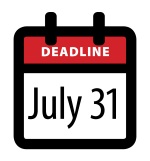 A reminder that responses to the Academy's annual volunteer survey are due today, July 31. The survey helps identify potential volunteers to actively assist many Academy committees in their work. There are some new opportunities on this survey; including a planning committee that will focus on continuing education opportunities for Enrolled Actuaries. Members should have received the survey via email on July 17; you may click here to access the survey, and it is also accessible in the members section of our website for logged-in Academy members.
Applicability Guidelines Updated
The Applicability Guidelines for Actuarial Standards of Practice have been updated for Actuarial Standard of Practice (ASOP) No. 56, Modeling. This ASOP affects all practice areas. Visit the Applicability Guidelines webpage, then scroll down the page to download the Excel file. As always, the Applicability Guidelines do not provide or state binding guidance but are intended to be a helpful tool for actuaries to use to assess what ASOPs may apply to their work.
Professionalism Webinar Rescheduled for August
Due to the technical failures of our webinar provider Blue Sky eLearn on Wednesday, the Academy's professionalism webinar, "In Times of Uncertainty, Professionalism is Certain," had to be rescheduled. The webinar has now been rescheduled for Aug. 20, from 11 a.m. to 12:30 p.m. EDT. Blue Sky has taken complete responsibility for the failures that caused the webinar to be canceled and communicated its apologies to all the registrants. Those who were previously registered will have their registrations automatically rolled over unless they request a refund. Those who wish to attend on Aug. 20 who were not already registered can register here.
Don't Forget: LHQ Early Registration Ends Today
Today is the last day to take advantage of early registration rates for the 2020 Life and Health Qualifications Seminar, to be held Nov. 9-12 in Arlington, Va. Don't miss out—register today and save.
Virtual PBR Boot Camp—Coming to You This September
Mark your calendars for the Academy's highly regarded PBR Boot Camp—coming to you virtually Sept. 14-17. Get an advance look at the agenda, which will provide useful and practical information for those at all levels of familiarity with PBR methodologies and reserve requirements. Participants will benefit from the depth of experience of the presenters and will have the opportunity to earn valuable continuing education (CE) credit, all in a convenient format. Registration will open soon.
Academy Presents at Virtual NAIC National Meeting
Several Academy presenters appeared this week before the National Association of Insurance Commissioners' (NAIC) virtual Summer 2020 National Meeting. The NAIC meeting continues for the next several weeks; look for more coverage next week.
ASOP No. 51 Practice Note Released
The Pension Committee published a practice note, ASOP No. 51: Risk Assessment in Practice, providing information to actuaries on current or emerging practices affected by ASOP No. 51, Assessment and Disclosure of Risk Associated with Measuring Pension Obligations and Determining Pension Plan Contributions.
Webinar Next Month: Related, join us for an Academy webinar Aug. 20 to hear observations on ASOP No. 51. This webinar will be grounded on the just-released practice note, referencing some of the illustrative examples that are included in it. The presenters will share perspectives from corporate, public, and multiemployer plans. Register today.
Academy Election—Notifications to Be Sent Next Week
Academy members should receive an email next week from our election vendor Intelliscan announcing that information regarding election of regular directors for the Academy's Board of Directors will be sent later in August, for an election period set to run from Aug. 21 through Sept. 4. These emails will be sent from academy2020@intelliscaninc.net—please ensure that you add this address to your safe-send list. We encourage members to familiarize themselves with the slate to be offered for election as the newest leaders of the Academy. For more information, visit the Academy's Board Election Center.
Public Employment Opportunity
The New York State Teachers' Retirement System is seeking a Manager of Actuary. This position supervises the Actuarial Department staff and coordinates all the work prepared by the department. The Manager manages deadlines with respect to the work, assigns staff to complete projects, and completes some work personally. Additionally, this position interfaces with other departments to provide advice and input with respect to benefit legislation and implementation and provides support and guidance to the Actuary as needed.
For more information and to apply, please click here.
The Academy has long supported government employers who are seeking to hire qualified actuaries. See our Public Employment Opportunity Posting Policy for more information.
Recently Released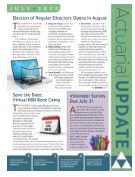 The July Actuarial Update highlights the upcoming online election of regular directors for the Academy's Board of Directors; previews September's Virtual PBR Boot Camp; covers this month's webinars on IFRS 17 contracts and workers' compensation and COVID-19; puts the 'Member Spotlight' on past Academy P/C Vice President Rade Musulin; and the "Professionalism Counts" column looks at 'Disclosures: A Matter of Integrity, Honesty, and Competence.'
The Summer HealthCheck includes a Q&A on the ASOP No. 6 public policy practice note released in late July. Also in the issue, a cross-practice Capitol Forum webinar on COVID-19 included health issues; another health webinar covered COVID-19 and 2021 rate filings; an online briefing for Capitol Hill staffers also covered COVID-19 and rate filings and risk mitigation mechanisms; health sessions are set for the Academy's Annual Meeting and Public Policy Forum; and state and federal legislative and regulatory activity.
Alerts
Public Policy Activity
Upcoming Events
In the News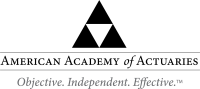 If you would like more information or to contact the Academy, please visit us at www.actuary.org/content/about-us
Follow the Academy on Facebook, LinkedIn, and Twitter. Listen to our podcast.
---
1850 M Street NW • Suite 300 • Washington, DC 20036 • 202.223.8196 • www.actuary.org
Copyright 2020 American Academy of Actuaries. All rights reserved.