This Week, July 13–17, 2020
Read the latest news from the Academy.

Recent Academy Activity, July 13–17, 2020
Academy Releases Annual Volunteer Survey
The Academy released its annual volunteer survey, which helps identify potential volunteers to actively assist many Academy committees in their work.
Academy President D. Joeff Williams' letter to members notes that volunteering with the Academy is an excellent way to affirm your personal commitment to the actuarial profession, and that it's because of the time and effort of the Academy's volunteers that our profession has a clear and effective voice in Washington, D.C., and the states.
Members should have received the survey via email on Friday, which is also available in the members section for logged-in Academy members. The survey is open through July 31.
Academy Announces New Membership Directory
The Academy is pleased to announce a brand-new, public-facing online membership directory where anyone can check whether you are currently an Academy member. This new directory is the latest of the many updates in website functionality made possible by the Academy's updated association management system in the past year. Just as with other associations, you must update any changes to your Academy member information directly on the Academy website through your member login. The member login allows you to provide immediate updates to your membership profile, add an additional area of practice, access Academy receipts online, and select Academy publications you wish to receive that may be outside of your primary practice area. The Academy Directory is the one source for accurate and reliable information about whether someone is an Academy member. If you encounter any problems, please email academydirectory@actuary.org.
Issue Brief Covers Actuarial Assumptions for Multiemployer Pension Plans
The Multiemployer Plans Committee released a new issue brief this week, Selection of Actuarial Assumptions for Multiemployer Plans. The issue brief "is meant to contribute to the public policy analysis of multiemployer pension plan issues by providing insights into some of the considerations that go into the selection of actuarial assumptions, and the approaches that actuaries use in practice." Among the key findings, the issue brief notes:
Two Webinars Next Week—Workers' Comp, IFRS 17
Obtain continuing education (CE) credit with two Academy webinars next week.
Workers' Comp, Wednesday, July 22: In conjunction with the recent property/casualty issue brief, Workers' Compensation: Impact of COVID-19, this webinar will run from noon to 1:30 p.m. EDT. Dave Heppen, chairperson of the Workers' Compensation Committee, will moderate, and speakers will be committee members Derek Jones, Katrina Redelsheimer, and Doug Ryan. Register today.
IFRS 17, Thursday, July 23: "IFRS 17 Insurance Contracts: Amendments to the Standard and Current Implementation Challenges" will explore the final amendments to International Financial Reporting Standard 17 (IFRS 17) issued by the International Accounting Standards Board (IASB), and highlight the industry feedback and deliberations by the IASB in reaching the final language. Presenters will be Rodrigo Careaga, Rich Isherwood, and Marc Oberholtzer, with IFRS 17 Work Group Chairperson Doug Van Dam moderating. The webinar will be from 2 to 3:30 p.m. EDT. Register today.
Professionalism Webinar—July 29
Join the Academy July 29 for the professionalism webinar, "In Times of Uncertainty, Professionalism is Certain." Presenters—Academy past presidents Shawna Ackerman, Bob Beuerlein, Tom Terry, and Tom Wildsmith, and President-Elect nominee Maryellen Coggins—will discuss the Code of Professional Conduct and the certainty of our standards to guide practice. Academy President D. Joeff Williams will moderate. Both CE and Joint Board for the Enrollment of Actuaries (JBEA) continuing professional education credit will be available. The webinar will run from noon to 1:30 p.m. EDT. Register today.
Early Registration Ends This Month for 2020 LHQ Seminar
Early registration runs through the end of July for the Academy's 2020 Life and Health Qualifications Seminar. The annual LHQ Seminar delivers the highest-quality and most efficient way to obtain any needed basic education or relevant continuing education credit necessary to qualify to issue actuarial opinions for either the NAIC Life and Accident & Health (A&H) Annual Statement or the NAIC Health Annual Statement. Register by July 31 and save.
Public Policy Activity
Upcoming Events
In the News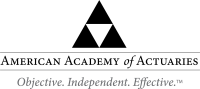 If you would like more information or to contact the Academy, please visit us at www.actuary.org/content/about-us
Follow the Academy on Facebook, LinkedIn, and Twitter. Listen to our podcast.
---
1850 M Street NW • Suite 300 • Washington, DC 20036 • 202.223.8196 • www.actuary.org
Copyright 2020 American Academy of Actuaries. All rights reserved.