This Week, January 23–27, 2023
Keeping you in the know—the latest news from the Academy


RECENT ACADEMY ACTIVITY

|

Jan. 23–27, 2023
This Week … In a Minute

Have a minute? Catch up on the week's top stories with the latest "This Week … In a Minute " video. Subscribe to our YouTube channel to receive alerts as new videos are released.
COPR Releases New Paper as Part of Discussion Series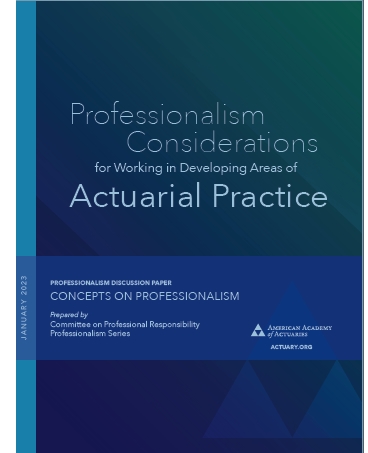 The Committee on Professional Responsibility (COPR) released a new paper, Professionalism Considerations for Working in Developing Areas of Actuarial Practice, as part of its ongoing discussion series. The paper is intended to raise awareness of the requirements of the U.S. Qualification Standards with respect to work in emerging areas and to help actuaries determine whether they are qualified to practice in a developing area. Visit the Professionalism page to stay on top of the latest resources and publications.
Next Week—Pension Webinar to Examine ARPA, Multiemployer Plans
Join the Academy for next week's pension webinar, "Insights Into the American Rescue Plan Act (ARPA) Multiemployer Plan Special Financial Assistance (SFA) Application Process," which will cover lessons learned from actual multiemployer plan SFA applications to date. Attendees will hear a discussion from the Pension Benefit Guaranty Corporation (PBGC) on what's new, as well as PBGC's standards of review for assumption changes. The webinar will be Tuesday, Jan. 31, from noon to 1:30 p.m. EST. Register today.
PBR Webinar Series to Kick Off in March
The Life Practice Council's PBR Implementation Work Group is planning a 2023 webinar series on principle-based reserving (PBR) issues. It will kick off with the March 15 "PBR Boot Camp: Governance and Reporting," which will offer an introduction to VM-20 and VM-21 and cover model and governance and NAIC reporting improvements. Following, on April 19 and 26, will be a two-part discussion on asset modeling, which will cover hedging, reinvestment mix, recap governance, VM-20, reinvestment decisions, GA vs. SA modeling, stochastic scenario generation, and prescribed assumptions. Registration will open soon.
Don't Forget—P/C, Life & Health Law Manuals Available
Don't miss out—make sure you have the latest requirements at your fingertips. Updated annually, the Academy's Life and Health Valuation Law Manual and the Property/Casualty Loss Reserve Law Manual are available online or on a flash drive for both single and group users, providing flexibility for you to purchase the version best for you and your work.
Public Policy in Focus
The Climate Change Joint Task Force sent a letter to the U.S. Global Change Research Program regarding the draft of the Fifth National Climate Assessment. The letter provided insights from the task force on climate trends, including a discussion on the Actuaries Climate Index—co-sponsored-by the Academy—and discussed health impacts from climate and climate related financial disclosures.
Visit the Public Policy page to stay on top of the latest news and activities.
In the News
Events Calendar
Webinar price adjustments take effect Feb. 1—As part of an ongoing investment in the Academy's technology platform and strengthening educational programs offered by the Academy, prices for webinars will be adjusted to $55 for members ($110 for non-members) and $500 for groups. The changes will take effect Feb. 1. On-demand recordings for all Academy webinars will continue to be made available free of charge for Academy members. Visit the Events Calendar for the latest updates to past and upcoming Academy offerings.
Coming Next Week
The January Actuarial Update, out next week, includes a report from the Academy's recent Board meeting; the Bureau of Labor Statistics will be reaching out to health insurance companies as part of its gathering of producer price index data; and a "Professionalism Counts" column discusses the new COPR professionalism paper.

The 2022 edition of The Record—the Academy's annual report to the membership and the public—will also be released next week. This informative volume recaps the work of Academy volunteers over the past year in serving the public and the profession.

PLEASE DO NOT REPLY TO THIS EMAIL. THIS EMAIL ADDRESS IS NOT MONITORED.
If you would like more information or to contact the Academy, please visit us at www.actuary.org/content/about-us
Follow the Academy on Facebook, LinkedIn, and Twitter. Listen to our podcast.
To update your Academy email communication preferences, please login and update your Academy member profile.
---
1850 M Street NW • Suite 300 • Washington, DC 20036 • 202.223.8196 • www.actuary.org
Copyright 2023 American Academy of Actuaries. All rights reserved.