This Week, August 31–September 4, 2020
Read the latest news from the Academy.

Recent Academy Activity, August 31 – September 4, 2020
Academy Office Closed for Labor Day
The Academy's operations will be closed Monday, Sept. 7, for Labor Day.
USQS Exposure Draft—Comments Due Oct. 30
The Academy's Board of Directors has approved the release of an exposure draft of revisions to the currently effective Qualification Standards for Actuaries Issuing Statements of Actuarial Opinion in the United States (USQS). The comment deadline for the exposure draft is Oct. 30. Click here for the Academy email this week to members, and for information on how to submit comments, click here.
Online Election of Academy Regular Directors Ends Tonight
A reminder that the two-week online voting period for Academy regular directors ends tonight, Friday, Sept. 4, at 11:59 p.m. EDT. We encourage members to take part in electing the newest leaders of the Academy who will help us fulfill our mission to serve the public and the U.S. actuarial profession. Visit the Academy's Board Election Center for more information.
Recently Released
The August Actuarial Update covers the Academy's premier annual event, the Annual Meeting and Public Policy Forum, which will be held for the first time as a virtual event this year. Also in the issue: coverage of last month's widely attended professionalism webinar; the Virtual PBR Boot Camp coming up Sept. 14–17; professionalism and public policy presentations to the NAIC's Virtual Summer National Meeting; the "Member Spotlight" profiles the Health Practice Council's Susan Pantely; and the "Professionalism Counts" column looks at the helpful resources provided by the Applicability Guidelines.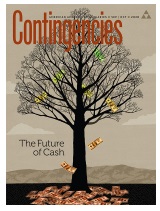 In the September/October issue of Contingencies, the cover story, "Following the Money—The Future of Cash," takes a look at physical currency, and whether the conventional method of payment may be on the way out. Other features include "On Target—Pursuing the Quadruple Aim in Health Care," which takes aim at reducing costs in health care; and "Dire Diagnosis," which asks whether life underwriting is equal to the current moment. Plus, a President's Message from Academy President D. Joeff Williams on quality at a glance; three aspects of risk intelligence in Commentary, and a climb up a family tree in End Paper.
The Retirement Report's summer issue includes a spotlight Q&A on the July asset allocation issue brief subtitled "Don't Put the Cart Before the Horse." Also in the issue: coverage of last month's two pension webinars, on Social Security and the ASOP No. 51 practice note; several pension issue briefs from the past few months; and recent legislative and regulatory activity, including that related to COVID-19.
Limited Time Left to Register for September's PBR Boot Camp
There's just a week left to register for the Academy's Virtual PBR Boot Camp—don't miss out on this highly regarded seminar that will provide useful and practical information for those at all levels of familiarity with principle-based reserving (PBR) methodologies and reserve requirements. The program will provide you with the knowledge you need to understand PBR requirements and to effectively operate within the now fully implemented PBR framework. Daily and group rates are available. Registration ends next Friday, Sept. 11. Visit our website to see the agenda and register.
Upcoming Webinars—Health Equity, ASOP No. 6 Practice Note
Register today for these two upcoming continuing education opportunities.
Catch Up on 'Actuary Voices' Podcast
Take some time over the long weekend to catch up on the Academy's latest "Actuary Voices." The most recent podcast features an interesting and wide-ranging conversation with Academy Life Vice President Laura Hanson, who talked about her experience with unconscious bias, how art influenced her career, and how the profession can continue to grow with new actuaries. Check the archives for more interviews with Academy members as they discuss professionalism, practice areas, and personal stories. Subscribe to "Actuary Voices" via iTunes, Spotify, or other podcast services. Click here to listen now.
Academy Featured in Nationally Syndicated Story on Health Costs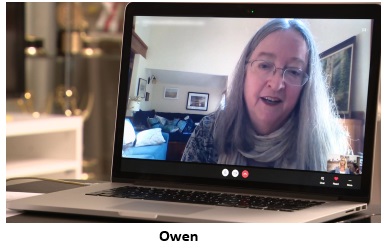 Academy Health Practice Council member Rebecca Owen shared comments on the costs of the COVID-19 pandemic in the nationally syndicated "Spotlight on America" TV segment. In the story, which focused on a patient whose insurance to date covered all but $3,000 of a $1.1 million hospitalization, Owen shared that systemic cost impacts of COVID-19 are complex, potentially impacting not just premiums but also costs of publicly funded health insurance, while costs for longer-term conditions will also be a factor. As of press time, 41 TV stations and one radio station had aired the story.
Federal Reserve Seeking IPAC Members
The Federal Reserve Board is soliciting statements of interest from individuals who wish to be considered for membership on the Insurance Policy Advisory Committee (IPAC). The IPAC provides information, advice, and recommendations to the Fed on international insurance capital standards and other insurance issues. Additional information about the selection process, including instructions for submitting a statement of interest, can be found in the Board's Federal Register notice and its press release. The Fed will consider statements of interest submitted to IPAC@frb.gov by Monday, Sept. 14.
Public Employment Opportunity
The Florida Office of Insurance Regulation (Office) is seeking a "self-motivated actuary interested in working with a dedicated team to assist in the regulation of the ever-changing and dynamic property and casualty insurance market in Florida." The applicant would be reviewing rate manuals, rate schedules, and rate-related provisions of insurance policies for compliance with Florida statutes dealing with insurance and advising the Office in the development of relevant rules and regulations governing insurance rates and disclosure to consumers. In addition, the Office chairs several important NAIC Committees, having a national impact on the insurance market in this country. Interested candidates should send a resume to: Sandra Starnes, 200 East Gaines Street, Tallahassee, FL 32399-0330, email to Sandra.Starnes@floir.com, or fax to 850-922-3865.
The Academy has long supported government employers who are seeking to hire qualified actuaries. See our Public Employment Opportunity Posting Policy for more information.
Public Policy Activity
Upcoming Events
In the News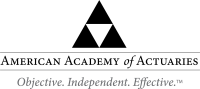 If you would like more information or to contact the Academy, please visit us at www.actuary.org/content/about-us
Follow the Academy on Facebook, LinkedIn, and Twitter. Listen to our podcast.
---
1850 M Street NW • Suite 300 • Washington, DC 20036 • 202.223.8196 • www.actuary.org
Copyright 2020 American Academy of Actuaries. All rights reserved.