This Week, August 24–28, 2020
Read the latest news from the Academy.

Recent Academy Activity, August 24–28, 2020
Health Equity Webinar Set for September
The Academy will host a Capitol Forum webinar next month on health equity issues. "Exploring Health Equity in a Time of COVID-19 and Beyond" will feature a panel of experts who will describe what health equity is and the drivers of health disparities. The COVID-19 pandemic has exposed significant differences in health outcomes by race and ethnicity, with Black and Latino people being more likely to contract and die from the virus than white people. Such disparities are not new, but rather reflect persistent long-term patterns. Presenters will share their insights and activities related to data and quality measurement, innovative provider and payer models designed to meet individual- and community-level medical and nonmedical needs, and opportunities for cross-sector collaboration. The webinar will be held on Monday, Sept. 14, from noon to 1 p.m. EDT. Register today.
Health/Pension Webinar From ASOP No. 6 Practice Note Work Group Set for September
Join the Academy next month for a public policy work group webinar, "Practice Note on ASOP No. 6: A Discussion of the Exposure Draft." The webinar provides the work group's perspectives on the ASB's July exposure draft of a practice note on ASOP No. 6, Development of Age-Specific Retiree Health Cost Assumptions for Pooled Health Plans, Including Applications to Non-Pooled Health Plans, to provide information for actuaries valuing retiree health benefit plans.
Please note: This is not an Academy professionalism webinar sponsored by the Council on Professionalism or the Actuarial Standards Board, but rather a from-the-trenches public policy webinar designed to give attendees valuable information on this challenging area of practice. Continuing education (CE) credit will be available. The webinar will be held on Thursday, Sept. 17, from noon to 1:30 p.m. EDT. Register today.
Register Today for the Academy's 2020 PBR Boot Camp—Don't Miss Out
You have just two weeks to register for the Academy's Virtual PBR Boot Camp, to be held Sept. 14–17. Sessions over four days will provide useful and practical information for those at all levels of familiarity with PBR (principle-based reserving) methodologies and reserve requirements in a virtual platform that will enable all to attend safely and still have opportunities for live engagement. Have a group of Academy members from your organization who are interested in attending? Take advantage of our discounted group rates. You'll receive one free registration for each six Academy members you register. You also have the option to register for daily rates.
Participants will benefit from the presenters' depth of experience for this highly regarded seminar and will have the opportunity to earn valuable continuing education (CE) credit. Topics include life insurance and implementation of VM-20; overviews on PBR life insurance assets; reinsurance; variable annuities; and regulator and auditor reviews and updates, among many others. See the full agenda and register on the PBR Boot Camp webpage.
LHQ Seminar Going Virtual
The Academy's annual Life and Health Qualifications Seminar will be a virtual event this year. This highly engaging basic and continuing education seminar is for those seeking qualification requirements to sign statutory statements of actuarial opinion for NAIC life and health filings. You'll also have the opportunity to take the optional exam if you need to obtain the basic education requirements of Section 3 of the U.S. Qualification Standards to issue actuarial opinions for the NAIC Life or Health Annual Statements. Earn up to 27 hours of CE credit, including up to 2.7 professionalism hours. It's now even easier for you to join us for the Nov. 9–12 virtual event. Register today.
ACI Continues Upward Trend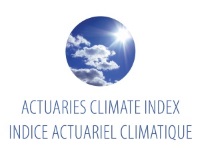 The Actuaries Climate Index (ACI) continued a multiyear trend of increasing climate condition measurements from the United States and Canada, reaching a new high in winter 2019–20, according to the latest ACI quarterly data released Wednesday. The ACI's key metric of a seasonal five-year moving average presents a composite measure of long-term changes across an array of observed weather extremes and sea levels in the two countries. The ACI is sponsored by the Academy, the Canadian Institute of Actuaries, the Casualty Actuarial Society, and the Society of Actuaries.
Federal Reserve Seeking IPAC Members
The Federal Reserve Board is soliciting statements of interest from individuals who wish to be considered for membership on the Insurance Policy Advisory Committee (IPAC). The IPAC provides information, advice, and recommendations to the Fed on international insurance capital standards and other insurance issues. Additional information about the selection process, including instructions for submitting a statement of interest, can be found in the Board's Federal Register notice and its press release. The Fed will consider statements of interest submitted to IPAC@frb.gov by Monday, Sept. 14.
Reminder—Online Election of Academy Regular Directors Ends Next Friday
A reminder that the two-week online voting period for Academy regular directors runs through next Friday, Sept. 4. Members should have received an Aug. 7 email from our election vendor, Intelliscan (academy2020@intelliscaninc.net); those without an email address should have received their ballots by regular mail. If you need help with or have questions about your ballot, you may send an email to Intelliscan's Keith Wier (kwier@intelliscaninc.com).
We encourage members to take part in electing the newest leaders of the Academy who will help us fulfill our mission to serve the public and the U.S. actuarial profession. Visit the Academy's Board Election Center for more information.
Public Policy Activity
The Committee on Property and Liability Financial Reporting submitted comments to the NAIC's Actuarial Opinion Working Group, suggesting changes to the wording in the Financial Examiners Handbook.

The Long-Term Care (LTC) Valuation Work Group gave a presentation to the NAIC's LTC Actuarial (B) Working Group on the work group's progress on the NAIC's requests that the work group develop a replacement mortality table for LTC active life reserves, develop a replacement lapse table, and consider developing tables for valuation on total lives basis as well as active lives basis.

The Multiemployer Plans Committee submitted comments to the IRS about a proposed form for reporting the annual actuarial certification for multiemployer defined benefit plans.
Upcoming Events
In the News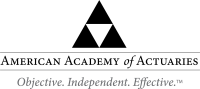 If you would like more information or to contact the Academy, please visit us at www.actuary.org/content/about-us
Follow the Academy on Facebook, LinkedIn, and Twitter. Listen to our podcast.
---
1850 M Street NW • Suite 300 • Washington, DC 20036 • 202.223.8196 • www.actuary.org
Copyright 2020 American Academy of Actuaries. All rights reserved.