This Week, Aug. 5 - 9, 2019
Read the latest news from the Academy.

Recent Academy Activity, Aug. 5–9, 2019
Online Election for Regular Directors Underway
Online voting began Thursday for regular director positions on the Academy's Board for terms that will begin on Nov. 5 at the close of the Academy's Annual Meeting. All Academy members eligible as of the July 19 voting eligibility cutoff date should have received the Aug. 8 email from our election vendor, Intelliscan (academy2019@intelliscaninc.net); those without an email address will receive ballots by regular mail. If you haven't seen the email, please check your junk-mail folder. The nominees are:
Online voting will run through Friday, Aug. 23, at 11:59 p.m. EDT. If you need help with or have questions about your ballot, send an email to Keith Weir (kweir@intelliscaninc.com). We encourage members to take part in electing the newest leaders of the Academy who will help us fulfill our mission to serve the public and the U.S. actuarial profession. Visit the Academy's Board Election Center for more information.
Academy Wraps Up NAIC Meeting Presentations
The Academy wrapped up presentations at the NAIC Summer 2019 National Meeting in New York City, including discussions with regulators at the Academy-hosted professionalism breakfast on Saturday, Aug. 3, where Academy President Shawna Ackerman, President-Elect nominee and Committee on Qualifications member Tom Campbell, Actuarial Standards Board Chairperson Kathy Riley, and Actuarial Board for Counseling and Discipline member Godfrey Perrott presented and fielded questions from regulators. They also gave professionalism updates to NAIC's Life Actuarial Task Force, Health Actuarial Task Force, and Casualty Actuarial and Statistical Task Force.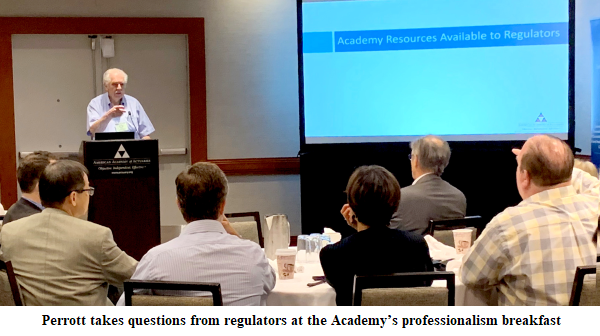 For more on the Academy's NAIC meeting activity, including casualty, health, life, and cross-practice presentations, read the post-NAIC Academy alert.
Next Week—Capitol Forum Webinar on National Retirement Policy
The Academy will host a Capitol Forum webinar next week, "Toward a U.S. National Retirement Policy—A Dialogue on Key Elements for Success," which will look at key issues involving U.S. retirement security and the increasing need for the establishment of a comprehensive national retirement policy that articulates guiding principles for the U.S. retirement system. Eric Keener, chairperson of the Retirement System Assessment and Policy Committee, will moderate, and the presenters will be Romina Boccia, director of the Grover M. Hermann Center for the Federal Budget at the Heritage Foundation; Teresa Ghilarducci, economics professor and director of the Schwartz Center for Economic Policy Analysis at the New School for Social Research; and James B. Lockhart III, senior fellow and co-chair at the Bipartisan Policy Center's Commission on Retirement Security and Personal Savings. The webinar is next Wednesday, Aug. 14, from noon to 1:30 p.m. EDT. Register today.
Alert
Upcoming Events
In the News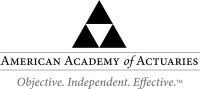 Follow the Academy on Facebook, LinkedIn, and Twitter.

---
1850 M Street NW • Suite 300 • Washington, DC 20036 • 202.223.8196 • www.actuary.org
Copyright 2019 American Academy of Actuaries. All rights reserved.