This Week, Aug. 23–27, 2021
Read the latest news from the Academy.

Recent Academy Activity, Aug. 23–27, 2021
Academy Annual Meeting & Public Policy Forum Registration Now Open; In-person or Virtual Access Available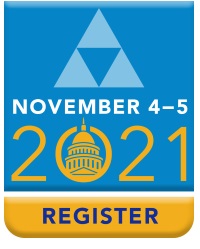 Registration is open for the Academy's 2021 Annual Meeting and Public Policy Forum, to be held as a hybrid event on Nov. 4–5. Attendees will have the option to join us at the Fairmont Hotel in Washington, D.C., or virtually from your home or office. The event will include plenary and practice-area breakout sessions, and the Academy will also present its annual service awards (see next item).
Plenary sessions will include public policy developments in diversity, equity & inclusion affecting insurance and retirement systems; a cross-practice examination of COVID-19; and international-federal-state insurance capital and financial disclosure regulation. There will also be a professionalism plenary session, and for in-person registrants, a keynote speaker, to be announced. The event will also include practice-area breakout sessions in casualty, health, life, and pension.
Early registration discounts are available. Visit our website to learn more about the event and how you can register today.
Academy Service Award Recipients Announced
The Academy is pleased to announce the recipients of its annual service awards for 2021, which will be presented at the Annual Meeting and Public Policy Forum.
Cande Olsen will receive the Jarvis Farley Service Award, a lifetime achievement award that honors an Academy member whose volunteer efforts on behalf of the Academy have made significant contributions to the advancement of the profession. Eli Donkar will receive the Robert J. Myers Public Service Award, given to an Academy member who has made an exceptional contribution to the common good, either for a single noteworthy public service achievement or a career devoted to public service.
Four volunteers will receive the Outstanding Volunteerism Award, bestowed each year to those who have made a noteworthy volunteerism contribution that is above and beyond what is reasonably expected of an Academy volunteer: Dorothy Andrews, Joe Hicks, Annette James, and Karen Rudolph.
Look for more information on the award recipients in the forthcoming August Actuarial Update.
Webinar Covers Cyber Risk Issues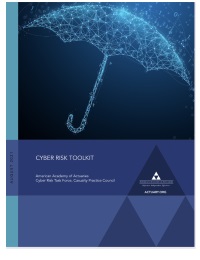 The Academy's casualty webinar, "Cyber Risk Trends and Issues in Insurance," was presented on Thursday. Moderated by Norman Niami, chairperson of the Casualty Practice Council's (CPC's) Cyber Risk Task Force (CRTF), the presenters were Erin Kenneally, director, cyber risk strategy, Guidewire Software; Chris Hedenberg, director of data science, Corvus Insurance; and CRTF member Samuel Tashima. Panelists gave insights into cyber risk insurance issues—including the exposure to financial and reputational harm resulting from cyberattacks specifically and cybercrime generally—which has become so prevalent and persistent in recent years as to be commonplace. They discussed ransomware, cyber insurance rates, actuarial data, and predictive modeling, and took questions from attendees. Slides and audio will be available next week.
Cyber Risk Toolkit Released: In conjunction with the webinar, the CRTF released a series of papers combined together as a Cyber Risk Toolkit—resources for the general public, public policymakers, actuaries, the insurance sector, and other stakeholders. The toolkit is composed of an Introduction to Cyber, Cyber Threat Landscape, Silent Cyber, Cyber Data, Cyber Risk Accumulation, Cyber Risk Reinsurance Issues, and Ransomware. It may be updated periodically to reflect new and emerging work from the CRTF.
Online Election of Academy Regular Directors Ends Today

The online election of Academy Board regular directors ends today, Aug. 27, at 11:59 p.m. EDT. Eligible Academy members should have received ballots via email from the Academy's election vendor, Intelliscan (academy@intelliscaninc.net). Members are encouraged to take part in the Academy's election process. For more information on the candidates and the election process, please visit the Board Election Center.
Public Policy Activity
Upcoming Events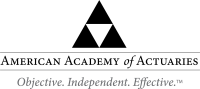 PLEASE DO NOT REPLY TO THIS EMAIL. THIS EMAIL ADDRESS IS NOT MONITORED.
If you would like more information or to contact the Academy, please visit us at www.actuary.org/content/about-us
Follow the Academy on Facebook, LinkedIn, and Twitter. Listen to our podcast.
To update your Academy email communication preferences, please login and update your Academy member profile.
---
1850 M Street NW • Suite 300 • Washington, DC 20036 • 202.223.8196 • www.actuary.org
Copyright 2021 American Academy of Actuaries. All rights reserved.