This Week, April 15-19, 2019
Read the latest news from the Academy.

Recent Academy Activity, April 15–19, 2019
Registration Open for Annual Meeting and Public Policy Forum
Registration is open for the Academy's 2019 Annual Meeting and Public Policy Forum, to be held Nov. 5–6 in Washington, D.C.
The meeting and forum offers attendees unique opportunities to discuss critical issues directly with policymakers and actuaries from all practice areas. Plenary sessions and practice-specific breakouts will deliver up-to-the-minute information about top public policy and professionalism issues unlike any other meeting you may have attended. It also offers many networking opportunities. Extra-early discounts are available through June 28. Register today.
Professionalism Webinar Looks at Ethical Decision-making
The Academy hosted its first professionalism webinar of 2019, "Promoting Ethical Decision-making: Rules, the Human Brain, and Cognitive Biases," on Thursday. Presenters Anita Cava, professor of business law and ethics at the University of Miami School of Business; Ken Kent, member of the Academy's Council on Professionalism; and Lisa Slotznick, Academy Board member and vice president, casualty, covered a range of issues and took questions from attendees. Academy General Counsel and Director of Professionalism Brian Jackson moderated.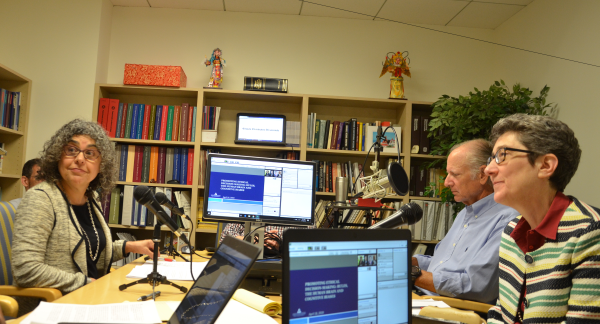 Cava (left), Kent, and Slotznick prepare for Thursday's webinar
Cava described how actuaries can address the unconscious cognitive bias virtually every person has, noting the courage needed to act. "That is, you are willing to make a decision that might affect your professional or personal standing," she said. "It's often said a single individual that believes strongly can affect the environment in which they are working and can make a difference. We must normalize the idea that we must all take risks ... to secure and protect core values."
Look for more coverage in the forthcoming April Actuarial Update. Slides and audio are available free for Academy members.
Academy Releases Locals' Guide to Washington, D.C., Ahead of Next Month's IAA Meetings
In preparation for the IAA Council & Committee Meetings that will take place May 15–18 in the nation's capital, Academy staff members have put together a locals' guide to the city with recommendations for the best places to eat, sights to see, and helpful hints so first-time visitors can make the most of their time in Washington. View the guide here (PDF) or click here for a mobile-friendly version.
ASB Approves Exposure Draft of a Revision of ASOP No. 2
The Actuarial Standards Board (ASB) recently approved an exposure draft of a revision of Actuarial Standard of Practice (ASOP) No. 2, now titled Nonguaranteed Elements for Life Insurance and Annuity Products. The standard applies to actuaries when performing actuarial services with respect to the determination and, if applicable, illustration of nonguaranteed elements (NGEs), except where noted in the standard, for life insurance and annuity products written on individual policy forms where NGEs may vary at the discretion of the insurer. The comment deadline for the exposure draft is July 15. Information on how to submit comments is in the exposure draft.
Next Week—P/C and Health Public Policy Webinars
The Academy will host two public policy webinars next week, one on property/casualty (P/C) matters and the other on health issues; continuing education credit is available for both.
The P/C webinar, "P/C Public Policy Update—Spring 2019," will cover the latest updates at the state and federal levels. Academy presenters will give professionalism updates, including NAIC initiatives on casualty actuaries' qualifications and credentials and the ASB's proposed ASOPs on modeling and assumptions. The presenters will also cover predictive modeling, state activities, and issues related to distracted driving. Presenters are Lisa Slotznick, vice president, casualty; Senior P/C Fellow Rich Gibson; and Roosevelt Mosley, chairperson of the Automobile Insurance Committee. The webinar will be held on Tuesday, April 23, from noon to 1 p.m. EDT. Register today.
At the health webinar, "A Conversation With CCIIO on 2020 Rate Filings," a representative from the Center for Consumer Information and Insurance Oversight (CCIIO) of the Centers for Medicare & Medicaid Services (CMS) will discuss the changes to the 2020 unified rate review template (URRT) and instructions. CCIIO will demonstrate changes by filling out a URRT template, and attendees will be able to ask questions on topical questions. Presenters are Brent Plemons, deputy director in CMS/CCIIO's Rate Review Division, and Barb Klever, chairperson of the Academy's Individual and Small Group Markets Committee. The webinar will be held on Wednesday, April 24, from noon to 1:30 p.m. EDT. Register today.
Reminder—May 1 Deadline to Nominate Academy Regular Directors
A reminder to members—the May 1 deadline is approaching to submit your recommendations for Academy regular directors, who are elected to the Board of Directors by the membership in an online election from a slate of candidates presented by the Nominating Committee. Review the criteria and how to submit nominations in the Academy's Board Election Center.
Alerts
The Academy released a recap of its professionalism and public policy activity at the NAIC Spring 2019 National Meeting, held in early April in Orlando, Fla. Read the Academy alert.

CMS issued the final Notice of Benefit and Payment Parameters for 2020. Read the Academy alert.

The Congressional Budget Office released a package of four products aimed at explaining the agency's new health insurance simulation model, HISIM2. Read the Academy alert.
Upcoming Events
In the News
A subscriber-only P&C Specialist article cited comments from Academy Senior P/C Fellow Rich Gibson providing historical context on the development of catastrophe modeling. The article also cited the Academy's jointly sponsored Actuaries Climate Index, which provides a quarterly gauge of changes in extreme weather events and sea levels.

Barron's and Inside Nova (Va.) cited the Actuaries Longevity Illustrator, developed jointly by the Academy and the Society of Actuaries.

An Oregonian story noted the Academy's analysis that pension plans should have the objective of accumulating assets equal to 100 percent of a relevant pension obligation.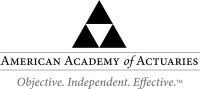 Follow the Academy on Facebook, LinkedIn, and Twitter.

---
1850 M Street NW • Suite 300 • Washington, DC 20036 • 202.223.8196 • www.actuary.org
Copyright 2019 American Academy of Actuaries. All rights reserved.