This Week, May 3-7, 2021
Read the latest news from the Academy.

Recent Academy Activity, May 3–7, 2021
Webinar Covers NAIC Life Actuarial Issues, Economic Scenario Generator Update
The Life Practice Council (LPC) hosted "Academy Life Practice Webinar: Spring 2021 Policy Update" on May 5. Presenters were Mike Boerner, chairperson of the National Association of Insurance Commissioners' (NAIC's) Life Actuarial (A) Task Force (LATF), and Jason Kehrberg, chairperson of the LPC's Life Valuation Committee. The Academy's Life Vice President Laura Hanson moderated. Presenters discussed NAIC and LPC activity, and included a focused presentation on the latest developments on a proposed new NAIC Economic Scenario Generator for use in regulatory reserve and capital calculations. Slides and audio are available free to logged-in Academy members.
Professionalism Outreach
Council on Professionalism member Mike Ward virtually presented a general session "Professionalism Update from the Academy" to the Actuarial Society of Greater New York on Monday. The presentation provided an overview of the professionalism infrastructure housed in the Academy and gave updates on a wide range of activities such as the recent exposure of the U.S. Qualification Standards, and high-level look at recently effective, exposed, and soon-to-be-effective actuarial standards of practice (ASOPs). Ward also engaged the audience remotely with polling questions.
Group Rates Available for June's Virtual PBR Boot Camp
Have a group of Academy members from your organization who are interested in attending this year's Virtual PBR Boot Camp? Take advantage of our discounted group rates. You'll receive one free registration for each six Academy members you register. The seminar, which takes place June 7–9, features an agenda that will cover a full range of topics designed especially for those who may be relatively new to principle-based reserving (PBR), and will provide comprehensive information on PBR requirements now that PBR is fully implemented. Register now.
2019 Myers Award Recipient Zimmerman Retiring From IRS
Carolyn E. Zimmerman, former recipient of the Academy's prestigious Robert J. Myers Public Service Award, is retiring today from her service as Actuary with the IRS after almost 16 years. In her role with the IRS, she was instrumental in maintaining communication between regulators and the actuarial profession on important emerging pension regulatory concerns to the profession. Prior to her service with the IRS, she had a distinguished career as a pension consulting actuary and has been a dedicated Academy volunteer, including service as member and chairperson of the Academy's Pension Committee. She is also secretary of the Joint Board for the Enrollment of Actuaries, with which she has been active over the years of her public service. The Academy thanks her for her service both to the public and to the profession.
Recently Released
A May/June Contingencies feature builds a case for infrastructure investment. The cover feature story, "Our Nation's Neglected Infrastructure," grades the current state of U.S. infrastructure—while some improvement has occurred in recent years, more work remains to be done. And get ready to go vertical in "What's in Your Airspace?"—the skies are about to get a lot more crowded. Plus, a President's Message, "May the Fourth," from Academy President Tom Campbell on how the Academy built and maintains the infrastructure of professionalism that the profession relies on; and an Up to Code piece on following the ASOPs.
Register for the May 24 Health Equity Webinar
Join the Academy's Health Equity Work Group for "Health Equity: An Actuarial Perspective," a webinar that will offer an important discussion of issues involving health disparities facing our country and an update on the work group's efforts to address those concerns. The webinar will be held on May 24, from noon to 1:15 p.m. EDT. Register today.
COVID-19 Life Webinar Set for May 25
The Academy's Life Practice Council is presenting a webinar, "The Impacts of COVID-19 on the Life Insurance Industry," to look at COVID-19's impacts on the life insurance industry and explore the near- and longer-term effects on life insurance. Experts in the insurance field will discuss the impact of COVID-19 on financial results, explore COVID-19's impact on mortality experience, and consider possible impacts on life insurance operations including underwriting and pricing. Senior Life Fellow Nancy Bennett will moderate the discussion. The webinar will be held on May 25, from noon to 1:30 p.m. EDT—register today.
Public Employment Opportunity
The Illinois Department of Insurance is seeking to hire an actuary to perform supervisory work for actuarial examiners and actuarial consultants in the conduct of actuarial analysis and examination of life, accident, and health insurance companies. This position requires meeting the Academy's U.S. Qualification Standards for actuaries issuing Statements of Actuarial Opinion in the life area of actuarial practice. The department invites all qualified candidates to apply here.
The Academy has long supported government employers who are seeking to hire qualified actuaries. See our Public Employment Opportunity Posting Policy for more information.
Public Policy Activity
The Health Practice Council's Financial Reporting and Solvency Committee sent a comment letter to the NAIC's Health Actuarial (B) Task Force regarding a proposed exposure draft of a modification to the definition of "actuarial assets" as used in the instructions for the Health Statement of Actuarial Opinion. The letter is a follow-up to an April 19 letter commenting on a previous draft of the proposal.
Upcoming Events
In the News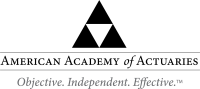 If you would like more information or to contact the Academy, please visit us at www.actuary.org/content/about-us
Follow the Academy on Facebook, LinkedIn, and Twitter. Listen to our podcast.
---
1850 M Street NW • Suite 300 • Washington, DC 20036 • 202.223.8196 • www.actuary.org
Copyright 2021 American Academy of Actuaries. All rights reserved.