This Week, May 10-14, 2021
Read the latest news from the Academy.

Recent Academy Activity, May 10–14, 2021
PPC Conducts Virtual 'Hill Visits' With Congressional Offices and Federal Agencies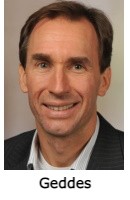 Pension Practice Council (PPC) volunteers and Academy staff virtually visited with the offices of federal policymakers and regulators Monday and Tuesday during their "Hill visits," discussing a number of key pension topics including Social Security, multiemployer pension plans, lifetime income, and retirement security, generally. Almost 20 Academy volunteers took part in about two dozen meetings with U.S. House and Senate committee staff members, and with representatives from federal agencies including the Treasury Department, Congressional Budget Office, and the Government Accountability Office.
"The visits provided an excellent opportunity for the PPC to highlight recently published and upcoming Academy publications and to discuss a number of recent legislative and regulatory developments," said Tim Geddes, the Academy's vice president, pension.
Registration Open for November's LHQ Seminar
Registration is now open for the Academy's Life and Health Qualifications Seminar, which will be held in person this year in Arlington, Va. (outside Washington, D.C.) on Nov. 15–18. This always popular event delivers the highest-quality and most efficient way to obtain needed basic education or relevant continuing education (CE) credit necessary to qualify to issue actuarial opinions for either the National Association of Insurance Commissioners (NAIC) Life and Accident & Health (A&H) Annual Statement or the NAIC Health Annual Statement. Discounted registration rates are available—register today.
Academy Submits Letter to NAIC Special Committee on Race and Insurance
Academy President Tom Campbell submitted a letter Friday to the NAIC Special Committee on Race and Insurance on proposed charges regarding P/C and life insurance issues related to Workstream Three (property/casualty) and Workstream Four (life insurance and annuities).
Update on Academy Executive Director Search
Executive search firm Korn Ferry has begun the search for the Academy's next Executive Director. Those interested can find more information on the Korn Ferry website.
Pension Issue Brief Looks at Pooled Employer Plans
The PPC's Retirement System Assessment and Policy Committee released an issue brief, Pooled Employer Plans—Employer Considerations. Pooled Employer Plans are a significant development that could reduce costs, complexity, fiduciary liability/risks, and administrative burdens for employers seeking to offer 401(k) retirement plans, and could simplify the process for smaller employers that do not currently offer such plans.
Spring CE Opportunities: Life and Health Webinars, PBR Boot Camp
Register for upcoming Academy events that offer CE credit opportunities:
ASB Adopts ASOP No. 11 Revision
The Actuarial Standards Board (ASB) adopted a revision of Actuarial Standard of Practice (ASOP) No. 11, now titled Treatment of Reinsurance or Similar Risk Transfer Programs Involving Life Insurance, Annuities, or Health Benefit Plans in Financial Reports. The ASOP provides guidance to actuaries when performing actuarial services with respect to financial reports that reflect reinsurance programs that involve life insurance, annuities, or health benefit plans. It is effective for actuarial services performed in connection with financial reports issued on or after Dec. 1, 2022.
Recently Released
The ASB's Spring Boxscore covers the adopted revision to ASOP No. 11; a revision to ASOP No. 18, Long-Term Care; the ASB's annual report; a look ahead at future ASB activity, including at its upcoming June meeting; and a status report on ASB committee activity.
Professionalism Outreach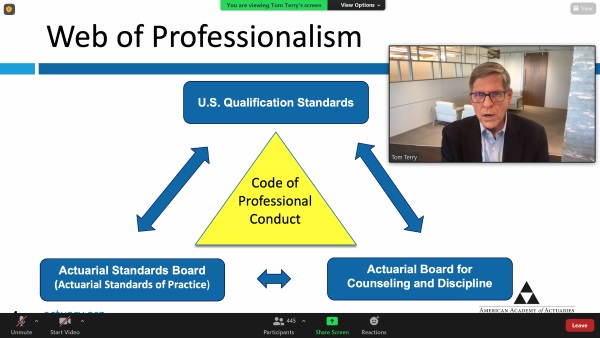 Academy Past President (2014) Tom Terry discussed "Emerging Professionalism Issues in 2021" in a presentation to the Actuaries' Club of Boston/Actuaries' Club of Hartford & Springfield joint virtual Spring 2021 Meeting on Wednesday. Among the topics covered were different approaches to regulation or self-regulation of actuarial professions globally and in the U.S., the resilience and continued applicability of the professionalism foundation housed in the Academy during times of change or crisis, and the top ethical challenges facing U.S. actuaries.
Public Policy Activity
Upcoming Events
In the News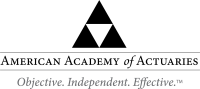 If you would like more information or to contact the Academy, please visit us at www.actuary.org/content/about-us
Follow the Academy on Facebook, LinkedIn, and Twitter. Listen to our podcast.
---
1850 M Street NW • Suite 300 • Washington, DC 20036 • 202.223.8196 • www.actuary.org
Copyright 2021 American Academy of Actuaries. All rights reserved.