This Week, January 18 - 22, 2021
Read the latest news from the Academy.

Recent Academy Activity, Jan. 18–22, 2021
COPLFR Releases P/C Practice Note, Law Manual
The Committee on Property and Liability Financial Reporting (COPLFR) released two new publications for property/casualty actuaries.
The practice note, Statements of Actuarial Opinion on Property and Casualty Loss Reserves, has been updated for issuing 2020 opinions. It is intended to assist actuaries by describing practices commonly employed by actuaries working on Statements of Actuarial Opinion (SAOs) on loss and loss expense reserves in accordance with the National Association of Insurance Commissioners' (NAIC) Property and Casualty Annual Statement Instructions. This year's practice note also contains considerations related to COVID-19. Actuaries might also find this information useful in preparing actuarial work products for other audiences.
The 2020 Property/Casualty Loss Reserve Law Manual is now available online for purchase and download. It contains useful information for actuaries, including:
SAO requirements and the laws and regulations establishing those requirements for every state, as well as Washington, D.C., and Puerto Rico;

Annual Statement instructions for SAOs for property/casualty, title loss, and loss expense reserves; and

Other pertinent Annual Statement instructions.
The law manual is available to subscribers both online and on flash drive, allowing actuaries to order the version that best meets their needs, and is also available by jurisdiction. Order today.
The Magic School Bus Is Back

Copies of the Academy's The Magic School Bus Takes a Risk: A Book about Probability are available for order. The Academy worked with Scholastic to create this custom-designed story that aims to support math education in schools and diversity in the actuarial profession. Bulk orders (10 or more copies) are available, as are sponsorship opportunities for organizations that would like to share the inspiration in this story within their own communities. Questions? Email msb@actuary.org.
Recently Released
The Winter HealthCheck includes a Q&A with Academy Senior Health Fellow Cori Uccello on some of the key health-related issues likely to be addressed by the Biden administration and the new Congress. Also in the issue, the Health Solvency Committee commented to the NAIC on several issues; a recap of the Annual Meeting and Public Policy Forum's health breakout sessions; the Life and Health Valuation Law Manual is available for preorder; and recent state and federal legislative, regulatory, and judicial activity.
GAO Seeks Nominees for Advisory Committee
The U.S. comptroller general, head of the U.S. Government Accountability Office (GAO), is responsible to appoint six to 15 individuals to serve as members of the State All Payer Claims Databases Advisory Committee to provide advice on the standardized format for voluntary reporting to State All Payer Claims Databases. Interested nominees should submit letters of nominations and resumes to SAPCDACappointments@gao.gov by Jan. 27. More information is available on the GAO's Jan. 5 Federal Register notice.
Upcoming Events
"Social Security Reform Options," March 16, pension webinar (registration opening soon)
In the News
A story in The Balance on life insurance blood testing cited a 2016 Academy presentation on simplified issue life insurance and accelerated underwriting.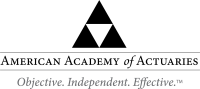 If you would like more information or to contact the Academy, please visit us at www.actuary.org/content/about-us
Follow the Academy on Facebook, LinkedIn, and Twitter. Listen to our podcast.
---
1850 M Street NW • Suite 300 • Washington, DC 20036 • 202.223.8196 • www.actuary.org
Copyright 2021 American Academy of Actuaries. All rights reserved.