HealthCheck, Winter 2021
Winter 2021
VOL 12 | NO 1

Q&A—Health Issues in the New Year


UccelloWith the new year we have a new administration and Congress in Washington, D.C.— which means different prospects for legislative and regulatory action on health policy than what we have seen over the past several years. President Joe Biden will be sworn in on Jan. 20, and an evenly divided Senate will be under Democratic control, with Vice President Kamala Harris presiding. The COVID-19 pandemic will also predominate the public health policy debate, with ongoing high numbers of infections and deaths and attention to the rollout of vaccines. HealthCheck asked Academy Senior Health Fellow Cori Uccello to look ahead to some of the key health issues facing public policymakers in 2021.
In a health policy context, what are the pandemic-related challenges that the incoming Biden administration will face?
The initial priorities of the Biden administration will be COVID-19-related, and these will include addressing several testing, treatment, and vaccine challenges. The nation is currently experiencing record numbers of both new cases and deaths—approaching 25 million and 400,000, respectively, as of time of publication; testing and contact tracing efforts have not been robust enough to contain outbreaks; and hospitals are facing bed shortages. A bright spot, if one can be derived, in the pandemic has been the unprecedentedly swift development of new therapeutics and vaccines. However, capacity needs to be built up for therapies that work, and to address vaccine distribution challenges—such as state resource needs and a lack of federal guidance—both of which are slowing vaccination rates.
What do you see in terms of longer-term challenges brought on by the pandemic?
Although the pandemic has created numerous short-term challenges, it's also created some longer-term possibilities for transforming the health system. In particular, there may be more of an impetus to move from fee-for-service provider payments toward value-based purchasing. As Dr. Mark McClellan of Duke University noted in his breakout session presentation at the Academy's Annual Meeting and Public Policy Forum in November, providers paid primarily on a fee-for-service basis have suffered significant revenue declines and financial instability during the pandemic, due to the deferral of health care services. In contrast, providers paid on a prospective basis, either in whole or in part, had more stable revenue streams, were less likely to incur staff reductions or closures, and could even expand service delivery as needed.
In addition, as noted in the Fall issue of HealthCheck, the pandemic has further exposed long-established differences in health outcomes by race and ethnicity. (The issue led with a Q&A with Annette James, chairperson of the Academy's new Health Equity Work Group.) The increased recognition of health disparities has created momentum for improving health equity. Similarly, we can expect more efforts to address the underinvestment in public health.
Turning to other issues, the U.S. Supreme Court in November held oral arguments in California v. Texas, which involves the constitutionality of the Affordable Care Act's (ACA's) individual mandate. What can we expect regarding this case in 2021?
There are several possible outcomes of the case, ranging from the status quo if the court rules that the mandate is constitutional to a major disruption if it rules the mandate is unconstitutional and can't be severed from the rest of the law, and everything in between. Based on questioning during oral arguments, it appears that the justices may rule that even if the mandate is unconstitutional that it can be severed from the rest of the law. In the meantime, with Democrats gaining control of the Senate, it becomes more likely that Congress will attempt to take action to make the court case moot, by setting a small non-zero tax penalty, declaring the mandate severable from the rest of the law, or repealing the mandate altogether.
With Democrats controlling the presidency and both houses of Congress, what changes can be expected in terms of the rules and laws governing the ACA health insurance markets?
Let me start first with regulatory changes. When new presidents take office, one of the first things they might typically do, assuming there is an ideological difference between the departing administration and the incoming, is change or rescind some of the rules implemented by the prior administration. The Biden administration will be no different. Without getting into the weeds of the various mechanisms that can be used to implement, change, or rescind rules, possible rules changes include: rescinding rules that expanded the availability of short-term limited duration plans and association health plans, implementing a special enrollment period, increasing advertising and outreach, rescinding guidance regarding section 1332 waiver guardrails, and ending the family glitch to allow family members of low-income workers to obtain premium subsidies in the exchanges.
In terms of potential legislation, given the Democrats have very narrow majorities in both houses of congress, it's more likely we'll see efforts at incremental changes as opposed to major initiatives. From a high-level perspective, some legislative changes can be done through budget reconciliation, a procedure which requires only a simple majority in the Senate for passage rather than a supermajority. These could include expanding eligibility for premium subsidies and increasing subsidy levels, providing financial incentives for states to expand Medicaid, and allowing individuals in non-expansion states who would have otherwise been Medicaid-eligible to access premium subsidies in the exchanges. Other initiatives, such as creating a public option, would need 60 votes to passin the Senate, making them less likely. That said, the Biden administration could encourage states to explore a public option through section 1332 waivers.
Aside from ACA market-related changes, what else is on the 2021 health policy agenda?
Bipartisan efforts are possible, as evidenced by the passage of surprise billing legislation at the end of last year. Issues that could garner bipartisan support include lowering prescription drug prices, increasing price transparency, making telehealth flexibilities permanent, and improving health equity. Something else to keep an eye on is the Medicare hospital insurance (HI) trust fund, which could deteriorate due to declining payroll tax revenues during the pandemic-related economic downturn. Last year's Medicare Trustees Report projected that the HI trust fund would be depleted in 2026. If, as expected, the 2021 Medicare Trustees Report projects an earlier depletion date, there will be more impetus for Congress to take action to improve Medicare's financial condition.
What is the Academy's Health Practice Council (HPC) doing to prepare for 2021?
The HPC has already been involved with many of the issues that will be on the 2021 health policy agenda. Throughout 2020, we spoke frequently with congressional offices and federal agencies and published papers about COVID-19's effects on health care utilization, spending, and premiums, and will continue to do so this year. We've also had discussions with career executive-branch officials regarding the impacts of changing ACA rules and regulations and will be examining more closely the effects of potential legislative changes. We are proactively exploring potential options to address COVID-19-related deteriorations in Medicare solvency as well as options to address longer-term Medicare financing challenges. We are also examining how telehealth has changed during the pandemic, and conducting research on how those changes have affected health equity. In addition, we'll be providing insights on Medicaid and long-term care issues. Needless to say, it will be quite a busy year for the HPC.
---
Annual Meeting Health Breakout Sessions
Health breakout sessions at the Academy's Annual Meeting and Public Policy Forum—held in November in a virtual format—covered an array of timely topics.
A Tour of Health Care Funding Around the World
The Academy's Health Practice International Committee (HPIC), the SOA International Section, and the International Actuarial Association Health Section (IAAHS) have compiled schematic diagrams to capture the main features of health financing systems for more than 30 countries, as detailed in the International Health Care Funding Report.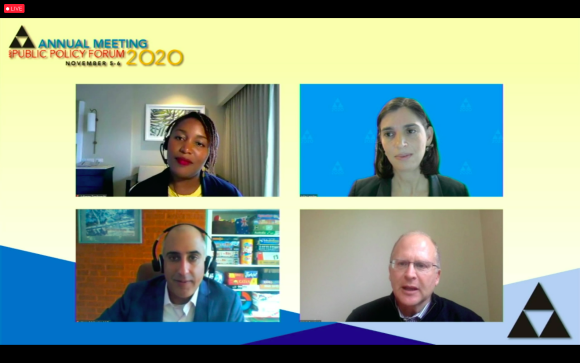 COVID-19 and the Future of Health Care panelists, clockwise from top left: Enekwechi, Lerche, Fendrick, and Mehrotra
Presenters at this session who were involved in developing the report were Shereen Sayre; Lisa Morgan; Stuart Rodger; Mitchell Momanyi, a member of the HPIC; and Jonathan Callund. HPIC Chairperson Joe Allbright moderated. They presented some of the report's findings and reviewed how national health care systems differ and are similar, by looking at some specific examples.
Sayre gave an overview of the report and classification of health funding schemes, citing the World Health Organization's statement that "universal health coverage means that all people have access to the health services they need, when and where they need them, without financial hardship. It includes the full range of essential health services, from health promotion to prevention, treatment, rehabilitation, and palliative care." Rodger presented on Singapore's system, Momanyi gave an overview of Kenya's, and Callund looked at Chile's, where he lives and works. Each discussed the varying roles of the private and public sectors, and different tiers of health services and funding in those countries.
Allbright gave an overview of the U.S. health care funding system, which he described as "complex, but understandably complex. … I think the story of the U.S. is managed complexity." He said that "in a way, we have a tour of health care systems around the world just by looking at different aspects of the U.S. system.
COVID-19 and the Future of Health Care Delivery and Payment
Whether COVID-19 will result in long-term changes to health care delivery and payment, and if such changes could include an increase in the use of telehealth, greater provider openness to capitation, and provider consolidation were examined in this session.
Speakers were Mark McClellan, director and professor of business, medicine and policy at Duke University's Duke-Margolis Center for Health Policy, and former commissioner, U.S. Food and Drug Administration, and former administrator, Centers for Medicare & Medicaid Services; Ateev Mehrotra, associate professor of health care policy, Harvard Medical School, and associate professor of medicine and hospitalist, Beth Israel Deaconess Medical Center; A. Mark Fendrick, director of the University of Michigan Center for Value-Based Insurance Design; and Adaeze Enekwechi, former president of IMPAQ International. The session was moderated by Julia Lerche, member of the Academy's Health Care Delivery Committee and chairperson of the Medicaid Subcommittee.
The pandemic and related economic downturn have affected the health care system in numerous ways, including increased financial challenges for providers and magnification of health inequities, Lerche said in setting up the discussion. Panelists focused on value-based purchasing, telehealth, and value-based insurance design, including in the context of health equity. McClellan noted that fee-for-service provider admissions declined at the start of the pandemic in the spring, but had rebounded back to about 95% of predicted admissions by July, although preventive measures such as mammograms and colonoscopies had not, and were about 30% below previous levels. "That's not the kind of health care system you want to have, and a lot of providers are trying to focus on getting back to normal," he said.
In discussing telehealth/telemedicine, Mehrotra noted an increase of its usage early in the pandemic, followed by a gradual decline in recent months. He said the issue of certain patients being left behind because they don't have a smartphone with data or broadband internet is important in the context of health equity and from a policy and clinical perspective.
Some of the challenges going forward uncertainty about plans for long-term usage that has deterred providers from investing in the technology; reticence over covering telemedicine visits permanently by health insurers or coverage requirements by government; and a concern that in a fee-for-service system there will be overuse of telemedicine.
Fendrick, who addressed value-based insurance design, said that with costs and affordability a top U.S. health care concern, almost everyone agrees there is enough money in the system, but the question is how best to spend it. "I think it's important particularly for actuaries to understand that the movement from volume to value will require not only the supply side or provider-facing initiatives, but also engage a bit more on the demand side regarding the allocation of high- and low-value care," he said. "Most Americans have taken financial hits from the pandemic, only likely to get worse—people are not buying and going to appointments to get the care they need, and are speaking out quite publicly that out-of-pocket costs are altering their behaviors. This will only get worse when deductibles kick in in January again." He added that "the key takeaway is we need to work with actuaries to create cost-neutral payment designs."
Enekwechi presented on health equity, offering a definition that "health equity is achieved when everyone has a fair opportunity to achieve their full health potential." She said health disparities are vast, persistent, and increasing, and "it's hard to be healthy without proper access to health care," which is exacerbated by lack of good quality jobs or affordable homes. Enekwechi outlined social determinants of health, "which affect multiple disease outcomes through multiple mechanisms," adding that "it's nice to see [health equity] become a key part of the conversation."
Regulating the Health Insurance Markets: What's New for 2021
Each year federal and state regulations are revised to reflect changes in the Affordable Care Act (ACA) and other policy changes. This year includes additional changes precipitated by the COVID-19 pandemic. Panelists in this session provided updates on regulations governing ACA marketplace coverages, and how COVID-19 has affected Medicaid and Medicare.
Presenters included Center for Consumer Information and Insurance Oversight (CCIIO) officials: Brent Plemons, director of the Office of Special Pricing Initiatives; Jeff Wu, deputy director for policy; Christina Whitefield, director of the Medical Loss Ratio Division; Lina Choudhry Rashid and Michelle Koltov, senior policy advisers; Allison Yadsko, health insurance specialist; as well as Allison Orris, counsel with Manatt, Phelps & Phillips, LLP and former associate administrator at the Office of Management and Budget and senior policy advisor at the Centers for Medicare and Medicaid Servicers (CMS). The session was moderated by Barb Klever, chairperson of the Academy's Individual and Small Group Markets Committee.
The presenters covered how risk corridors affect medical loss ratios, ACA Section 1332 State Innovation Waivers, and new, updated methodology. Orris covered some of the key considerations in Medicaid and Medicare as the pandemic continues.
HPC Task Force Comments on ASOP No. 22 Revision
A task force of the Health Practice Council commented to the Actuarial Standards Board on the second exposure draft of the proposed revision of Actuarial Standard of Practice (ASOP) No. 22, Statements of Actuarial Opinion Based on Asset Adequacy Analysis for Life Insurance, Annuity, or Health Insurance Reserves and Other Liabilities. Click here to see the comments.
Committee Comments to CCIIO on AV Calculator
The Individual and Small Group Markets Committee sent comments to the federal agency, Center for Consumer Information & Insurance Oversight (CCIIO), expressing concerns on the claims data updates finalized in the 2021 Actuarial Value (AV) Calculator. The comments are for consideration in preparing the draft 2022 AV Calculator.
Health Solvency Subcommittee Comments to NAIC
The Health Solvency Subcommittee commented to the National Association of Insurance Commissioners' (NAIC's) Health Risk-Based Capital (E) Working Group on two issues:
It sent a comment letter, and a verbal presentation was made to the working group, providing analysis on the NAIC's efforts to incorporate investment income into the existing underwriting risk factors within the health risk-based capital formula.
The subcommittee also submitted a comment letter in response to a further request from the working group which provides additional detail regarding the potential investment income adjustment factor for Health H2 Experience Fluctuation Risk.
The Individual and Small Group Markets Committee and its Risk Sharing Subcommittee submitted comments to the Centers for Medicare & Medicaid Services (CMS) on the Proposed Notice of Benefit and Payment Parameters (NBPP) for 2022.
Copyright © 2021 American Academy of Actuaries. All Rights Reserved.
1850 M Street NW, Suite 300, Washington, DC 20036
www.actuary.org

Phone: 202-223-8196