This Week, December 21, 2020 - January 8, 2021
Read the latest news from the Academy.

Recent Academy Activity, Dec. 21, 2020 – Jan. 8, 2021
Start the New Year With Updates on Academy's Life, P/C Activities
Join the Academy next week for webinars presented by the Life Practice Council and the Casualty Practice Council that will provide updates on recent activities and share insights on planned undertakings for 2021.
Continuing education credit will be available.
Review Your Membership Profile and 2021 Membership Dues
To continue receiving Academy publications on time, please make sure the Academy has your correct contact information. Members can update their profile, subscribe to Academy alerts, and review archived professionalism and public policy webinars via the member login page. Membership dues for 2021 were due on Jan. 1—please click here to pay membership dues online. If you have any questions or need additional information, please do not hesitate to contact the Membership Department at 202-785-6925 or membership@actuary.org.
P/C Loss Reserve, Life and Health Valuation Law Manuals Available
Academy law manuals are available to order:
Recently Released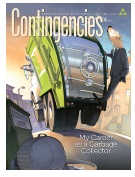 In the January/February issue of Contingencies, the cover story, "My Career as a Garbage Collector," offers a behind-the-scenes look at one actuary's experiences working at Warren Buffett's Berkshire Hathaway—don't miss this rollicking tale. Other features include "Is Data the Rx for Good Health Outcomes?"—which posits that the deluge of health data can be sifted into a treasure trove that drives better downstream medical decisions; and "Digital Decluttering"—which offers helpful tips to clean up your computer. Also, a President's Message from Tom Campbell on new challenges in the New Year; how actuaries can bring their skills to the defined contribution world; and Up to Code tells you how the Actuarial Board for Counseling and Discipline lends a hand in your hour of need. Academy members may opt out of receiving the print edition of Contingencies or change their mailing address in the "Update Your Academy Profile" section of the member login page.
The December Actuarial Update covers the Academy's update of the "Professionalism First" website, which is now more mobile-friendly. Also in the issue: A "Clear as a Bell" professionalism webinar examined the professionalism aspects of actuarial communications; the Academy presented to the National Council of Insurance Legislators and the NAIC on issues including race and insurance, and climate risk; the "Professionalism Counts" column is "Precept 8: The Responsibility That Comes With Power"; and remembrance of Arnold Dicke, recipient of the 2020 Jarvis Farley Service Award, charter member Davis Roenisch, and Heather Jerbi, former Academy assistant director of public policy.
The Fall/Winter StateScan Quarterly recaps the latest quarter's state legislation and regulation, with several states having begun the process of prefiling legislation for the 2021 legislative session. After a spring and summer spent largely focused on COVID-19-related measures, jurisdictions were able to turn their attention to other matters—while keeping a watchful eye on how the coronavirus was unfolding—with states passing measures on prescription drugs, public pension plans, auto insurance, principle-based reserving, and reinsurance.
Academy Surveying Pension Members on CE Preferences
The Academy sent a short survey to pension members Friday to gauge their preferences for earning Enrolled Actuary (EA) and continuing education (CE) credit under Joint Board for the Enrollment of Actuaries rules and the U.S. Qualification Standards. Responses are due next Friday, Jan. 15.
GAO Seeks Nominees for Advisory Committee
The U.S. comptroller general, head of the U.S. Government Accountability Office (GAO), is responsible to appoint six to 15 individuals to serve as members of the State All Payer Claims Databases Advisory Committee to provide advice on the standardized format for voluntary reporting to State All Payer Claims Databases. Interested nominees should submit letters of nominations and resumes to SAPCDACappointments@gao.gov by Jan. 27. More information is available on the GAO's Jan. 5 Federal Register notice.
Catastrophe Modeling Exposure Draft Comments Due Jan. 15
A reminder that the Jan. 15 deadline is approaching for comments to the Actuarial Standards Board's approved exposure draft of a revision of Actuarial Standard of Practice (ASOP) No. 38, now titled Catastrophe Modeling (for All Practice Areas). The ASOP provides guidance to actuaries when performing actuarial services with respect to selecting, using, reviewing, or evaluating catastrophe models. Information on how to submit comments using the new comment template can be found in the exposure drafts.
Public Policy Activity
Upcoming Events
In the News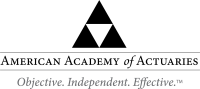 If you would like more information or to contact the Academy, please visit us at www.actuary.org/content/about-us
Follow the Academy on Facebook, LinkedIn, and Twitter. Listen to our podcast.
---
1850 M Street NW • Suite 300 • Washington, DC 20036 • 202.223.8196 • www.actuary.org
Copyright 2021 American Academy of Actuaries. All rights reserved.