This Week, April 5-9, 2021
Read the latest news from the Academy.

Recent Academy Activity, April 5–9, 2021
Academy Releases New Research Paper on Scalars Methodologies: Solvency Measures of Concern to U.S. and International Group Capital Regulatory Frameworks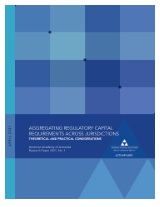 Since the financial crisis of 2007–08, regulators in the U.S. and around the world have recognized that the solvency of insurance groups as well as that of their individual legal entities need to be examined. The need for a measure of group capital adequacy has generated efforts at the National Association of Insurance Commissioners (NAIC) in particular, but also amongst the other players in "Team USA" (e.g., Federal Reserve Board), and to negotiations at the International Association of Insurance Supervisors (IAIS) over a group solvency capital standard for all Internationally Active Insurance Groups (IAIGs). Regulatory stakeholders in the United States (as well as some other countries) have been seeking to provide an alternative approach with a comparable measure of capital across jurisdictions that will help allow for a common understanding of IAIG capital adequacy to the approach the IAIS has determined to take with the International Capital Standard.
The Academy released an original research paper, Aggregating Regulatory Capital Requirements Across Jurisdictions: Theoretical and Practical Considerations, on scalar methodologies to aggregate capital requirements across regulatory frameworks. Scalars are a central part of efforts to develop capital adequacy measures for financial groups that operate businesses in more than one country and/or more than one industry. In a virtual presentation, Steve Jackson, assistant director for research (public policy), gave a summary of the paper Wednesday to the NAIC's International Insurance Relations (G) Committee during the NAIC's 2021 Virtual Spring National Meeting.
"Regulators examining the so-called building-block approach to regulating group capital solvency have been operating with very limited published, expert guidance on the design of scalars," Jackson said. "In this paper, the Academy has provided a roadmap to the complicated terrain of aggregating levels of capital across jurisdictions. Without recommending a specific route, the Academy has provided insight into some of the hazards along each of several routes and offered suggestions on how to minimize the risks." Read the Academy news release.
Due in part to the lack of expert guidance on scalar methodologies, this aspect of an alternative approach to the group capital measurement has proven a difficult process. The Academy's paper aims to provide analysis for all regulatory stakeholders worldwide and in particular to support U.S. regulators as they work to define the most appropriate scalar methods.
Academy Statement Regarding CAS Rescinded Ratemaking Principles
Following a Casualty Actuarial Society (CAS) statement earlier this month regarding the CAS board's response to member/regulator feedback on the rescinded CAS Statement of Principles on Ratemaking, Academy President Tom Campbell said that the Academy has issued and will continue to produce resources that will be useful to our members, the regulatory community, and the public that touch on P/C insurance ratemaking considerations, such as bias in data, assumptions, and models—but that practice notes are "not intended to provide interpretations of actuarial standards of practice, nor are they meant to be a codification of generally accepted actuarial practice."
Academy Provides Input to NAIC on Diversity and Inclusion Issues
In a letter sent Friday to the NAIC, Academy President Tom Campbell reiterated and reinforced the Academy's commitment to work with the NAIC's Special (EX) Committee on Race and Insurance to address diversity and inclusion concerns pertaining to insurance coverages. The comments were made regarding recently proposed 2021 charges of the committee.
Pension Webinar Looks at Multiemployer Plan Issues
The Pension Practice Council's (PPC) Tuesday webinar, "Multiemployer Pension Plan Provisions of the COVID-19 Stimulus Law: Overview and Implementation Considerations," examined provisions of the newly enacted American Rescue Plan Act of 2021 (ARPA), which provides relief to some underfunded multiemployer plans. Presenters were Multiemployer Plans Committee Chairperson Christian Benjaminson, Committee Vice Chairperson Joe Hicks and committee member and past Academy Pension Vice President Josh Shapiro. Senior Pension Fellow Linda K. Stone moderated.
Presenters reviewed some of the key challenges that faced multiemployer plans stemming from the 2008 financial crisis and looked at ARPA in context with other legislative efforts and proposals put forth in recent years. They covered issues related to the Pension Benefit Guaranty Corporation, and in the Q&A noted that while the new law addresses challenges for some troubled plans, it does not comprehensively reform the multiemployer system. Slides and audio are available for logged in Academy members.
Register Early for June's Virtual PBR Boot Camp
Early registration rates are available for the Academy's Virtual PBR Boot Camp, to be held June 7–9. It features an agenda that will cover a full range of topics, especially relevant for those who may be relatively new to principle-based reserving (PBR). Sessions will include external reviews of PBR, model overview and model governance, reserve change analysis and pricing projections, implementation of VM-20, mortality, additional liability assumption, reinsurance, an overview on assets, standard projection methodology, and sample reports. Daily and group rates are available—register today for the lowest rates to attend.
Professionalism Outreach
Academy President Tom Campbell on Monday provided actuarial science students at the University of Connecticut with an introduction to and overview of the Academy. Presenting virtually to the UConn Actuarial Society, he provided a high-level look at the Academy's recent public policy and professionalism activities and noted the dual aspects of the Academy's mission "are designed to work together to build the public's trust in the profession and our ability to regulate ourselves." Campbell wished students luck with their actuarial exams and described the value he has derived from being involved in actuarial associations, including the Academy, and urged them to join and become involved when eligible.
On Wednesday, Council on Professionalism member and Actuarial Board for Counseling and Discipline (ABCD) member William Hines provided the firm Risk and Regulatory Consulting with a virtual presentation, "A Look at Ethics and Professionalism." Hines described common ethical challenges facing actuaries, case trends before the ABCD, and engaged in a lively discussion with attendees regarding the Code of Professional Conduct considerations involved in several ethics case studies.
Recently Released
The Spring Casualty Quarterly includes a Q&A with the Casualty Practice Council's Cyber Risk Task Force Chairperson Norman Niami on cyber risk issues being addressed by the Academy, including a look at some forthcoming papers. Also in the issue, a report on a new issue brief on automobile insurance and COVID-19, news items on Senior Casualty Fellow Rich Gibson presentations on P/C issues at two events, the latest Actuaries Climate Index figures, and recent state and federal legislative and regulatory activity.
April CE Opportunities: Professionalism and Pension Webinars
The Academy will host professionalism and pension webinars later this month:
Public Policy Activity
Upcoming Events
In the News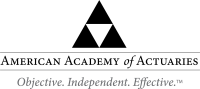 If you would like more information or to contact the Academy, please visit us at www.actuary.org/content/about-us
Follow the Academy on Facebook, LinkedIn, and Twitter. Listen to our podcast.
---
1850 M Street NW • Suite 300 • Washington, DC 20036 • 202.223.8196 • www.actuary.org
Copyright 2021 American Academy of Actuaries. All rights reserved.