This Week, May 27-31, 2019
Read the latest news from the Academy.

Recent Academy Activity, May 27–31, 2019
Last Chance—Email Member Survey Responses Due Today
A final reminder to check your email for the Academy's member survey, the last email reminder for which was sent Thursday from an independent email address—noreply@qemailserver.com. Please check your junk-mail folder if you don't think you've received it.
The Academy is conducting this survey in order to gain a deeper understanding of our members' views on what is fundamental to the needs of our self-regulating profession and what is most important to you in our engagement with our key stakeholder groups. The survey is anonymous. The deadline to respond is today, May 31.
Academy Urges NAIC to Reconsider Proposed Definition of 'Qualified Actuary'
The Academy, in a May 30 letter signed by President Shawna Ackerman, expressed concerns with the NAIC's May 1 exposure draft of the P/C Statement of Actuarial Opinion Instructions that would, among other changes, alter the definition for "Qualified Actuary."
"The Academy was created and continues to serve as the accrediting organization for actuaries practicing in the U.S.," the letter states, adding that the proposed changes to the Instructions raise questions about applicable standards and "create confusion and dilute the existing understanding and recognition of the actuarial qualification requirements."
Recently Released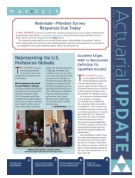 The May Actuarial Update covers the Academy's representation of the U.S. actuarial profession internationally at three events this month; author and political commentator P.J. O'Rourke will kick off the Academy's Annual Meeting and Public Policy Forum in November with an opening keynote address; the Casualty Practice Council's Capitol Forum webinar on cyber risk insurance, and a new cyber risk insurance guide; and the "Professionalism Counts" column reviews experience requirements for actuaries, including basic and continuing education.
Notice of Public Discipline
The Academy issued a Notice of Public Discipline, effective May 28, 2019, regarding John R. Gibney.
Professionalism Outreach
Academy Past President Tom Terry (2013-14) gave a professionalism presentation to the Columbus (Ohio) Actuarial Club on Wednesday. Terry's presentation focused on the basic structures of U.S. actuarial professionalism, recent professionalism developments, and how professionalism is fundamental to the Academy's mission to serve the public and the profession.
Your Feedback Requested—P/C Loss Reserve Law Manual
The P/C Loss Reserve Law Manual is updated annually and designed to help appointed actuaries know the requirements for statements of actuarial opinion. As we begin to prepare the next edition, we would like to invite you—whether you previously purchased it or not—to share your feedback about the law manual. Please take this short survey by June 7.
Public Employment Opportunity
The Employee Benefits Security Administration (EBSA) of the Department of Labor has a public employment opportunity for a senior actuary with a health and welfare benefit specialty. Among other duties, the position would provide actuarial support related to EBSA's regulation and supervision of Multiple Employer Welfare Arrangements. Position information is available here; the application deadline is next Tuesday, June 4.
Public Policy Activity
Alert
Upcoming Events
In the News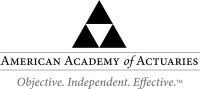 Follow the Academy on Facebook, LinkedIn, and Twitter.

---
1850 M Street NW • Suite 300 • Washington, DC 20036 • 202.223.8196 • www.actuary.org
Copyright 2019 American Academy of Actuaries. All rights reserved.