This Week, November 12-16, 2018
Read the latest news from the Academy.
Recent Academy Activity, Nov. 12–16, 2018
Editor's note: Due to the upcoming Thanksgiving holiday, the Academy will not publish This Week next week. The next issue will be published on Friday, Nov. 30.
Academy Presents at NAIC Fall National Meeting
Academy volunteers gave a series of presentations this week at the NAIC Fall 2018 National Meeting in San Francisco, addressing a variety of life, health, casualty, and professionalism topics.
Presentations to NAIC's Life Actuarial Task Force (LATF) included:
In the health area:
Academy President Shawna Ackerman provided an update on the latest activities of the Academy's Committee on Property and Liability Financial Reporting and Casualty Practice Council (CPC) to NAIC's Casualty Actuarial and Statistical Task Force (CASTF). The Academy's HPC/ CPC joint work group also gave an update on bond risk-based capital factors.
Academy Past President Mary D. Miller, Actuarial Standards Board (ASB) Chairperson Beth Fitzgerald, and Actuarial Board for Counseling and Discipline member Godfrey Perrott presented updates on Academy professionalism activities, including to CASTF and HATF.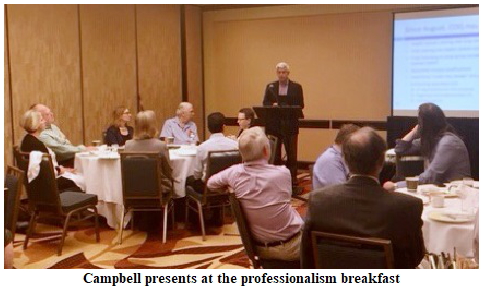 The Academy also hosted its usual regulator-only professionalism breakfast and discussion forum on Thursday, at which Miller, Fitzgerald, and Perrott, along with Tom Campbell, representing the Academy's Committee on Qualifications, presented and took questions at the well-attended session.
The Academy plans to release a post-NAIC alert on the meeting later this month and will be hosting a webinar next month recapping its top life issues.
Results of Member Voting on Proposed Bylaw Amendments
The Academy's election vendor, Intelliscan, provided the official results of the online and mailed votes cast by eligible members on two proposed changes to the Academy Bylaws. Proposal 1, a change recommended by the Academy Board of Directors, won a majority of votes but not the two-thirds supermajority required to be incorporated into our bylaws. Proposal 2, initiated by petition, was voted down decisively, with 57.99 percent of votes against. As a result of these two votes, the Academy Bylaws remain unchanged. Read the member update.
Big Data Webinar Set for December
The Academy will host a webinar, "Big Data and the Role of the Actuary," next month. The webinar will draw from the Academy's Big Data Task Force monograph of the same name that was released in June. Task force member panelists—Academy Health Vice President Audrey Halvorson, Bob Miccolis, and Martin Snow—will discuss current and emerging practices, important regulatory and professionalism considerations, and the current state of the InsurTech field. Task force Vice Chairperson Dorothy Andrews will moderate. The Academy believes this event constitutes an organized activity as defined under the current Qualification Standards for Actuaries Issuing Statements of Actuarial Opinion in the United States, and that attendees may earn up to 1.8 continuing education credits for attending the live webinar, which will be held Dec. 19 from noon to 1:30 p.m. EST. Register today.
CAS Annual Meeting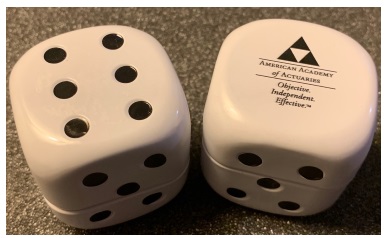 Academy President Shawna Ackerman and Executive Director Mary Downs attended the Casualty Actuarial Society's (CAS) Annual Meeting in Las Vegas earlier this week to honor Brian Brown on his year as CAS president and congratulate Jim Christie as he begins his year as CAS president. There were many other Academy members and staff at this very well-attended meeting, and ASB member Christopher Carlson and incoming ASB member Pat Woods took part in a roundtable on how the ASB operates.
Recently Released
The Academy published a new Essential Elements paper, "Big Data, Big Changes for Insurance and Pensions," which highlights the opportunities and challenges that rapidly evolving advancements in data analysis and storage pose for insurers, consumers, and regulators. The Essential Elements series is designed to make actuarial analyses of public policy issues clearer to general audiences.
The November HealthCheck recaps health highlights from the Academy's Annual Meeting and Public Policy Forum, including a reference pricing session that was livestreamed (and is available for replay) on the Academy's Facebook page. Also in this issue: the Life and Health Qualifications Seminar; the results of health-related Election Day ballot measures in several states; and recent state and federal legislative and regulatory activity.
Professional Outreach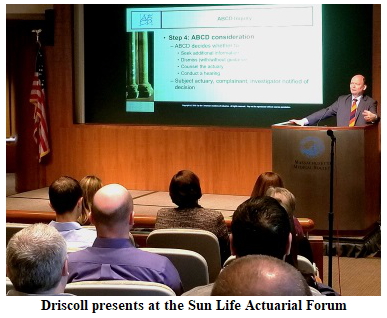 Actuarial Board for Counseling and Discipline (ABCD) member David Driscoll reviewed the role and function of the ABCD for more than 100 actuaries attending the Sun Life Financial Actuarial Forum in Waltham, Mass., on Thursday, walking attendees through case studies with discussion of relevant ethical and disciplinary considerations.
Academy Past President Ken Hohman's presentation to attendees of the Columbus (Ohio) Actuarial Club's meeting on Friday examined lessons learned from public discipline and the operation of the disciplinary process, and discussed how disciplinary considerations can inform ethical practice.
Actuaries Climate Index Winter 2017–18 Data Released
The five-year moving average of the Academy-co-sponsored Actuaries Climate Index™ (ACI) rose to a record 1.23 for winter 2017–18, compared with 1.19 in fall 2017, according to data released this week. The seasonal ACI value was 1.08, compared with 2.00 in the fall. The ACI is co-sponsored by the Canadian Institute of Actuaries, the Casualty Actuarial Society, and the Society of Actuaries. Read the Academy press release.
JBEA Seeks Applications for Advisory Committee on Actuarial Examinations
The Joint Board for the Enrollment of Actuaries (JBEA) is seeking applications for the next term of the Advisory Committee on Actuarial Examinations, which begins on March 1, 2019, and ends on Feb. 28, 2021. The JBEA asked the Academy to make this opportunity known to our members. The Advisory Committee plays an integral role in assisting the Joint Board to offer examinations that test the knowledge necessary to qualify for enrollment. Its duties include recommending topics for inclusion on the Joint Board examinations, reviewing and drafting examination questions, and recommending passing scores. Information on how to apply is available via the IRS website. Applications are being accepted through Dec. 7.
Alerts
Upcoming Events
In the News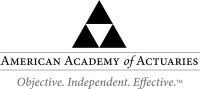 Follow the Academy on Facebook, LinkedIn, and Twitter.

---
1850 M Street NW • Suite 300 • Washington, DC 20036 • 202.223.8196 • www.actuary.org
Copyright 2018 American Academy of Actuaries. All rights reserved.