This Week, May 21-25, 2018
Read the latest news from the Academy.
Recent Academy Activity, May 21–25, 2018
Academy Office Closed Monday for Memorial Day
The Academy's office will be closed on Monday, May 28, in observance of Memorial Day.
Academy Voter Guides Offer Information on Key Issues

With the campaign season for the 2018 midterm elections set to ramp up, the Academy released a series of voter guides this week to focus on major issues and help voters become more informed heading into the fall. These issue-focused guides offer information on select campaign topics on which actuaries have expertise—including health, retirement/pension, and climate risk. The Academy would like to see candidates for higher office provide details on their proposals addressing the challenges highlighted by these guides and offer the positions they support as duly elected public officials. Read the news release.
June Webinar to Look at Retained P/C Insurance-Related Risk
The Academy will host a property/casualty webinar in June, "Retained P/C Insurance-Related Risk: Interaction of Actuarial Analysis and Accounting." Presenters will discuss the Academy's new public policy practice note, Retained Property Casualty Insurance-Related Risk: Interaction of Actuarial Analysis and Accounting, which examines the interaction between the non-insurance business entity, the accountants, and the actuaries. The presenters will be Past Academy President Mary Frances Miller, a member of the Committee on Property and Liability Financial Reporting; and Lisa Slotznick, vice chairperson of the Casualty Practice Council. The webinar will be held on Monday, June 25, from noon to 1:30 p.m. Register today.
Past President Wildsmith Speaks to Hispanic State Legislators on Health Care
Academy Penultimate President Tom Wildsmith participated in a panel discussion Friday before about 40 state legislators who are attending a meeting of the National Hispanic Caucus of State Legislators' (NHCSL) Executive Committee and Healthcare Task Force in Washington, D.C. Wildsmith talked about outcomes-based contracting arrangements in health care from an actuarial perspective. The NHCSL invited the Academy to provide a speaker after its lead policy staff attended the Academy's March 9 Capitol Hill briefing on prescription drug spending. The NHCSL, which is considering a draft resolution called "Removing Barriers to Value-Based Arrangements in Healthcare," wanted an Academy representative to discuss how these arrangements work and what the challenges might be in addressing them within public policy, noting it considers the Academy's view to be objective.
Academy Presents on Professionalism, Pensions at Hartford/Springfield Club
Actuarial Board for Counseling and Discipline member David Driscoll delivered a professionalism presentation at Tuesday's spring meeting of the Actuaries' Club of Hartford & Springfield, in Hartford, Conn. The presentation explored the professionalism infrastructure housed within the Academy, the most recent counseling and discipline case and inquiry statistics, and ethical decision-making that actuaries can face in their professional work.
Senior Pension Fellow Ted Goldman gave a well-received presentation to the same club Tuesday, in which he shared findings of the Academy's jointly produced 2017 retirement readiness survey. Goldman relayed how the changing social, demographic, and economic landscape has transformed retirement expectations; the strategies and level of success of accumulating wealth to prepare for retirement; and the ability of individuals to consider and plan for the unexpected events that may occur during retirement.
Public Employment Opportunity
The Government Accountability Office (GAO) has a public employment opportunity for a senior actuary with a property/casualty and general insurance specialty. The Washington, D.C.-based position is within GAO's office of Applied Research and Methods (ARM), which provides technical and specialist expertise to support and extend the work that GAO supplies to Congress and federal agencies. ARM actuaries serve as consultants to other GAO teams in a variety of areas of interest to Congress. Position information is available via USAJOBS by clicking here (general public) or here (qualified federal employees, veterans, or individuals with disabilities). The application deadline is June 12.
The Academy has long supported government employers that are seeking to hire qualified actuaries. See our Public Employment Opportunity Posting Policy for more information.
Alert
Public Policy Activity
Upcoming Events
In The News
Note: Some links in this email go to external websites and may require registration. The Academy is not responsible for the content of these websites. Links may expire.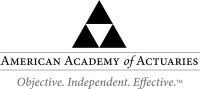 Follow the Academy on Facebook, LinkedIn, and Twitter.

---
1850 M Street NW • Suite 300 • Washington, DC 20036 • 202.223.8196 • www.actuary.org
Copyright 2018 American Academy of Actuaries. All rights reserved.