This Week: March 20 - 24, 2017
Read the latest news from the Academy.
Recent Academy Activity, March 20–24, 2017
Committees Send Letter to Congress on Health Care ACA Repeal-Replace Measure
The Individual and Small Group Markets Committee and the Medicaid Subcommittee sent comments Wednesday to U.S. House of Representatives leadership on H.R. 1628, the American Health Care Act (AHCA), a bill intended to repeal and replace provisions of the Affordable Care Act (ACA). The AHCA was scheduled to be voted on by the House on Thursday but the vote was postponed; the House may vote on the measure today.
Academy Representatives Meet With Congressional, Agency Staff on Flood Insurance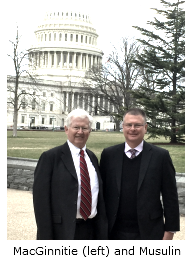 Casualty Practice Council (CPC) Vice President Rade Musulin and Academy Senior Casualty Fellow Jim MacGinnitie visited Capitol Hill this week, as Congress considers changes to the National Flood Insurance Program (NFIP). MacGinnitie and Musulin talked with majority and minority staff of the House Financial Services Committee, and met with Congressional Research Service and Government Accountability Office analysts who follow this and other insurance issues. Musulin is also chairperson of the CPC's Flood Insurance Work Group, which will release its updated NFIP monograph soon.
ASB Releases Annual Report
The Actuarial Standards Board's (ASB) 2016 Annual Report, released this week, details the ASB's accomplishments last year, which included adoption of three revised actuarial standards of practice (ASOPs), approval of seven exposure drafts for comment, approval of a proposal for one revised ASOP, and a final report by the ASB's Pension Task Force. The ASB also approved the formation of a task force to revise ASOP No. 32, Social Insurance, and presented a webinar on cross-practice standards.
Global Health Webinar Looks at LTC in U.S., Germany
The Academy and the International Actuarial Association Health Section hosted a webinar Friday, "Global Perspectives on Long-Term Care: United States and Germany."
The webinar was moderated by Academy Board of Directors member April Choi, who is also chairperson of Academy Health Practice International Committee. Panelists were Sam Gutterman, vice chairperson of the International Actuarial Association's (IAA) Population Issues Working Group; Sabrina Link, a member of the German Actuarial Society; and Andrew Dalton, a member of the Academy's LTC Reform Subcommittee.
The presenters highlighted a new report issued by the IAA's Population Issues Working Group, challenges and criteria of LTC programs, principles of LTC insurance, demographics of the two countries, and public/government versus private funding of LTC. Slides and audio will be available to members on the Academy's webinar page soon.
COI, CE Acknowledgments—Last Call
The Academy has sent out its final notice that it will drop those volunteers and interested parties who have not submitted annual conflict of interest and continuing education acknowledgments required by the Academy to continue to participate in their respective councils, committees, task forces, and work groups.
These acknowledgments are a vital element in the Academy's culture of objectivity, and they remind volunteers of their responsibility to participate in Academy work in a manner that maintains our high standards in providing unbiased and independent actuarial input for informing policymakers considering a wide array of U.S. fiscal and societal challenges.
For more information about the Academy's commitment to professional objectivity, please visit the Professional Objectivity at the Academy page. If you have any questions, please contact the Academy's professionalism department at objectivity@actuary.org.
Recently Released
Upcoming Events
Public Policy Activities
In the News
Note: Some links in this email go to external websites and may require registration. The Academy is not responsible for the content of these websites. Links may expire.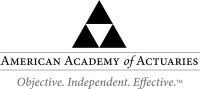 PLEASE DO NOT REPLY TO THIS EMAIL. THIS EMAIL ADDRESS IS NOT MONITORED.
If you would like more information or to contact the Academy, please visit us at www.actuary.org/content/about-us

Follow the Academy on Facebook, LinkedIn, and Twitter.
Rather not receive Academy emails? Unsubscribe by emailing membership@actuary.org.
---
1850 M Street NW • Suite 300 • Washington, DC 20036 • 202.223.8196 • www.actuary.org
Copyright 2017 American Academy of Actuaries. All rights reserved.