Retirement Account, Spring 2017
Printer-friendly version

Spring 2017
RECENT ACTIVITIES
Academy Discusses MPRA Applications with Federal Agencies
The Multiemployer Subcommittee met in Feburary with members of the U.S. Department of Treasury, Pension Benefit Guaranty Corporation (PBGC), and Department of Labor to discuss applications by multiemployer pension plans in critical and declining status to suspend benefits or partition liabilities as permitted under the Multiemployer Pension Reform Act of 2014 (MPRA). The subcommittee released notes summarizing key points discussed at that meeting, including actuarial assumptions, plan sponsor considerations, review process, and the possibility of informal consultation prior to a MPRA application for suspension of benefits or partition. Read the Academy's alert here.
Goldman Presents at Chamber Forum
Academy Senior Pension Fellow Ted Goldman presented "Longevity and Retirement Security" at a U.S. Chamber of Commerce retirement forum in Washington in February. Goldman reviewed various longevity risk trends and challenges, and demonstrated how the Actuaries Longevity Illustrator—sponsored jointly by the Academy and the Society of Actuaries—is a useful tool for illustrating the risk for retirement planning purposes.
Goldman's presentation also outlined longevity concerns of both employees and employers, and highlighted key issues surrounding defined benefit and defined contribution retirement plans. The chamber indicated it would like to invite Goldman to attend its board meeting later this year to continue the discussion.
Issue Brief on Pension Cost Determination Released
The Pension Cost Work Group released in late December an issue brief, Alternatives for Pension Cost Recognition—Implementation Approaches Using Bond Models. The paper explores five potential approaches for determining pension costs by developing a yield curve and associated spot rates from a bond model, rather than via a single aggregated discount rate.
The paper is a follow-up to the August 2015 release of an associated issue brief, Alternatives for Pension Cost Recognition—Issues and Implications.
LEGISLATIVE AND REGULATORY DEVELOPMENTS
Treasury Guidance on Variable Annuity Plans Sought
The Pension Committee submitted a comment letter in March to the U.S. Treasury Department requesting guidance from the IRS and Treasury to resolve uncertainties on how variable annuity plans should be valued for minimum funding and Internal Revenue Code (IRC) §417(e) purposes. The committee particularly sought guidance to confirm that actuaries can determine obligations for these plans for such purposes at the theoretically correct value, recognizing that future benefit adjustments and the corresponding changes in the underlying asset value offset one another.
The guidance is important because of the growing interest in variable-benefit programs, which include variable annuity plans, market-rate cash balance plans, and the proposed multiemployer composite plans, the committee stated. Questions also have been raised recently about how these plans satisfy various aspects of IRC §411, and guidance is sought on that as well.
PC Submits Comments to IRS on Present Value Requirements
The Pension Committee submitted a comment letter to the IRS in February on proposed regulations that affect the minimum present value requirements for defined benefit plan distributions. The comments focus on potential compliance issues for plans that currently ignore pre-retirement mortality when valuing employer-provided accrued benefits, and the potential implications for distributions after a normal retirement date.
Comments Submitted on Two-Pool Withdrawal Liability Methods
The Multiemployer Pension Plans Subcommittee submitted a comment letter to the PBGC in February on alternative two-pool withdrawal liability methods. The new methods have the potential to provide significant benefits to multiemployer plans, but they also pose certain risks and raise many complex questions, the letter stated.
IN THE NEWS
A National Association of Plan Advisors' article cited Senior Pension Fellow Ted Goldman's presentation "Longevity and Retirement Security" at the U.S. Chamber of Commerce's retirement forum in Washington in February.
A New York Times article cited the widely praised Actuaries Longevity Illustrator in a story on retirement-income strategies.
The Nevada Independent referenced the Academy's issue brief, The 80% Pension Funding Standard Myth, in a story about Nevada's Public Employees' Retirement System. The Oregonian cited the issue brief in an article about Oregon's Public Employee Retirement System.
UPCOMING
EA Meeting Approaching Quickly
Sponsored by the American Academy of Actuaries and Conference of Consulting Actuaries, the 42nd annual Enrolled Actuaries Meeting will be held April 2–5 at the Marriott Wardman Park Hotel in Washington. The meeting offers a variety of panels and workshops, covering a wide range of topics and issues relevant to Enrolled Actuaries and other pension professionals. For more information, click here.
Registration Opens for Academy 2017 Annual Meeting and Public Policy Forum
Join us for the Academy's 2017 Annual Meeting and Public Policy Forum Nov. 14–15 in Washington to hear experts and policymakers discuss the latest developments in pension issues such as Social Security sustainability, public pension plans, and the emergence of innovative hybrid plan designs. The event provides the opportunity to network with and learn from peers and business leaders from across the country, all while earning valuable continuing education credit. For more information, click here.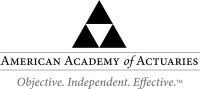 PLEASE DO NOT REPLY TO THIS EMAIL. THIS EMAIL ADDRESS IS NOT MONITORED.
If you would like more information or to contact the Academy, please visit us at www.actuary.org/content/about-us

Follow the Academy on Facebook, LinkedIn, and Twitter.
Rather not receive Academy emails? Unsubscribe by emailing membership@actuary.org.
---
1850 M Street NW • Suite 300 • Washington, DC 20036 • 202.223.8196 • www.actuary.org
Copyright 2017 American Academy of Actuaries. All rights reserved.