This Week, June 25-29, 2018
Read the latest news from the Academy.
Recent Academy Activity, June 25–29, 2018
Nominations Due Today for Academy Service Awards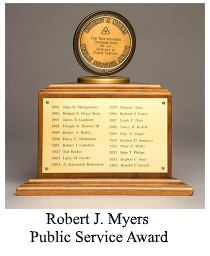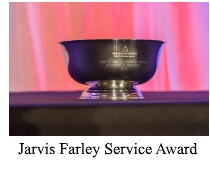 Nominations are due today, June 29, for the Academy's prestigious annual service awards—the Robert J. Myers Public Service Award and the Jarvis Farley Service Award—as well as the Outstanding Volunteerism Awards. Nominate a deserving colleague or respected mentor for one of these awards today. They will be presented at the Academy's Annual Meeting and Public Policy Forum, Nov. 1–2 in Washington. Click here for information on the awards and how to nominate.
Deadline Today—Early Registration for the Academy's IFRS 17 Seminar
Today, June 29, is also the deadline for early registration for the Academy's Seminar on Implementing International Financial Reporting Standard (IFRS) 17 for Long-Duration Contracts, to be held in Washington, D.C., Aug. 29–30. The seminar will be held prior to the implementation of IFRS 17 and the agenda was designed for life and health financial reporting actuaries to be affected by the new accounting standard, giving you a dedicated opportunity to explore IFRS 17 and how it will impact your actuarial work. Attendees will have the opportunity to earn up to 12.4 hours of continuing education credit. Register today.
Fulbright Specialist Opportunity in Slovenia in January
The U.S. Department of State sponsors a Fulbright Program that has issued an open call for a Fulbright Specialist in an Actuarial Mathematics Project in Slovenia for a several-weeks stay in January 2019. At the request of the non-governmental organization promoting the opportunity, the Academy is sharing this information so that any of our interested members can apply. The deadline to apply is Aug. 1; click here for more information and requirements.
Beuerlein Presents on Big Data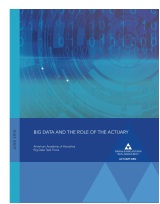 Past Academy President Bob Beuerlein presented on "Big Data and the Role of the Actuary" at the NAIC's Casualty Actuarial and Statistical Task Force (CASTF) Predictive Analytics Book Club conference call on June 26. CASTF sponsors "book club" presentations on a monthly basis to assist actuaries in better understanding public policy challenges with respect to Big Data and predictive analytics. Beuerlein's well-received presentation introduced attendees to the Academy's new Big Data monograph.
Webinars Look at Health Insurance Premium Drivers, Retained P/C Insurance-Related Risk
U.S. congressional staff and federal and state agency representatives were among those who attended the Academy's webinar Monday on the drivers of 2019 health insurance premium changes. Individual and Small Group Markets Committee Chairperson Barb Klever and committee member David Shea presented information based on the committee's recent issue brief. The webinar also provided detail on the impact of cost-sharing reductions (CSRs) on premiums and premium changes. Academy Senior Health Fellow Cori Uccello moderated; Slides and audio are available free to members.
Separately, more than 200 people attended Monday's webinar, "Retained P/C Insurance-Related Risk: Interaction of Actuarial Analysis and Accounting," that covered the related public policy practice note released earlier this year. Presenters were Past Academy President Mary Frances Miller, a member of the Committee on Property and Liability Financial Reporting; and Lisa Slotznick, vice chairperson of the Casualty Practice Council. Academy Senior P/C Fellow Kevin Ryan moderated. Much of the presentation focused on the dialogue between actuaries and accountants/auditors when reviewing the retained risk at a non-insurance entity. Slides and audio are available free to members.
Academy Volunteer Speaks on ACI at Hartford Conference
P/C Extreme Events And Property Lines Committee member Stacey Gotham introduced environmental professionals attending the Air and Waste Management Association's annual conference in Hartford on June 27 to the Actuaries Climate Index, developed jointly by the Academy and other North American actuarial organizations, and plans for the Actuaries Climate Risk Index.

Gotham discussed what the ACI measures, how data is constructed and can be accessed on the ACI website, and the ACRI's goal of producing an index of property damage, crop losses, fatalities, and injuries related to ACI data that is useful to actuaries and insurance professionals, policymakers, and the public.
Recently Released
The June Actuarial Update covers the recently released Magic School Bus book being promoted by the Academy; new issue briefs on health insurance premium drivers and the Medicare and Social Security trustees' reports; the Big Data monograph released earlier this month; and the Professionalism Counts column, in which Past President Cecil Bykerk writes about U.S. actuarial self-regulation as a model for other countries.
The summer StateScan Quarterly highlights state legislation and regulation in the past quarter including casualty issues related to auto insurance and autonomous vehicles, flood and travel insurance, climate risk, and workers' compensation; health issues including the individual market, Medicaid, and long-term care; and life insurance issues, public pension plans, and cross-practice issues, such as captive insurers and credit for reinsurance. For a comprehensive review, log in to StateScan, the legislative and regulatory portal free for Academy members.
Public Policy Activity
The Life Reserves Work Group submitted a revised amendment proposal form to the NAIC on the aggregation of mortality segments for the purpose of determining credibility.
Upcoming Events
In the News
Note: Some links in this email go to external websites and may require registration. The Academy is not responsible for the content of these websites. Links may expire.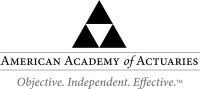 Follow the Academy on Facebook, LinkedIn, and Twitter.

---
1850 M Street NW • Suite 300 • Washington, DC 20036 • 202.223.8196 • www.actuary.org
Copyright 2018 American Academy of Actuaries. All rights reserved.