This Week, June 18-22, 2018
Read the latest news from the Academy.
Recent Academy Activity, June 18–22, 2018
Academy Releases Issue Brief on Social Security Trustees Report
The Social Security Committee released an issue brief on the 2018 Social Security Trustees Report that examines the social insurance program's long-term solvency issues. The issue brief—released every year after the trustees report to provide context for the national conversation around retirement security for policymakers and media—notes that the combined Old-Age, Survivors, and Disability Insurance trust fund will be exhausted in just 16 years unless the system's financial challenges are addressed.
The Code of Professional Conduct: Learning From the Mistakes of Others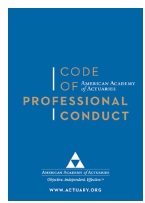 More than 2,000 people attended the Academy's June 18 professionalism webinar, "The Code of Professional Conduct: Learning From the Mistakes of Others," which walked attendees through mistakes that have landed actuaries on the wrong side of the Code of Professional Conduct. Academy President-Elect Shawna Ackerman, Past President Cecil Bykerk, and Vice President for Professionalism D. Joeff Williams (nominated in May to be the Academy's next president-elect) gave examples of violations of the Code pulled from Academy public discipline notices. Slides and audio of the webinar are available to Academy members free of charge.
Monday: Webinar to Look at Drivers of 2019 Health Insurance Premium Changes
The Academy is hosting a webinar on Monday, June 25, at 1 p.m. that will walk through the recently released issue brief, Drivers of 2019 Health Insurance Premium Changes. The presenters—Barb Klever, Individual and Small Group Markets Committee chairperson, and committee member David Shea—will provide an overview of the major drivers and discuss why premiums could differ from those in 2018. Academy Senior Health Fellow Cori Uccello will moderate the conversation. Register via the Academy's website.
Still Time to Register for Monday's P/C Webinar
Don't forget to register for Monday's webinar, which will feature a discussion of the Academy's new practice note, Retained Property/Casualty Insurance-Related Risk: Interaction of Actuarial Analysis and Accounting. Increasingly, actuaries are being called upon to review loss estimates and reserves for retained risks at non-insurance entities, which is often part of a larger review of corporate finances being done by an auditor or an accounting firm. The practice note examines the interaction between the non-insurance business entity, the accountants, and the actuaries. The webinar will be held on Monday, June 25, from noon to 1:30 p.m. Register here.
IFRS 17 Seminar: Agenda Available; Early Registration Closes Next Week
The agenda is now available for the Academy's Seminar on Implementing IFRS 17 for Long-Duration Contracts, to be held in Washington, D.C., on Aug. 29 and 30. This seminar was designed for health and life financial reporting actuaries who will be working to implement International Financial Reporting Standard (IFRS) 17. During the seminar, you'll have a number of opportunities to share and discuss your top questions and learn from experienced actuaries who have been working on implementation. Register by June 29 to take advantage of early registration rates.
Professionalism Outreach
Actuarial Standards Board member Cande Olsen provided an overview of recent and proposed changes to actuarial standards of practice and a review of the Applicability Guidelines for Actuarial Standards Of Practice at the Actuarial Society of Greater New York's June 18 meeting in New York City.
On June 20, Vice President of Professionalism D. Joeff Williams and Academy Director of Professionalism Paul Kollmer-Dorsey presented "Actuarial Professionalism: Alive and Well in 2018" at the Southeastern Actuaries Conference meeting in Bonita Springs, Fla. The presentation reviewed the basic structures and key elements of U.S. actuarial professionalism, discussed recent developments in actuarial professionalism, and identified tools and resources that are available to help actuaries keep up to date on professionalism.
Actuarial Board for Counseling and Discipline member David Driscoll presented and facilitated a discussion of actuarial professionalism and ethics for insurance actuaries and actuarial students in Boston on June 22.
Recently Released
The summer Casualty Quarterly previews an Academy paper on catastrophe modeling in a Q&A with P/C Extreme Events and Property Lines Committee Chairperson Kay Cleary. Also in this issue, the Academy's new Big Data monograph, a practice note and upcoming webinar on retained risk, and legislative and regulatory updates.
Public Policy Activity
Commenting on the Department of Labor's final rule on association health plans (AHPs) released June 18, Academy Senior Health Fellow Cori Uccello said, "Expanding the availability of AHPs can lead to increased insurance options and lower premiums for some consumers, but higher premiums for others." Read the news release and the Academy alert.
Upcoming Events
In the News
The Individual and Small Group Markets Committee's issue brief on AHPs was cited in a Kaiser Health News story that was reprinted by numerous media outlets, including the Washington Post, California Healthline, Insider Louisville (Ky.), Standard-Examiner (Utah), and Journal Gazette & Times-Courier (Ill.).

The Academy's Feb. 9 comment letter to the U.S. Department of Labor, which was cited in the final rule on AHPs, was noted in a Health Affairs Blog post examining the rule.

A subscriber-only Bloomberg Law article quoted Barb Klever, chairperson of the Individual and Small Group Markets Committee, on how expanding AHPs may contribute to rate increases.

A story published by MedicineNet.com featured comments from Senior Health Fellow Cori Uccello on the upward trend in health care, including prescription drug, costs.

JD Supra and Medpage Today cited the Individual and Small Group Markets Committee's new issue brief, Drivers of 2019 Health Insurance Premium Changes.

Advisor Magazine reported on the Medicare Subcommittee's new issue brief, Medicare's Financial Condition: Beyond Actuarial Balance.

A report from the Center for American Progress on a new proposal to repeal the Affordable Care Act cited the Health Practice Council's 2017 comment letter to U.S. Senate leadership on the Graham-Cassidy-Heller-Johnson repeal bill's proposed revisions to the individual health insurance marketplace.

A Washington Examiner story referred to the Health Practice Council's Nov. 21 comment letter to the U.S. Senate on the potential consequences of eliminating the Affordable Care Act's individual mandate.

A letter published in the American Association of Individual Investors Journal cited the Actuaries Longevity Illustrator, developed jointly by the Academy and the Society of Actuaries.
Note: Some links in this email go to external websites and may require registration. The Academy is not responsible for the content of these websites. Links may expire.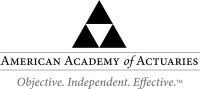 Follow the Academy on Facebook, LinkedIn, and Twitter.

---
1850 M Street NW • Suite 300 • Washington, DC 20036 • 202.223.8196 • www.actuary.org
Copyright 2018 American Academy of Actuaries. All rights reserved.