This Week, January 28 - February 1, 2019
Read the latest news from the Academy.
Recent Academy Activity, Jan. 28 – Feb. 1, 2019
Volunteer Action Required: Commitment to Objectivity
Committing on an annual basis to professional objectivity is required to perform volunteer work for all those who participate in Academy committees. Art Panighetti, vice president of the Academy's Council on Professionalism, emailed Academy volunteers this week with a request of all volunteers to submit a conflict of interest (COI) acknowledgment and continuing education attestation. Panighetti also wrote an article in the January Actuarial Update outlining the policy. Interested parties (IPs) must also acknowledge the COI policy. If you are a volunteer or IP, to comply, follow the instructions in the email or on the membership page under "Volunteer Acknowledgments" under Volunteer Resources.
Webinar Dives Deep on P/C Actuarial Opinion Report Writing
A new webinar this week explored how to write an effective P/C loss reserve opinion report. Friday's webinar, "P/C Actuarial Opinion Report Writing," hosted by the Academy's Committee on Property and Liability Financial Reporting (COPLFR), included a review of the actuary's responsibilities, NAIC instructions, relevant actuarial standards of practice, and featured discussion of how clear communication and documentation of the actuary's work is handled in each report chapter. COPLFR Chairperson Kathy Odomirok moderated, and the presenters—COPFLR member and Opinion Seminar Subcommittee Chairperson John Gleba, and subcommittee member Chuck Emma—offered insight on differences in writing the narrative and technical components of the report, what kind of data and disclosures support the report, and what is included in the report to help the intended readers understand and navigate it. Presenters emphasized that actuaries understand their audience and provide pertinent background and historical information and details to help the reader navigate through the narrative and exhibits, while describing the process and steps along the way. "One of the most important feedback items we get from regulators is that organization is far more important than detail," Emma said. Slides and audio will be available free for members soon.
Actuarial Update, Life Perspectives Released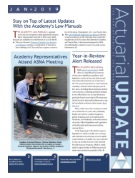 In the January Actuarial Update, read about the Academy representatives who attended and presented at Canada's Actuarial Students' National Association meeting in Montreal. Also in this issue: the Academy released its 2018 year-in-review policy alert; Rich Gibson is the Academy's new senior P/C fellow; and the "Professionalism Counts" column, by Vice President for Professionalism Art Panighetti, notes that now is the time for Academy volunteers to commit to objectivity.
The winter Life Perspectives has a Q&A on the principle-based reserve (PBR) practice note released this month with Linda Lankowski, vice chairperson of the Academy's Life Practice Council (LPC) and chairperson of the PBR Strategy Subgroup and its Practice Note Work Group and PBR 101 Work Group. Also included are legislative and regulatory updates and LPC comment letters to the NAIC.
Stay on Top of Requirements With the Academy's Law Manuals
The Academy's law manuals, updated each year, are designed to help appointed actuaries know requirements relevant to their work.
Both manuals are available in a web format or as a CD-ROM, allowing you to order the format that best meets your needs.
Alerts
Public Policy Activity
Upcoming Events
In the News / Media Activity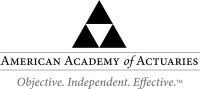 Follow the Academy on Facebook, LinkedIn, and Twitter.

---
1850 M Street NW • Suite 300 • Washington, DC 20036 • 202.223.8196 • www.actuary.org
Copyright 2019 American Academy of Actuaries. All rights reserved.