This Week, Jan. 8-12, 2018
Read the latest news from the Academy.
Recent Academy Activity, Jan. 8–12, 2018
Academy Office Closed Monday for MLK Holiday
The Academy's office will be closed on Monday, Jan. 15, in observance of the Martin Luther King Jr. Day holiday.
2017 Legislative/Regulatory Review Alert Released
The Academy released its 2017 year-in-review alert, which offers a comprehensive summary of significant regulatory and legislative events last year at the state, federal, and international levels that are of interest to the U.S. actuarial profession. It also includes related Academy efforts in the past year in key areas, including flood insurance, health care and potential changes to the Affordable Care Act (ACA), Medicare, principle-based reserving, Social Security, international insurance capital standards, and many other issues.
Next Week—Academy, Canadian Institute of Actuaries Webinar Series Kicks Off
The Academy and the Canadian Institute of Actuaries' (CIA) jointly sponsored webinar series will kick off next Wednesday with "The Roles of National Actuarial Organizations in the U.S. and Canada." Presenters will include past Academy President Tom Wildsmith, Academy senior policy analyst Claire Mickelson, and CIA President Sharon Giffen and Executive Director Michel Simard. The webinar will be held on Jan. 17 from noon to 1:30 p.m. EST; register via the CIA website.
Review Your Membership Profile
To continue receiving Contingencies and other Academy publications on time, please make sure the Academy has your correct contact information. Academy members can update their member profile, subscribe to Academy alerts, and review archived professionalism and public policy webinars at the member login page. Or members may click here to conveniently pay their membership dues.
ASB Adopts New ASOP No. 53, on P/C Risk Transfer and Retention
The Actuarial Standards Board has adopted the new Actuarial Standard of Practice (ASOP) No. 53, Estimating Future Costs for Prospective Property/Casualty Risk Transfer and Risk Retention. This ASOP provides guidance to actuaries when performing actuarial services with respect to developing or reviewing future cost estimates for prospective property/casualty risk transfer and risk retention, and includes future cost estimates for insurance, reinsurance, self-insurance, loss portfolio transfers, or any other mechanisms for risk transfer or risk retention. The new ASOP will be effective for work performed on or after Aug. 1, 2018.
Casualty Webinar Looks at RMAD and Reserve Ranges
More than 400 members attended Thursday's webinar, "P/C Loss Reserve Opinion Writing: RMAD and Reserve Ranges," which looked at risk of material adverse deviation (RMAD), reserve ranges, and how they fit together for the purposes of issuing statements of actuarial opinion. The webinar, hosted by the Academy's Committee on Property and Liability Financial Reporting (COPLFR), was a follow-up to presentations on those subjects at last month's Seminar on P/C Effective Loss Reserve Opinions. Moderated by COPLFR Chairperson Kathy Odomirok, the panelists were COPLFR member and Past Academy President Mary Frances Miller, and Dawn Fowle, a member of the Opinion Seminar Subcommittee. Slides and audio are available free to members.
Post-NAIC Webinar Recaps Life-Practice Issues
Almost 300 members attended the Academy's post-NAIC life webinar Wednesday that recapped life practice issues from the NAIC Fall 2017 National Meeting held last month in Honolulu. Presenters covered principle-based reserving, risk-based capital, reinsurance, and other life practice issues, and highlighted the Academy presentations to the NAIC's Life Actuarial Task Force. The webinar was moderated by Dave Neve, Academy vice president, life; and the panelists were Michael Boerner, member of the Life Practice Council; Michael Yanacheak, actuarial administrator, Iowa Insurance Division; and Mary Bahna-Nolan, chairperson of the Life Experience Committee. Slides and audio are available free to members.
Recently Released
P/C Loss Reserve, Life and Health Valuation Law Manuals Available
Upcoming Events
Alerts
Public Policy Activities
In the News
Note: Some links in this email go to external websites and may require registration. The Academy is not responsible for the content of these websites. Links may expire.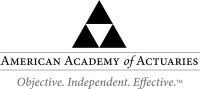 Follow the Academy on Facebook, LinkedIn, and Twitter.

---
1850 M Street NW • Suite 300 • Washington, DC 20036 • 202.223.8196 • www.actuary.org
Copyright 2018 American Academy of Actuaries. All rights reserved.