This Week, February 18-22, 2019
Read the latest news from the Academy.
Recent Academy Activity, Feb. 18–22, 2019
Lump-Sum Practice Note Released
The Academy's Pension Committee released a new practice note, Valuing Benefits Payable as a Lump Sum. The purpose of the practice note—an exposure draft of which was released last September—is to provide information to actuaries on current and emerging practices in the development of liabilities and cost estimates for pension plans, with benefits paid as a lump sum.
Many pension plans offer benefits in the form of a single, lump-sum payment. In recent years, as plan sponsors have looked to manage risk, lump-sum payments have become more common. The practice note discusses the valuation of lump-sum benefits for financial accounting purposes, and utilizes a number of concepts related to interest theory.
ASB Approves Fourth Exposure Draft of Proposed ASOP on Modeling
Earlier this week, the Actuarial Standards Board (ASB) published its recently approved a fourth exposure draft of a proposed new actuarial standard of practice (ASOP) titled Modeling. The proposed ASOP will provide guidance to actuaries in any practice area when performing actuarial services with respect to designing, developing, selecting, modifying, or using all types of models. The third exposure draft of the proposed ASOP was released in June 2016. The comment deadline is May 15—information on how to submit comments can be found in the draft, which can be viewed here.
Don't Forget to Order Your Academy Law Manuals
The latest editions of the Life and Health Valuation Law Manual and the Property/Casualty Loss Reserve Law Manual are available for order.
Alerts
Public Policy Activity
Upcoming Events
In the News / Media Activity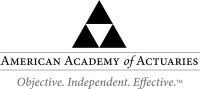 Follow the Academy on Facebook, LinkedIn, and Twitter.

---
1850 M Street NW • Suite 300 • Washington, DC 20036 • 202.223.8196 • www.actuary.org
Copyright 2019 American Academy of Actuaries. All rights reserved.