This Week, December 10-14, 2018
Read the latest news from the Academy.
Recent Academy Activity, Dec. 10–14, 2018
Registration Open for April PBR Boot Camp
Registration opened this week for the Academy's 2019 PBR Boot Camp, which will be held April 8–10 in Orlando, Fla. Hear lessons learned from those who have been at the forefront of the implementation of principle-based reserving (PBR) for life insurance. As actuaries and regulators look ahead to the final 2020 deadline for mandatory implementation, this seminar will provide useful and practical information for all levels of familiarity with the PBR methodologies and reserve requirements.
The robust agenda, which is posted online, includes:
Register early and save—discounted rates are available through Jan. 31.
Professionalism Outreach
More than 160 people attended Academy Past President Cecil Bykerk's presentation Tuesday to the Iowa Actuaries Club in Des Moines, in which he reviewed the infrastructure of, and recent developments in, actuarial professionalism.
Next Week—Professionalism, Big Data, Life Webinars
The Academy will host two webinars and jointly host a third next week.
Enrolled Actuaries Meeting Registration Open; Discounts Available
Registration is open for the 2019 Enrolled Actuaries Meeting, to be held April 7–10 in Washington, D.C. Jointly sponsored by the Academy and the Conference of Consulting Actuaries, the 44th annual EA Meeting will follow the new format introduced last year more, shorter sessions on key retirement and pension issues which will provide you with more EA credit opportunity. Academy and CCA members who register by Dec. 31 will receive the best available rates. Register today.
Public Employment Opportunities
The Pension Benefit Guaranty Corporation (PBGC) is seeking to fill two senior actuarial positions within its Policy, Research, and Analysis Department in Washington, D.C. The application deadline is today, Dec. 14. For more information on the position via USAJobs, or to apply, click here.
The U.S. Government Accountability Office (GAO) has a public employment opportunity for a senior property and casualty/general insurance actuary position. The incumbent, which will report to GAO's chief actuary, will provide technical analysis and conceptual insight on actuarial aspects of federal programs and policies related to P&C / general insurance. Information is available by clicking here (general public) or here (qualified federal employees, veterans, or individuals with disabilities). The application deadline is Jan. 11, 2019.
The Academy has long supported government employers who are seeking to hire qualified actuaries. See our Public Employment Opportunity Posting Policy for more information.
Recently Released
Alerts
Upcoming Events
In the News / Media Activity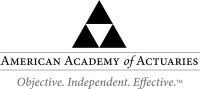 Follow the Academy on Facebook, LinkedIn, and Twitter.

---
1850 M Street NW • Suite 300 • Washington, DC 20036 • 202.223.8196 • www.actuary.org
Copyright 2018 American Academy of Actuaries. All rights reserved.