This Week, Dec. 11-15, 2017
Read the latest news from the Academy.
Recent Academy Activity, Dec. 11–15, 2017
Next Week—Professionalism Webinar to Share ABCD Ethical Case Studies
Actuarial Board for Counseling and Discipline (ABCD) members will examine case studies and examples of ethical problems during "Tales From the Dark Side: Ethical Cases at the ABCD," a professionalism webinar to be held next Wednesday, Dec. 20, from noon to 1:30 p.m. EST. Presenters will draw on their expertise and experience as ABCD members and discuss what steps the actuary might take in each situation discussed. They will highlight the availability of the information and guidance the ABCD has provided to practicing actuaries via the ABCD's request-for-guidance process. In addition to professionalism continuing education credits, the Academy believes in good faith that core ethics continuing professional education credits under JBEA rules will be available to attendees. Register here.
Reminder: Time to Renew Your Academy Dues
The Academy has no record of having received your 2018 membership dues. Dues of $635 (for regular members) will assure that the Academy's financial position remains strong as we continue to provide objective, nonpartisan actuarial analysis to U.S. policymakers. Highlights of the Academy's mission-critical work this year are noted in the annual "The Meaning of Your Membership" report.
Please log in to pay and make changes to your account before paying your dues. (Some members may qualify for a partial or full dues waiver.) If you have questions, please contact the Academy's Membership Department at 202-223-8196, or membership@actuary.org.
Academy, Canadian Institute of Actuaries to Co-Sponsor Webinar Series
The Academy and the Canadian Institute of Actuaries (CIA) announced they will jointly produce a series of webinars providing an overview of each organization's role as the national professional body in their respective countries. The first webinar in the series will take place on Jan. 17 at noon EST. Registration is available on the CIA website.
New January Webinar—P/C Loss Reserve Opinion Writing: RMAD and Reserve Ranges
The Academy's Committee on Property and Liability Financial Reporting will host a webinar, "P/C Loss Reserve Opinion Writing: RMAD and Reserve Ranges," that will look at risk of material adverse deviation (RMAD), reserve ranges, and how they fit together for the purposes of issuing statements of actuarial opinion. Presenters will discuss how actuaries can identify and discuss the presence or absence of specific risks and uncertainties in the principal's book of business, and explicitly state whether or not those significant risks and uncertainties could result in RMAD. The webinar will be held on Thursday, Jan. 11, from noon to 1:30 p.m. EST. Continuing education credit will be available. Register today.
Life and Health Valuation Law Manual Available
Be one of the first to have the 2018 Life and Health Valuation Law Manual. Available for delivery in January, the manual is designed to help appointed actuaries know the requirements of the NAIC model Standard Valuation Law and the Model Actuarial Opinion and Memorandum Regulation. The manual is available in online and CD-ROM versions, allowing you to order the format that best meets your needs. Order today.
Recently Released
Public Policy Activities
Alerts
Upcoming Events
In the News
Note: Some links in this email go to external websites and may require registration. The Academy is not responsible for the content of these websites. Links may expire.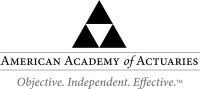 Follow the Academy on Facebook, LinkedIn, and Twitter.

---
1850 M Street NW • Suite 300 • Washington, DC 20036 • 202.223.8196 • www.actuary.org
Copyright 2017 American Academy of Actuaries. All rights reserved.