This Week, August 20-24, 2018
Read the latest news from the Academy.
Recent Academy Activity, Aug. 20–24, 2018
Send In Photos of 'Magic School Bus' Readers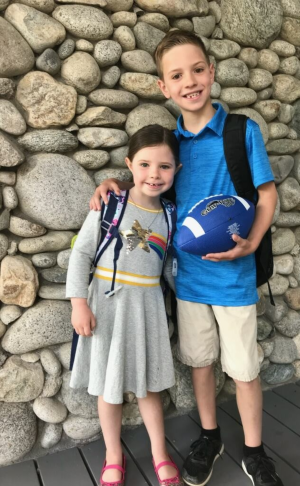 More than 2,000 copies of the Academy-sponsored Magic School Bus Takes a Risk: A Book about Probability have been ordered by individuals and organizations since its release in June. Some children, like Society of Actuaries Past President Jerry Brown's grandchildren, Amelia and Owen, pictured here, have clearly been inspired—on the first day of school this week, Owen told his third-grade teacher that he wants to be an actuary when he grows up, and he told her what they do! If you've given a copy of this actuarial adventure to someone in your life, we'd love to see a picture of the youngster in action. We'll post a photo album on the Magic School Bus page on the Academy website (along with as much, or as little, information about your young reader as you're comfortable with). Thanks for supporting the Academy's efforts at promoting interest in the importance of being an actuary in school-age children.
Online Election for Regular Directors Continues Through Next Week
Online voting remains open for regular director positions on the Academy's Board for a term starting on Nov. 1 at the close of the Academy's Annual Meeting in Washington, D.C., as part of the 2018 Annual Meeting and Public Policy Forum. All eligible Academy members should have received an email from our election vendor, Intelliscan (academy2018@intelliscaninc.net); those without an email address will receive the ballot by regular mail. If you haven't seen the email, please check your junk-mail folder.

The voting period will close on Aug. 31 at 11:59 p.m. EDT. If you need help with or have questions about your ballot, send an email to Keith Weir (kweir@intelliscaninc.com). We encourage members to take part in electing the newest leaders of the Academy who will help us fulfill our mission to serve the public and the U.S. actuarial profession. Visit the Academy Board Election Center for more information.

Public Employment Opportunities
The state of New Jersey's Department of Banking and Insurance has two positions open. The first position, for an actuarial analyst in the life and health unit, will do actuarial work in connection with the valuation of policy reserves, financial and statistical analysis, review of premium rates, rules and forms submissions of life and health companies, including health services and prepayment plans and related institutions. The second position, a managing actuary, will oversee health rate and form filing, analyze potential risks and trends in health markets including long-term care, provide actuarial responses as directed to carriers, interpret and provide guidance relating to applicable rules, laws, statues, and regulations for health insurance, and monitor and evaluate proposed legislation and regulations providing actuarial point of view. Both positions will be open until Aug. 30. For more information and to apply, visit the Department of Banking and Insurance website.
The Social Security Administration is seeking to fill a position in its Office of the Chief Actuary. The deputy chief actuary for short-range actuarial estimates is responsible for planning, directing, and coordinating the development of the short-range cost estimates for all Social Security programs both under current provisions and proposed changes in law or regulations. For more information or to apply for this position, click here.
The Academy has long supported government employers that are seeking to hire qualified actuaries. See our Public Employment Opportunity Posting Policy for more information.

Post-NAIC Webinar Recaps Life Issues
About 250 people attended the Academy's post-NAIC life webinar Friday summarizing key issues from the NAIC Summer 2018 National Meeting in Boston earlier this month. Presenters covered principle-based reserving and related considerations for reinsurance, risk-based capital requirements for variable annuities, changes in the federal tax code as a result of the 2017 tax reform law, and other life practice issues, as well as the Academy presentations to the NAIC's Life Actuarial Task Force, Life Risk-Based Capital Working Group, and others.

The webinar was moderated by Dave Neve, Academy vice president, life; panelists were Michael Boerner, member of the Academy's Life Practice Council; Philip Barlow, chairperson of the NAIC's Life Risk-Based Capital Working Group; and Tom Campbell, chairperson of the Academy's AG 43/C-3 Phase II Work Group. Slides and audio will be posted soon.

Gain Valuable CE at Annual Meeting and Public Policy Forum
The Academy's Annual Meeting and Public Policy Forum is an excellent way to remain current with the latest public policy and professionalism developments affecting your practice, while meeting your continuing education (CE) requirements and networking with your colleagues. Breakout sessions will cover the latest developments in today's top public policy and professionalism news, including a look at government-backed P/C insurance programs, the experiences of companies that filed PBR actuarial reports for 2017, multiemployer pension reform, and long-term care insurance experience. Other agenda highlights include an interactive game show developed by the Academy's Committee on Professional Responsibility, a keynote address by political analyst Charlie Cook of the Cook Political Report, and an optional-participation murder mystery to test your deduction skills during our Nov. 1 dinner. Discounted registration rates are available through Sept. 7—register today and make plans to join us in November.

Public Discipline Notice
The American Academy of Actuaries issued a Notice of Public Discipline effective on Aug. 20, 2018, suspending Timothy W. Sharpe from membership for a period of two years for materially failing to comply with Precepts 1, 3, 4, 10, and 14 of the Code of Professional Conduct in connection with valuations he performed for several municipal police and fire pension plans in Illinois. Notices are archived on the Academy's Public Discipline page.

Upcoming Events
In the News
An Insurancenewsnet.com article cited the Life Illustrations Work Group's comment letter to the NAIC's Life Insurance Illustration Issues Working Group on draft changes to Model #582.
A story published by Actuaries Digital cited the Big Data Task Force's monograph, Big Data and the Role of the Actuary.
In a joint letter to congressional conferees on the Agriculture and Nutrition Act (H.R. 2 and S. 3042), 19 organizations cited the Individual and Small Group Markets Committee's issue brief on association health plans.
Note: Some links in this email go to external websites and may require registration. The Academy is not responsible for the content of these websites. Links may expire.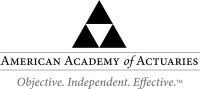 Follow the Academy on Facebook, LinkedIn, and Twitter.

---
1850 M Street NW • Suite 300 • Washington, DC 20036 • 202.223.8196 • www.actuary.org
Copyright 2018 American Academy of Actuaries. All rights reserved.