Retirement Account, Spring 2015
Having trouble viewing this email? View it in your browser.

Spring 2015
RECENT ACTIVITIES
CONGRESSIONAL MATTERS
Congressional Testimony on Social Security
Donald Fuerst, senior pension fellow, submitted written testimony to the U.S. Senate Special Committee on Aging for its hearing on "Bridging the Gap: How Prepared are Americans for Retirement?" Fuerst said "some steps have been taken to improve retirement security, but workers, retirees, and society could benefit from further actions that aid people in creating assured, adequate income throughout their retirement years."
Social Security Hearing Responses
Janet Barr, former chairperson of the Academy's Social Security Committee, responded to questions from members of the Senate Committee on Finance following its hearing on "Social Security: Is a Key Foundation of Economic Security Working for Women?" on Jan. 15. Read the original written testimony and news release, or watch the full hearing video. A story in The Motley Fool expanded on Janet Barr's testimony. The article builds on three key points made in Barr's testimony: 1) Women are more likely than men to have gaps in employment or never to have entered the workforce at all; 2) Women's average earnings are lower than men's; and 3) Women tend to live longer than men. Barr's testimony was also covered in recent stories in Examiner.com, The Daily Caller, Benefits Link, and an AdviceIQ column.
REGULATORY MATTERS
Multiemployer Meeting with PBGC
The Multiemployer Subcommittee met on March 18 with the Pension Benefit Guaranty Corp., along with officials from the Department of Labor and Treasury Department, regarding forthcoming guidance on the Multiemployer Pension Reform Act.
Comments to IRS on Mortality Tables
The Pension Committee sent a comment letter on Feb. 5 to the IRS regarding the use of mortality tables to calculate pension funding requirements for the years after 2015. The committee recommended that pension plans should be using up-to-date mortality assumptions and best practices where possible, but that smaller plans should have alternatives available in order to simplify administration and valuations where the cost of the application of more sophisticated methods may not be justified.
Comments to IRS on Pension Plan Funded Status
Also on Feb. 5, the Pension Committee sent a comment letter regarding potential improvements in the operation of IRC Section 436 while still protecting the funded status of pension plans. The committee is generally supportive of the aims of IRC §436, but believes it is unnecessarily cumbersome in some respects and could be made easier to administer.
Comments to Treasury on QLACs
The Pension Practice Council sent a letter on Jan. 14 to the Treasury Department regarding the advantages of allowing qualified defined benefit pension plans to provide longevity annuities directly, rather than requiring them to purchase an insurance contract.
Comments to PBGC on Actuarial Equivalence
On Jan. 13, the Pension Committee sent a comment letter to the PBGC regarding interpretation of plan provisions governing actuarial equivalence. The committee believes the PBGC is interpreting plan provisions governing actuarial equivalence in a manner that results in benefits that are not actuarially equivalent. The PBGC responded to the letter, stating that a misunderstanding exists on "PBGC's position regarding late retirement actuarial adjustments in a situation where a plan provides a 100% pre-retirement death benefit." Furthermore, PBGC states, "The mere presence of the term 'actuarial equivalence' does not preclude a plan from using a methodology that results in benefits larger than the minimum benefit required by ERISA" or in this case, larger than what the Pension Committee considered the actuarial equivalence.
PROFESSIONALISM MATTERS
Comments to ASB on Modeling Standards
The Pension Committee sent a comment letter to the Actuarial Standards Board on March 1 regarding the second exposure draft of the proposed actuarial standard of practice on modeling standards. The committee specifically commented on three primary areas of concern with the proposed standard—scope, clarity, and interaction with other standards.
IN THE NEWS
Retirement for the AGES
A Bloomberg View editorial on the Academy's assessments from its Retirement for the AGES initiative asks how U.S. pension plans might be able to move away from low-ranked defined benefit and defined contribution plans toward top-ranked models such as the New Brunswick Shared Risk Model. Bloomberg posed the question on Jan. 13 to Senior Pension Fellow Don Fuerst, who said that establishing laws and regulations that protect companies from market shocks and other risks might entice employers to try alternatives. The story also ran in LifeHealthPro and other media outlets.
For other stories on the Retirement for the AGES assessments, click here.
Other Retirement News
Senior Pension Fellow Don Fuerst was interviewed by iHeartRadio about the financial impact of the aging of our population on major public programs and different generations on Feb. 13. "The top concerns are aging programs like Social Security and Medicare. Both of those programs are in desperate need of reform and change so that they will be viable on a long-term basis," said Fuerst. The interview aired on several Philadelphia-area stations. Visit the Academy Newsroom to stream or download the interview podcast.
Bloomberg quoted Public Plans Subcommittee Chairperson Bill Hallmark in a Feb. 12 article examining the impact of the updated SOA mortality scale on New York's public pension plan. Projections of the state's pension fund liability have increased $355 million under the updated scale. "Mortality rates have been improving faster than the last study predicted," said Hallmark. The story also ran in Buffalo News and TheDay.com.
The Military Times reached out to Senior Pension Fellow Don Fuerst for comments on recommendations made in the Military Compensation and Retirement Modernization Commission's new report on military retirement systems. On Feb. 7, Fuerst provided perspective on how discount rates are applied in actuarial analysis, and recommended that actuarial procedures for determining present-day value and lump-sum payments be defined by statute.
A feature story in BenefitsPro highlighted the Academy's call for federal action on aging and retirement income issues. The Jan. 20 story quotes Academy President Mary D. Miller and Senior Pension Fellow Don Fuerst, both of whom stressed the need for the administration and Congress to examine the impact of the aging of the U.S. population on systems, programs, and policies. Additional stories on the Academy's State of the Union news release ran in PoliticoPro (subscriber-only), Benefits and Pensions Monitor, Open Retirement, Alliance For Retirement Income Adequacy, Life & Health Advisor, and the (subscriber-only) Retirement Income Journal.
A Jan. 5 opinion piece in National Review critiquing the management of the University of California's pension system quotes an Academy report in arguing that, in a well-run pension fund, contributions "should actually be contributed to the plan by the sponsor on a consistent basis."
Nasdaq.com republished a Dec. 16 Kiplinger article that cites analysis from a Social Security Committee monograph regarding the chained consumer price index (CPI) calculation method for Social Security cost-of-living adjustments (COLA). Chained CPI calculations include periods of economic inflation in the average and will typically result in a smaller change in COLA.
COMING EVENTS
Academy Capitol Forum Webinar, March 25
The Academy Capitol Forum lunchtime webinar series returns March 25 with "How Did State & Local Pension Plans Become Underfunded?" Jean-Pierre Aubry of the Center for Retirement Research at Boston College will discuss the evolution of the unfunded liability in public plans and the impact of a few well-defined factors—such as poor investment returns, inadequate contributions, and benefit changes—on underfunding. Academy Senior Fellow Don Fuerst will moderate and discuss the work the Academy is undertaking on public plan issues.
Enrolled Actuaries Meeting, April 12-15
Register for the 40th annual Enrolled Actuaries Meeting, held April 12-15 at the Marriott Wardman Park Hotel in Washington, D.C. The meeting offers a variety of panels and workshops, covering a wide range of topics and issues relevant to Enrolled Actuaries and other pension professionals.
Academy Annual Meeting and Public Policy Forum, November 12-13
The American Academy of Actuaries Annual Meeting and Public Policy Forum will be held on Nov. 12-13 in Washington, D.C. The event will provide information to educate and inform you about the most pressing issues currently facing the U.S. actuarial profession in public policy and professionalism.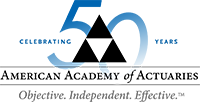 If you have any questions, suggestions, or comments about Retirement Account, please contact Matthew Mulling, the Academy's pension policy analyst, at Mulling@actuary.org .

PLEASE DO NOT REPLY TO THIS EMAIL. THIS EMAIL ADDRESS IS NOT MONITORED.
If you would like more information or to contact the Academy, please visit us at www.actuary.org/content/about-us

Sign up to follow the Academy on Twitter.
Rather not receive Academy emails? Unsubscribe by emailing membership@actuary.org.
---
1850 M Street NW • Suite 300 • Washington, DC 20036 • 202.223.8196 • www.actuary.org
Copyright 2015 American Academy of Actuaries. All rights reserved.