HealthCheck, October 2018
Academy activities, legislative/regulatory updates, and more.

Hear from Health Experts at the Annual Meeting
and Public Policy Forum
The Academy's Annual Meeting and Public Policy Forum, to be held Nov. 1–2 in Washington, D.C., will feature several timely health breakout sessions looking at key public policy issues.
Regulating the Affordable Care Act: What's New for 2019
Hear representatives from the Centers for Medicare & Medicaid Services' (CMS) Center for Consumer Information and Insurance Oversight (CCIIO) discuss the latest regulatory changes affecting coverage in the Affordable Care Act (ACA) marketplaces.

Reference Pricing: Can it Reduce Health Spending?
This panel will debut a new Health Practice Council research study, to be released prior to the annual meeting, in which claims data from the Health Care Cost Institute (HCCI) has been used to model national adoption of reference pricing. The results indicate a range of possible savings levels. Following this presentation, discussants—both actuaries and non-actuaries—will broaden the discussion to issues surrounding the challenges and opportunities facing regulators, insurers, employers, and consumers if reference pricing were adopted broadly.

Long-term Care Experience
Private long-term care (LTC) insurance is an option for some individuals to finance future LTC needs. LTC insurance has received much attention due to the relative size and frequency of premium rate increases. This session will explore current methods for the premium rate increase process and discussion about efforts directed toward more uniformity among various states and jurisdictions.
See the full agenda, including session speakers, for more details. And don't forget the meeting and forum will also offer plenary sessions featuring high-profile speakers, including Charlie Cook of The Cook Political Report, who will give an informed overview of the U.S. political outlook just days before the midterm elections. Register today.
Capitol Forum Webinar on Health Insurance Set for Oct. 25
Join the Academy Oct. 25 for the latest webinar in our "Capitol Forum: Meet the Experts" series for an inside look at how the Health Insurance Simulation Model (HISIM) is being updated. Speakers Jessica Banthin, deputy assistant director of the Congressional Budget Office's (CBO) Health, Retirement, and Long-Term Analysis Division (HRLD); and Alexandra Minicozzi, unit chief of health insurance modeling for the HRLD; will provide an overview of HISIM, which is used to generate estimates of health insurance coverage and premiums for the U.S. population under age 65. CBO analysts use the model to develop baseline projections and to simulate the effects of proposed changes to policies involving health insurance coverage. Academy Senior Health Fellow Cori Uccello will moderate. Register today.
Legislative/Judicial/Regulatory Updates

U.S. Department of Health and Human Services Secretary Alex Azar announced Sept. 27 that insurers have proposed to reduce premiums by 2 percent in 2019 on silver-level individual health insurance plans in the 39 states served by the federal health insurance exchange.

The U.S. Department of Labor released a guide on Oct. 3 that is intended to help employers establish and manage association health plans that are in compliance with the Employee Retirement Income Security Act (ERISA).

The U.S. Congress passed a bill on Oct. 3 aimed at addressing the opioid crisis through a range of strategies, including accelerating research on alternative painkillers, targeting international shipments of illicit opioids, funding grants for substance abuse programs, and allowing Medicaid coverage for inpatient facility treatment. Offsets on spending in the bill include requiring brand pharmaceutical manufacturers to disclose patent settlements with generic drug manufacturers for biosimilars to the Federal Trade Commission, standardizing the percentage that Medicaid Manage Care Organizations are allowed to spend on administrative care, and revising reporting requirements for prescription drug coverage under the Medicare Part D Program. The legislation is now under consideration by President Trump.

The U.S. House of Representatives passed two bills on Sept. 25 that would prohibit clauses (known as gag clauses) that prevent pharmacists from telling patients when they can save money by purchasing prescription drugs out-of-pocket rather than through their health insurance coverage. S. 2544 prohibits gag clauses in Medicare Advantage and Medicare Part D plans, while S. 2553 prohibits such clauses in private health insurance plans, including plans sold on the individual health insurance market. The bills are now under consideration by President Trump.

California Gov. Jerry Brown signed a bill into law on Sept. 22 that prevents the sale of short-term, limited-duration health insurance plans within the state, beginning in 2019.

The U.S. Census Bureau released a report, Health Insurance Coverage in the United States: 2017, on Sept. 12 detailing findings from the Current Population Survey Annual Social and Economic Supplements and the American Community Survey. The Census Bureau found that public and private health insurance coverage rates, as well as the uninsured rate, did not change significantly from 2016 to 2017.

The Arkansas Department of Human Services announced on Sept. 12 that 4,553 residents were removed from the state's Medicaid program because they failed to report work or community engagement activities from April through August. Arkansas was the first state to follow a new policy by the federal CMS allowing states to adopt work or community engagement requirements as a condition of Medicaid eligibility. Arkansas residents who lose Medicaid coverage under the new requirements are ineligible to re-enroll in the program for the remainder of the calendar year unless the resident meets another eligibility category, such as pregnancy or a disability.

The Nebraska Supreme Court dismissed a lawsuit against a Medicaid ballot initiative on Sept. 12. The lawsuit sought to block a November ballot initiative that will ask voters to decide whether to expand eligibility for the state's Medicaid program to working-age adults with incomes under 138 percent of the federal poverty limit.
In the News / Media Activities
Limited Space Remains for Life and Health Qualifications Seminar
Limited space is available for the Academy's annual Life and Health Qualifications Seminar, to be held Nov. 4–8 in Arlington, Va., outside of Washington, D.C. Gain the knowledge you need to allow you to obtain qualifications or relevant continuing education credit necessary to issue actuarial opinions for either the NAIC Life and Accident & Health Annual Statement or the NAIC Health Annual Statement. Attendees also can earn up to 27 hours of continuing education, including up to 2.7 professionalism hours. Secure one of the last few spots that remain—register today.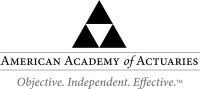 Follow the Academy on Facebook, LinkedIn, and Twitter.
---
1850 M Street NW • Suite 300 • Washington, DC 20036 • 202.223.8196 • www.actuary.org
Copyright 2018 American Academy of Actuaries. All rights reserved.