HealthCheck, June 2018
Academy activities, legislative/regulatory updates, and more.

Issue Brief Released on 2019 Health Insurance Premium Drivers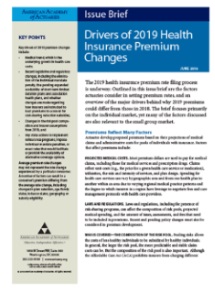 The Individual and Small Group Markets Committee released a new issue brief—Drivers of 2019 Health Insurance Premium Changes—that provides an overview of the factors underlying premium rate setting and highlights the major components driving 2019 premium changes for health insurance plans that comply with the Affordable Care Act (ACA).
"The individual market, which had shown signs of stabilizing, now faces a potential deterioration of the risk pool due to policy changes that reduce incentives for healthy individuals to enroll in ACA marketplace plans. This deterioration and other factors could drive premiums higher for 2019," said Academy Senior Health Fellow Cori Uccello. Read the Academy news release.
Medicare Trustees Report Issue Brief
The Academy released an issue brief on June 13 titled Medicare's Financial Condition: Beyond Actuarial Balance, just over a week following the release of the annual Medicare Trustees Report. With the Medicare program facing serious financing challenges, it notes that the Federal Hospital Insurance (HI) trust fund is not adequate to fund HI benefits; that increases in the Supplementary Medical Insurance costs increase pressure on beneficiary household budgets and the federal budget; and that increases in total Medicare spending threaten the program's sustainability. The issue brief states that changes are needed to improve the program's long-term solvency and sustainability, and delaying corrective measures would increase the burden that might be imposed on beneficiaries and taxpayers.
Academy Activities

The Joint P&C/Health Bond Factors Analysis Work Group sent a discussion draft to the NAIC Joint Health Risk-Based Capital (RBC) and P/C RBC Drafting Group on May 29. The discussion draft provides an update on the activities of the Academy work group dealing with certain aspects of RBC factors related to risk charges for fixed-income securities.

Academy voter guides released in late May include examinations of the current structure and financing of the Medicare and Medicaid programs, and the implications of different approaches to the programs' financing and coverage; health insurance, noting recent policy changes and the conditions for a stable individual market; and long-term care (LTC), with about 70 percent of Americans over age 65 estimated to need LTC services and support at some point in their lives. Read the Academy news release.
Legislative/Judicial/Regulatory Updates

The Medicare Board of Trustees issued its annual report on the financial status of Medicare on June 6. The Medicare Trustees Report projects that the Hospital Insurance trust fund will become depleted in 2026—three years sooner than reported in 2017. The Supplementary Medical Insurance (SMI) trust fund is expected to remain solvent indefinitely, and SMI spending is expected to grow from 2.1 percent of GDP in 2017 to 3.7 percent of GDP over the next 25 years, and then more slowly to 3.9 percent of GDP by 2092. Read the Academy alert.

In a June 7 filing issued to the U.S. District Court for the Northern District of Texas, Fort Worth Division, the U.S. Department of Justice announced the federal government will not defend the ACA against a lawsuit claiming that the ACA is no longer constitutional and should be repealed. Read the Academy alert.

Virginia Gov. Ralph Northam signed a budget bill into law on June 6, including a provision to expand the state's Medicaid program in accordance with the ACA, becoming the 33rd state to do so. The legislation will call for a federal waiver to implement work requirements and copayments as a condition of Medicaid eligibility. The expansion is expected to cover 400,000 low-income Virginians. Read the Academy alert.

The Centers for Medicare & Medicaid Services (CMS) released a Medicaid and Children's Health Insurance Program scorecard on June 5 that provides information on health and program indicators, such as enrollment, expenditures, and beneficiary health outcomes.

CMS approved a Section 1115 Medicaid waiver application from New Hampshire on May 7. The approved waiver allows the state to implement work requirements for Medicaid beneficiaries.

The Congressional Budget Office released a report outlining its projections of federal spending on health insurance for individuals under age 65 over the next decade. The report updates the health care baseline projections, as well as cost estimates of proposed legislative changes to federal health insurance subsidies. Read the Academy alert.

New Jersey Gov. Phil Murphy signed a bill into law on May 30 that creates a penalty for individuals who do not maintain health insurance coverage, known as the individual mandate. (A similar bill was signed into law by Vermont Gov. Phil Scott on May 28.) Murphy also signed a bill establishing a reinsurance program in New Jersey that will be funded with revenues from the new individual mandate penalty. Read the Academy alert.

The California Assembly passed a bill, now under consideration in the Senate, on May 21 that would prohibit insurers from selling short-term, limited duration health insurance policies in the state.

Vermont Gov. Phil Scott signed a bill into law on May 16 allowing for the wholesale importation of drugs into the state from Canada. The implementation of the new law is subject to approval by the U.S. Department of Health and Human Services.
Health Breakout-Session Topics Set for Annual Meeting
Early registration rates remain in effect for the Academy's 2018 Annual Meeting and Public Policy Forum, to be held Nov. 1–2 in Washington, D.C., just prior to the 2018 midterm elections. Health breakout-session topics include long-term care insurance experience, a dialogue with representatives of the Center for Consumer Information and Insurance Oversight, and exciting new research on health care reference pricing.
Also on the agenda—political analyst Charlie Cook of the Cook Political Report will be among the keynote speakers, the professionalism plenary session will feature an interactive game show, and our Nov. 1 dinner will feature an (optionally) interactive "Murder Mystery Whodunit." Register today and join us in November.
In the News / Media Activities
A subscriber-only Bloomberg Law story on the annual Medicare Trustees Report quoted Senior Health Fellow Cori Uccello, who cited the pressure that Medicare spending is putting on the federal budget. "Consistently, the trustees have been emphasizing Medicare's financial challenges, and that hasn't changed," Uccello said. In an AIS Health Daily story, Uccello discussed the factors that affect rate changes insurers are proposing for 2019.

A subscriber-only CQ Roll Call story cited comments from Barb Klever, chairperson of the Risk Sharing Subcommittee, on changes to the ACA's risk adjustment program.
Share Your Implementation Questions at the IFRS 17 Seminar
Don't miss out on the opportunity to gain the knowledge and tools you need before International Financial Reporting Standard (IFRS) 17 is implemented—register today for the Academy's "Seminar on Implementing IFRS 17 for Long-Duration Contracts." The seminar, to be held in Washington, D.C., Aug. 29–30, was designed for health and life financial reporting actuaries who will be working to implement the new accounting standard. Over the course of the seminar, you will acquire valuable knowledge during our interactive sessions, have opportunities to share and discuss your top implementation questions, and learn from experienced actuaries who have been working on implementation. If you're preparing for IFRS 17, this seminar is for you. Register by June 29 and save.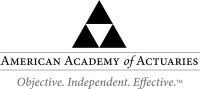 Follow the Academy on Facebook, LinkedIn, and Twitter.
---
1850 M Street NW • Suite 300 • Washington, DC 20036 • 202.223.8196 • www.actuary.org
Copyright 2018 American Academy of Actuaries. All rights reserved.