HealthCheck, July 2018
Academy activities, legislative/regulatory updates, and more.

Academy Activities
Members of the Individual and Small Group Markets Committee, along with Academy Senior Health Fellow Cori Uccello, presented a June 25 webinar on the committee's issue brief on 2019 health insurance premium drivers, which was released last month.
Members of the Academy's Individual and Small Group Markets Committee presented at the Society of Actuaries 2018 Health Meeting June 25–27 in Austin, Texas, on examining rules released by the Trump administration relating to association health plans (AHPs), short-term limited duration insurance plans, and health reimbursement arrangements.
The Long-Term Care (LTC) / Disability Committee sent a congressional comment letter on June 15 regarding proposed legislation to add an LTC benefit to Medicare.
Legislative/Judicial/Regulatory Updates

The Centers for Medicare & Medicaid Services (CMS) released a statement on July 7 saying the agency will suspend all collections and payments under the risk adjustment program established by the Affordable Care Act (ACA), until further notice. The announcement was followed by the release of the final risk adjustment report, Summary Report on Permanent Risk Adjustment Transfers for the 2017 Benefit Year, on July 9. Read the Academy alert.

CMS on July 2 published a semiannual snapshot of enrollment trends in federal- and state-based health exchanges. The snapshot provides effectuated enrollment data—that is, data on the number of individuals who have enrolled in a plan and paid any applicable premiums—for the 2017 plan year and February 2018. CMS found that the number of Americans with effectuated coverage for February 2018 was about 3 percent higher than February 2017, and that the percentage of the population receiving advance premium tax credits increased slightly for February 2018—to 87 percent, from an average of 84 percent for the 2017 plan year.

CMS rejected a request by the Massachusetts Executive Office of Health and Human Services to implement a closed formulary and a selective specialty pharmacy network in its Medicaid program. The agency also accepted a waiver application by the Oklahoma Health Care Authority allowing the state to implement value-based, supplemental rebate agreements with pharmaceutical companies in its Medicaid program.

The U.S. District Court for the District of Columbia on June 29 issued a ruling vacating approval by the U.S. Department of Health and Human Services (HHS) to allow work requirements in Kentucky's Medicaid program, calling the decision "arbitrary and capricious." Read the Academy alert.

The District of Columbia City Council approved a budget bill on June 26 that includes a provision that would implement a penalty for individuals who do not maintain health insurance coverage (known as an individual mandate). The legislation is currently under a 30-day congressional review period. If Congress does not intervene and the bill is enacted, the individual mandate would take effect in January 2019.

The U.S. Department of Labor (DOL) on June 19 released a final rule on AHPs. The action finalizes a proposed rule released in January in response to an October 2017 executive order from President Trump directing the Secretary of Labor to consider expanding access to such plans. Read the Academy alert.

A three-judge panel on the U.S. Court of Appeals for the Federal Circuit ruled on June 14 that the federal government is not required to provide payments that were promised under the risk corridors program established by the ACA to two insurers that were participating in the marketplace. Read the Academy alert.
Next Week—Early Registration Deadline for LHQ Seminar
The early registration deadline for the Academy's 2018 Life and Health Qualifications Seminar is Friday, July 20. To be held Nov. 4–8 in Arlington, Va. (suburban Washington, D.C.), this annual event delivers training and instruction to allow you to obtain qualifications or relevant continuing education (CE) credit necessary to issue actuarial opinions for either the NAIC Life and Accident & Health (A&H) Annual Statement or the NAIC Health Annual Statement.
Attendees can earn up to 27 hours of CE credit, including up to 2.7 professionalism hours. Only 100 seats are available for this highly regarded seminar—register today to obtain the lowest rates and secure your space.
In the News / Media Activities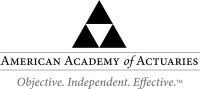 Follow the Academy on Facebook, LinkedIn, and Twitter.
---
1850 M Street NW • Suite 300 • Washington, DC 20036 • 202.223.8196 • www.actuary.org
Copyright 2018 American Academy of Actuaries. All rights reserved.