HealthCheck, February 2019
Academy activities, legislative/regulatory updates, and more.

Academy Activity
The Long-Term Care (LTC) Practice Note Work Group published an exposure draft of an LTC insurance practice note on Jan. 31. An update of a 1995 LTC insurance practice note, it is intended to provide a source of information to practicing LTC actuaries seeking to better understand the considerations in evaluating experience, setting assumptions, valuation, and financial reporting. The comment deadline for this exposure draft is April 30.
Now Available Online: Life and Health Law Manual
The newest edition of the Life and Health Valuation Law Manual is available for order. The manual contains a concise summary of the valuation laws (and NAIC regulations) of all 50 states, the District of Columbia, and Puerto Rico. It has been redesigned for 2019, streamlining the contents so users can easily access information. Order today.
Legislative/Judicial/Regulatory Updates

The White House Council of Economic Advisers (CEA) released a report on Feb. 7 examining the effects of three regulatory reforms to the Affordable Care Act (ACA). They include the December 2017 reduction of the penalty for individuals without health insurance coverage (known as the individual mandate) to zero; a June 2018 rule allowing more small businesses to form association health plans; and an August 2018 rule expanding the availability of short-term, limited-duration insurance (STLDI) plans. According to the CEA, these changes will generate "benefits to Americans" worth about $450 billion over the next decade. The CEA expects that these reforms will primarily benefit lower- and middle-income consumers, while imposing costs on some middle- and higher-income consumers in the form of higher insurance premiums.

The U.S. House of Representatives introduced three bills on Feb. 6 aimed at reversing changes to the ACA made by the administration. H.R. 986 would prohibit issued guidance regarding state proposals to waive provisions of the ACA from being implemented or enforced. H.R. 987 would reverse funding cuts by the Centers for Medicare & Medicaid Services (CMS) for ACA education, marketing, and outreach efforts. H.R. 1010 would prohibit an August 2018 rule expanding the availability of STLDI plans from being implemented or enforced. The Energy and Commerce Committee's health subcommittee held a Feb. 13 hearing on the three measures.

Sen. Ron Wyden and Rep. Frank Pallone Jr. sent a letter to the U.S. Government Accountability Office (GAO) on Feb. 6 requesting an evaluation of guidance issued by CMS and the Departments of the Treasury and Health and Human Services (HHS) in October 2018. The letter asks GAO to evaluate whether the guidance—which authorizes states to waive certain requirements of the ACA Section 1332 (State Innovation Waivers)—constitutes a rule for the purposes of the Congressional Review Act (CRA), which would subject it to congressional review under the CRA.

CMS released an updated version (Version 5.0) of its Unified Rate Review Template (URRT) on Jan. 24. Read the Academy alert.

CMS issued the proposed annual Notice of Benefit and Payment Parameters for the 2020 benefit year on Jan. 17. Read the Academy alert.

CMS announced a new Medicare Part D payment model, as well as an updated Medicare Advantage (MA) payment model, aimed at lowering prescription drug costs for Medicare on Jan. 18. The new Part D Modernization Model will require plans, beginning in the 2020 plan year, to take on a greater share of risks in the "catastrophic phase" of spending. The updated MA Value-Based Insurance Design Model includes changes for the 2020 plan year, such as: allowing plans to provide reduced cost sharing and additional benefits to enrollees in a more targeted fashion; allowing plans to offer higher-value individual rewards and incentives for beneficiaries to improve their health; and allowing plans to utilize access to telehealth services, as long as an in-person option remains, to meet a wider range of network requirements.

CMS approved a section 1115 Medicaid waiver request from Arizona on Jan. 18, allowing the state to implement a requirement for work or community engagement activities as a condition of eligibility for its Medicaid program. The approved waiver request is the first to include an exemption of this requirement for members of federally recognized tribes.

A bipartisan group of U.S. senators (Sens. Bill Cassidy, Michael Bennet, Todd Young, Tom Carper, Lisa Murkowski, and Maggie Hassan) submitted a letter to health care providers and insurers on Feb. 5 requesting information and data related to surprise medical billing. The senators are seeking the information in order to refine a draft legislative proposal that they (among others) released in September.

HHS released a proposed rule on Jan. 31 aimed at addressing prescription drug costs. The rule would exclude rebates on prescription drugs paid by manufacturers to pharmacy benefit managers (PBMs), Part D plans, and Medicaid managed-care organizations from safe harbor protection under the Anti-Kickback Statute; and create a new safe harbor for prescription drug discounts offered directly to patients, as well as for fixed fee service arrangements between drug manufacturers and PBMs. A fact sheet on the proposed rule is available here.

The Idaho Supreme Court issued a ruling on Feb. 5 affirming the constitutionality of a voter-approved ballot initiative to expand the state's Medicaid program. The ruling addressed a lawsuit claiming that the November initiative "violates Idaho's Constitution by delegating future lawmaking authority regarding Medicaid expansion to the federal government." The court dismissed this argument, stating that if "any reference to a federal statute delegates lawmaking authority to the federal government, then many of Idaho's statutes would be unconstitutional, and in fact, the option of any cooperative federal-state program would be curtailed."

A bill passed in the Utah Senate on Feb. 4 would make changes to the expansion of the state's Medicaid program approved by voters on a November ballot initiative. The legislation, now under consideration by the Utah House, would extend eligibility for Medicaid coverage to working-age adults with incomes below 100 percent of the federal poverty level (FPL), rather than to those with incomes below 138 percent of the FPL, as approved by voters.

A bill introduced in the New Mexico House on Jan. 31 (with companion legislation introduced in the Senate) would establish a public health insurance option for New Mexico residents through the state's Medicaid program. Under the legislation, state residents would be allowed to pay a monthly premium for Medicaid coverage. Eligibility would be prohibited for individuals already enrolled in Medicaid or Medicare, and for individuals who receive subsidized care through the state health insurance exchange.

Colorado Gov. Jared Polis signed an executive order on Jan. 23 establishing the new Office of Saving People Money on Health Care. It is tasked with finding ways to lower health care costs within the state, including establishing a reinsurance program, empowering the state's insurance division to protect consumers, addressing hospital price transparency and prescription drug costs, and developing proposals for new and more affordable health insurance options.

Massachusetts Gov. Charlie Baker introduced a budget bill on Jan. 23 that includes several provisions intended to address prescription drug costs. These provisions include allowing the state's Medicaid program (MassHealth) to engage in direct price negotiations with drug manufacturers, with a public rate-setting process to determine prices when negotiations fail to reach a target price; requiring PBMs to be transparent about pricing spreads and rebates in their contracts with MassHealth managed care organizations and accountable care organizations; and limiting profit margins allowed to PBMs under MassHealth contracts.
Save the Date—2019 LHQ Seminar Set for Nov. 10–14
Save the date for the Academy's 2019 Life and Health Qualifications Seminar, which will be held Nov. 10–14 in Arlington, Va., just outside the nation's capital. The annual LHQ Seminar provides the opportunity to obtain qualifications or relevant continuing education (CE) credit necessary to issue actuarial opinions for either the NAIC Life and Accident & Health (A&H) Annual Statement or the NAIC Health Annual Statement.
In the News / Media Activities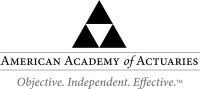 Follow the Academy on Facebook, LinkedIn, and Twitter.
---
1850 M Street NW • Suite 300 • Washington, DC 20036 • 202.223.8196 • www.actuary.org
Copyright 2018 American Academy of Actuaries. All rights reserved.