HealthCheck, August 2017
Academy activities, legislative/regulatory updates, and more.

Academy Activities
The Health Practice Council (HPC) released a policy paper on cost-sharing reductions (CSRs) that emphasized making funding for CSRs permanent and automatic in order to avoid premium increases and market instability.
The HPC sent a letter to Senate leadership on the potential adverse consequences of repealing the individual mandate, which would lead to lower enrollment, a deterioration of the risk pool, and higher premiums.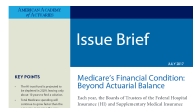 The Medicare Subcommittee published an issue brief on the 2017 Medicare Trustees Report released in July and the program's long-term financial health.
The Health Solvency Subcommittee and the P/C RBC Committee submitted a joint comment letter to the NAIC's Investment Risk-Based Capital Working Group about proposed changes to corporate bond factors.
The HPC released a policy paper in July highlighting several frequently asked questions (FAQs) on risk pooling and explaining how it works in the individual health insurance market. The FAQs also explore the differences between a single risk pool and separate risk pools.
Annual Meeting and Public Policy Forum to Feature Health
Breakout Sessions
The Academy's Annual Meeting and Public Policy Forum, to be held Nov. 14–15 in Washington, will shed a light on today's top issues, including up-to-date information on the status of health care legislation and regulations and potential implications for our work. See the health breakout session information on the Annual Meeting page. The Academy believes in good faith that you may earn 1.8 continuing education (CE) credits for each breakout session; professional CE will also be available. Stay on top of health care developments—register today.
Legislative/Judicial/Regulatory Updates

After passing a motion to proceed on debating a budget reconciliation bill on July 25, the Senate failed to pass multiple pieces of health care legislation that would have, in part, partially repealed the ACA, with some offering a replacement. All votes failed to attract the required simple majority.

The U.S. Court of Appeals for the District of Columbia Circuit ruled Aug. 2 to allow 17 states and the District of Columbia to defend the Affordable Care Act's (ACA) reimbursements to insurers for cost-sharing reductions in House v. Price.

A Senate bill introduced Aug. 3 by Sen. Debbie Stabenow (D-Mich.) would allow near-retirees (ages 55 to 64) to buy into Medicare.

The Centers for Medicare & Medicaid Services approved a five-year extension of Florida's Medicaid Managed Care Demonstration Waiver.
LHQ Seminar Offers CE Credit
The Academy's popular 2017 Life and Health Qualifications Seminar, to be held Nov. 12–16 in Arlington, Va., will provide attendees with the chance to earn up to 27 hours of continuing education (CE) credit, including up to 2.7 professionalism hours. Attendees will benefit from three days of training and instruction and have the opportunity to take the Specific Qualification Standard exam on the final day. Early registration ends on Sept. 15; register now for the lowest rates.
In the News / Media Activities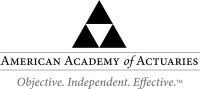 Follow the Academy on Facebook, LinkedIn, and Twitter.
---
1850 M Street NW • Suite 300 • Washington, DC 20036 • 202.223.8196 • www.actuary.org
Copyright 2017 American Academy of Actuaries. All rights reserved.