This Week, July 5–9, 2021
Read the latest news from the Academy.

Recent Academy Activity, July 5–9, 2021
Lock In the Best Rates for the Life and Health Qualifications Seminar
Early registration ends this month for the Academy's Life and Health Qualifications Seminar—register now for the best rates to attend this highly regarded event.
This seminar delivers the highest-quality and most efficient way to obtain any needed basic education or relevant continuing education (CE) credit necessary to qualify to issue actuarial opinions for either the National Association of Insurance Commissioners (NAIC) Life and Accident & Health (A&H) Annual Statement or the NAIC Health Annual Statement. The curriculum is updated each year so that the most current information is presented. See the agenda at a glance for a look at what topics will be covered.
In Case You Missed It...
The Academy recently released a new episode of its popular podcast series, as well as a new Member Spotlight.
There's Still Time to Take the Annual Volunteer Survey
The Academy's Annual Volunteer Survey is your chance to raise your hand and serve the profession. If you would like to join your colleagues in volunteering at the Academy, please take the survey by logging in to the member section of the Academy website. The survey will close on July 30. If you have any questions about volunteering or the survey, please contact the Academy's director of membership, Kasha Shelton, by email (volunteersurvey@actuary.org).
Public Employment Opportunity
The New York City Office of the Actuary is seeking to fill an administrative actuary position: deputy chief actuary for the Certification Services Division (CSD). Duties include oversight of the CSD and managing staff of about 10 individuals. For more information, visit https://a127-jobs.nyc.gov and note Job Opening ID No. 461344.
The Academy has long supported government employers that are seeking to hire qualified actuaries. See our Public Employment Opportunity Posting Policy for more information.
Public Policy Activity
Alert
Upcoming Events
In the News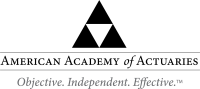 If you would like more information or to contact the Academy, please visit us at www.actuary.org/content/about-us
Follow the Academy on Facebook, LinkedIn, and Twitter. Listen to our podcast.
---
1850 M Street NW • Suite 300 • Washington, DC 20036 • 202.223.8196 • www.actuary.org
Copyright 2021 American Academy of Actuaries. All rights reserved.