This Week, Sept. 13 - 17, 2021
Read the latest news from the Academy.

Recent Academy Activity, Sept. 13–17, 2021
Annual Meeting & Public Policy Forum to Feature National Political Reporter and Author Robert Costa as Opening Keynote Speaker
The Academy's Annual Meeting and Public Policy Forum will kick off with an in-person-only Nov. 4 opening plenary session that will feature former PBS "Washington Week" moderator Robert Costa as keynote speaker. Attendees at the Fairmont Hotel in Washington, D.C., will have exclusive access to this session, in which Costa will offer nonpartisan insights from his just-published book co-authored with Bob Woodward, Peril, and the political environment shaping current public policy issues. This plenary will not be accessible to virtual registrants connecting to the meeting remotely.
Costa has covered the White House, Congress, and campaigns for the Washington Post since 2014, and he has also been a political analyst for NBC News and MSNBC.
The Annual Meeting and Public Policy Forum is a hybrid event and will include focused public policy and professionalism plenary sessions and casualty, health, life, and pension practice-area breakouts. The Academy will also present its annual awards honoring lifetime achievements and outstanding volunteerism. Early registration discounts are available, so be sure to register now—register today.
Academy Presents on Scalars Research at CLRS
Academy President-Elect Maryellen Coggins and Steve Jackson, assistant director for research (public policy), presented Monday at the Virtual Casualty Loss Reserve Seminar and Workshops (CLRS) on the Academy's scalars research paper. The CLRS is sponsored jointly by the Academy and the Casualty Actuarial Society.
Professionalism Outreach
Actuarial Board for Counseling and Discipline (ABCD) Chairperson David Driscoll provided an overview of the ABCD and its activities and processes to a virtual meeting of the Actuaries Club of Indiana, Kentucky, and Ohio (Tri-State Actuarial Club) on Monday. The presentation included a look at the Precepts of the Code of Professional Conduct and how actuaries can request guidance from the ABCD on actuarial matters they believe may affect their obligations under the Code.
Public Policy Outreach
Health Equity Work Group Chairperson Annette James participated in a panel, "The Cost of Health Inequity: Dollars and Sense," as part of The Alliance for Health Policy's Health Equity Summit, held Wednesday and Thursday. Panelists discussed health disparities and health care financing from various standpoints, including the cost implications of inaction to address health inequities in terms of additional national health expenditures and lost productivity, and in context of the COVID-19 pandemic. James will be a regular director on the Academy's Board of Directors beginning in November.
Next Week—Life Policy Webinar
Don't forget to register for next week's "Academy Life Policy Update," in which presenters will cover a National Association of Insurance Commissioners (NAIC) Life Risk-Based Capital (RBC) update, an NAIC Life Actuarial Task Force (LATF) update, and will discuss future principle-based reserving (PBR) mortality improvement. Presenters will be Philip Barlow, chair of the NAIC's Life RBC Working Group; LATF Chair Michael Boerner; and Marianne Purushotham, a member of the Academy's Life Experience Committee. Academy Life Vice President Laura Hanson will moderate. The webinar is next Wednesday, Sept. 22, from 12:30 p.m. to 2 p.m. EDT. Register today.
Recently Released
The latest StateScan Roundup (formerly StateScan Quarterly) recaps developments in spring and summer state legislation and regulation of interest to actuaries. The issue covers cross-practice issues, including consumer data and insurance, state adoption of NAIC models, insurance nondiscrimination, and reinsurance. It covers practice-area-specific legislation regulation in pension, property/casualty, life, and health, including such topics as COVID-19, annuities, surprise billing, prescription drugs and medication, Medicaid, automobile and catastrophe insurance, data security, and flood insurance. The Academy's StateScan portal gives members the ability to search, identify, and monitor state legislative activity on key public policy issues. Log in now to access StateScan.
The Summer 2021 ASB Boxscore covers recent Actuarial Standards Board (ASB) activity, including the ASB's adoptions of revisions to Actuarial Standard of Practice (ASOP) Nos. 28 and 38, approval of an exposure draft of a proposed ASOP No. 24 revision, a third exposure draft of a proposed ASOP No. 4 revision, and a look ahead to ASB meetings and activities, including its scheduled meeting next week.
Public Policy Volunteer Opportunity
The Federal Reserve Board is seeking individuals with a diverse set of expert insurance perspectives in life, property and casualty, and reinsurance issues to serve on its Insurance Policy Advisory Committee (IPAC). Established by the Economic Growth, Regulatory Relief, and Consumer Protection Act, the IPAC is comprised of 21 members who serve staggered three-year terms and have professional backgrounds, including insurance accounting, actuarial science, academia, insurance regulation, and policyholder advocacy. Each year, the Federal Reserve Board selects seven individuals to serve a three-year term. It may select additional individuals to fill any term that is unexpired and vacated by an existing member. Click here for information on how to apply for this opportunity.
Alert
Public Policy Activity
Upcoming Events
In the News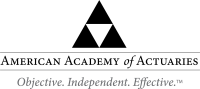 PLEASE DO NOT REPLY TO THIS EMAIL. THIS EMAIL ADDRESS IS NOT MONITORED.
If you would like more information or to contact the Academy, please visit us at www.actuary.org/content/about-us
Follow the Academy on Facebook, LinkedIn, and Twitter. Listen to our podcast.
To update your Academy email communication preferences, please login and update your Academy member profile.
---
1850 M Street NW • Suite 300 • Washington, DC 20036 • 202.223.8196 • www.actuary.org
Copyright 2021 American Academy of Actuaries. All rights reserved.