This Week, Oct. 28 - Nov. 1, 2019
Read the latest news from the Academy.

Recent Academy Activity, Oct. 28 – Nov. 1, 2019
Online Registration Ends Today for Next Week's Annual Meeting and Public Policy Forum
The Academy's Annual Meeting and Public Policy Forum, to be held Nov. 5–6 in the nation's capital, is just days away. With more than 40 experts and an agenda covering today's top issues, this event is the actuarial profession's best in-person forum for learning from the experts and enabling direct and immediate conversations on issues that matter to actuaries and policymakers across all practice areas. Today, Nov. 1, is the last day for online registration. Register today and join us next week in Washington.
Webinar to Look at Qualified Actuary Requirements
Join the Academy for a Nov. 20 webinar, "P/C Qualified Actuaries: 2019 Changes to Instructions." The NAIC Instructions to the P/C Statement of Actuarial Opinion have changed in 2019, with the most substantive change pertaining to the definition of a qualified actuary and associated documentation that the Appointed Actuary is required to provide to company boards. This webinar will address the changes and required documentation to try to assist Appointed Actuaries with meeting the new requirements. Presenters will include members of the Academy's Committee on Property and Liability Financial Reporting (COPLFR), who are familiar with the changes to the Instructions and corresponding Regulatory Guidance issued by the NAIC's Actuarial Opinion Working Group (AOWG). Register today.
Recently Released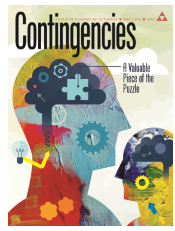 In the November/December issue of Contingencies, the cover story, "A Valuable Piece of the Puzzle," posits that shrewd companies stand to benefit from hiring neurodiverse actuaries. Other features include "Model Behavior," which contains several practical applications of artificial intelligence in actuarial science; and "Where Are the Whip-Makers?"—in the Actuarial Software Now supplement, the workplace of tomorrow will look very different from today; should actuaries be concerned? Plus, a President's Message from Academy President Shawna Ackerman on the Academy's unique voice; Zen and the art of actuarial science, and what does it mean to be "reasonable"?
The October Actuarial Update gives a final preview of the Academy's Annual Meeting and Public Policy Forum, which kicks off next week in the nation's capital with plenary and practice-area breakout sessions providing many opportunities for continuing education credit. Also in the issue: Academy President Shawna Ackerman writes to members about the Academy's recent membership survey; an October professionalism webinar looked at reliance in actuarial standards of practice; the Academy's jointly sponsored Actuaries Longevity Illustrator has been updated; and the "Professionalism Counts" column addresses some common year-end qualification questions.
The quarterly ASB Boxscore covers the Actuarial Standards Board's (ASB) review of proposed revisions of Actuarial Standard of Practice (ASOP) Nos. 11, 28, and 32; and the appointments of new ASB members.
Earn CE at December's PBR Boot Camp
Space is still available for the Academy's PBR Boot Camp, to be held Dec. 9–11 in Austin, Texas, just a month before the Jan. 1 deadline for companies to comply with the principle-based reserving (PBR) requirements under the Valuation Manual Section 20 (VM-20). Attendees will hear lessons learned from those who have already been at the forefront of PBR implementation for life insurance and variable annuity products to prepare for complying with the PBR requirements. Continuing education (CE) credit is available. Register today.
Public Policy Activity
The Pension Committee released a public policy practice note to provide information to actuaries on current and emerging practices for measuring obligations of defined benefit pension plans that include variable annuity benefits.
Upcoming Events
In the News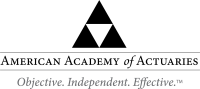 PLEASE DO NOT REPLY TO THIS EMAIL. THIS EMAIL ADDRESS IS NOT MONITORED.
If you would like more information or to contact the Academy, please visit us at www.actuary.org/content/about-us
Follow the Academy on Facebook, LinkedIn, and Twitter.
Rather not receive Academy emails? Unsubscribe by emailing membership@actuary.org.
---
1850 M Street NW • Suite 300 • Washington, DC 20036 • 202.223.8196 • www.actuary.org
Copyright 2019 American Academy of Actuaries. All rights reserved.