This Week, Nov. 29 - Dec. 3, 2021
Read the latest news from the Academy.

Keeping You in the Know—Recent Academy Activity, Nov. 22 – Dec. 3, 2021
Academy Issues Revised USQS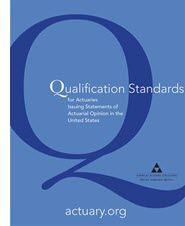 The Academy, which sets standards for qualification, practice, and conduct for actuaries practicing in the United States, has revised the standards defining the qualifications for actuaries who issue statements of actuarial opinion (SAOs) in the United States. The revised Qualification Standards for Actuaries Issuing Statements of Actuarial Opinion in the United States (USQS) will replace the existing qualification standards as of Jan. 1, 2022. Changes to the USQS include a new requirement for one continuing education (CE) hour of bias education annually, important clarifications regarding qualifying to issue SAOs in particular subject areas, and changes related to non-U.S. actuaries and to Enrolled Actuaries issuing SAOs in the United States. Read the news release.
Webinar planned for Dec. 20: The Academy will host a webinar on Monday, Dec. 20, to look at the revised USQS—what's new, what's changed, and what you need to know. Registration will open soon.
Registration Now Open for Latest 'Dark Side' Professionalism Webinar
The professionalism webinar "More Tales From the Dark Side" will look at Actuarial Board for Counseling and Discipline requests for guidance and related ethical issues. The webinar will be held on Friday, Dec. 17, from noon to 1:30 p.m. EST; register now.
Recently Released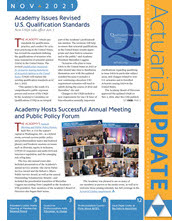 The November Actuarial Update covers the revised USQS, which will replace the existing qualification standards as of Jan. 1. Also in the issue, the Life and Health Qualifications Seminar returned as a live event; the Council on Professionalism added "Education" to its name—reinforcing education's role in its mission; the latest "Actuary Voices" podcast episode features Christian Benjaminson, an active pension volunteer; and the "Professionalism Counts" column offers "More About ASOPs—Disclosures, Notable Changes, and Handling of Comments."
A special supplement to Actuarial Update covers all aspects of the Academy's successful Annual Meeting and Public Policy Forum, which was held Nov. 4–5 in the nation's capital as a hybrid event. Read the supplement for full event coverage, including authors Robert Costa and Cathy O'Neil; Maryellen Coggins succeeding Tom Campbell as the Academy's 57th president; plenary sessions on professionalism and big data and algorithms, COVID-19, insurance regulation, and diversity, equity & inclusion; presentation of the Academy's annual service awards; and property/casualty, health, life, and pension breakout sessions.
The latest Contingencies web exclusive—"What the Hack?"—explores cyber risk, cybercrime, and cybersecurity, addressing the current state of play of the cyber threat landscape and how insurers are keeping up with ever-evolving capabilities of motivated hackers—and the role actuaries play in pricing and mitigating threats. Also, be sure to listen to the interview with Norman Niami, chairperson of the Academy's Cyber Risk Task Force, who offers his on-the-ground perspectives on this timely topic.
Public Employment Opportunity With the GAO
The U.S. Government Accountability Office (GAO) has an opening for a Senior Actuary, to be located either in GAO's headquarters in Washington, D.C., or in GAO's Atlanta or Seattle field office. Primary practice area should be retirement; experience in multiple practice areas is welcome but not required. The application deadline is Dec. 13; learn more about the position and how to apply via USA Jobs.
The Academy has long supported government employers that are seeking to hire qualified actuaries. For more information, see our Public Employment Opportunity Posting Policy.
Upcoming Public Policy Webinars Offer Year-End CE Opportunities
In addition to the webinar detailing the changes to the USQS and the Dec. 17 professionalism webinar (see above), the Academy will host public policy webinars this month that will offer opportunities to earn valuable CE credit as 2021 draws to a close.
Alerts
Public Policy in Focus
Learn more about how the Academy's public policy efforts support the profession, our members, and the public.
Upcoming Events
In the News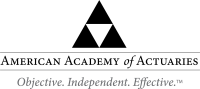 PLEASE DO NOT REPLY TO THIS EMAIL. THIS EMAIL ADDRESS IS NOT MONITORED.
If you would like more information or to contact the Academy, please visit us at www.actuary.org/content/about-us
Follow the Academy on Facebook, LinkedIn, and Twitter. Listen to our podcast.
To update your Academy email communication preferences, please login and update your Academy member profile.
---
1850 M Street NW • Suite 300 • Washington, DC 20036 • 202.223.8196 • www.actuary.org
Copyright 2021 American Academy of Actuaries. All rights reserved.