This Week, July 29 - August 2, 2019
Read the latest news from the Academy.

Recent Academy Activity, July 29 – August 2, 2019
Academy Presents at NAIC Summer Meeting
Academy volunteers presented Thursday and Friday at the NAIC Summer 2019 National Meeting in New York City, addressing life, health, casualty, and professionalism topics.
Presentations to NAIC's Life Actuarial Task Force (LATF) included:
Health presentations included:
Academy professionalism presentations—which will continue into the weekend, along with casualty presentations—included updates to HATF and LATF by Academy President Shawna Ackerman, Actuarial Standards Board Chairperson Kathy Riley, and Actuarial Board for Counseling and Discipline member Godfrey Perrott. The Academy will host a professionalism breakfast for regulators on Saturday.
Pension Briefings Wrap Up on Capitol Hill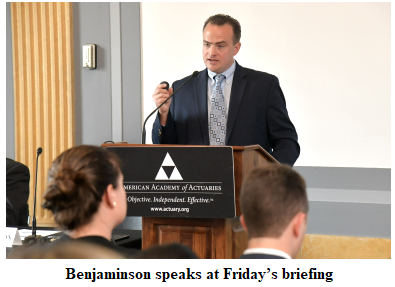 The Pension Practice Council (PPC) hosted its third and final multiemployer plan briefing Friday on Capitol Hill as part of its Multiemployer Plan Crisis 360 series. The briefing, which drew a full room of congressional staff and policymakers, was on "Strengthening the System for the Future," and featured panelists Multiemployer Plans Committee Chairperson Jason Russell and committee Vice Chairperson Christian Benjaminson. Josh Shapiro, Academy vice president, pension, chaired the briefing. Follow us on Facebook and on Twitter for photos and more.
Pension Webinar Looks at Expected Return Assumptions
The PPC hosted a webinar on Tuesday, "Developing Return Expectations in Today's Capital Markets—What Methods Work Now?" Panelists Evan Inglis, a member of the Public Plans Committee, and Jerry Mingione, a member of the Social Security Committee, covered approaches for projecting returns under varying market conditions; historical capital market conditions; and current return projections from capital market models. Slides and audio are available free for Academy members.
Academy Representatives Attend IABA Meeting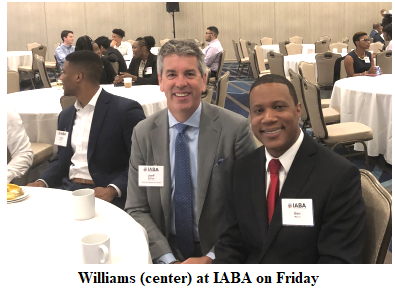 Academy representatives are attending the International Association of Black Actuaries' (IABA) annual meeting in Houston, which began Thursday and concludes Saturday. Academy President-elect D. Joeff Williams, along with General Counsel and Director of Professionalism Brian Jackson and Assistant Director of Membership Kasha Shelton, are representing the Academy at the IABA meeting.
Capitol Forum Webinar on National Retirement Policy Set for Aug. 14
The Academy will host a Capitol Forum webinar this month—"Toward a U.S. National Retirement Policy—A Dialogue on Key Elements for Success"—that will look at key issues involving U.S. retirement security and the increasing need for the establishment of a comprehensive national retirement policy that articulates guiding principles for the U.S. retirement system. Eric Keener, chairperson of the Retirement System Assessment and Policy Committee, will moderate, and the presenters will be Romina Boccia, director of the Grover M. Hermann Center for the Federal Budget at the Heritage Foundation; Teresa Ghilarducci, economics professor and director of the Schwartz Center for Economic Policy Analysis at the New School for Social Research; and James B. Lockhart III, senior fellow and co-chair at the Bipartisan Policy Center's Commission on Retirement Security and Personal Savings. The webinar will be Wednesday, Aug. 14, from noon to 1:30 p.m. EDT. Register today.
Recently Released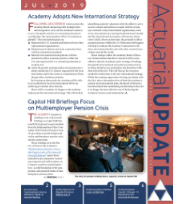 The July Actuarial Update reports on the Academy's adoption of a new international strategy, which will allow the Academy to more effectively focus on achieving direct representation of the U.S. actuarial profession with those organizations that are of most interest for U.S. practice. Also in the issue: the two-week online election of Academy regular directors begins Aug. 8; Pennsylvania Insurance Commissioner Jessica Altman will give a plenary address at the Annual Meeting and Public Policy Forum; a professionalism webinar on Big Data issues; and the "Professionalism Counts" column, on Precept 13.
Panel Presents on Climate Indexes at Statistical Meeting
The Academy organized a panel that presented Monday on "Assessing Climate Risks" at the American Statistical Association's 2019 Joint Statistical Meetings in Denver. Steve Jackson, the Academy's assistant director for research, was joined by Academy members Steve Kolk, a member of the Extreme Events and Property Lines Committee, and past Casualty Vice President Rade Musulin, in discussing the current status and future prospects of the Actuaries Climate Index, the Actuaries Climate Risk Index, the Australian Actuaries Climate Index, and other actuarial climate indexes. Two non-actuarial environmental statisticians were also on the panel—Peter Sousounis, director of climate change modeling at AIR Worldwide, and Michael Wehner, senior staff scientist at the Lawrence Berkeley National Laboratory and a lead author of the Intergovernmental Panel on Climate Change (IPCC) Climate Assessments and the U.S. National Climate Assessments.
Public Policy Activity
Upcoming Events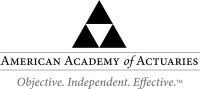 Follow the Academy on Facebook, LinkedIn, and Twitter.

---
1850 M Street NW • Suite 300 • Washington, DC 20036 • 202.223.8196 • www.actuary.org
Copyright 2019 American Academy of Actuaries. All rights reserved.