This Week, Jan. 13–17, 2020
Read the latest news from the Academy.

Recent Academy Activity, Jan. 13–17, 2020
Academy Closed Monday
The Academy's office will be closed on Monday, Jan. 20, in observance of the Martin Luther King Jr. Day holiday.
Academy 2020 Election Guides Offer Insight on Key Issues

With the 2020 Iowa caucuses just over two weeks away, the Academy released 2020 Making Issues Count, offering voters information on key issues of interest in areas of health insurance, Social Security, and more. The election guides give key background information and sample questions for presidential and congressional candidates about financial challenges and public policy reform options for major insurance and retirement systems and programs such as Social Security and Medicare, along with health insurance coverage, lifetime income and retirement risk, climate risk, and long-term care.
"Financial security issues are top-of-mind for millions of Americans in this important election year, and the Academy considers it paramount to provide nonpartisan information about the issues based on our profession's unique expertise in analyzing risk to voters ahead of next month's Iowa caucuses," said Academy President D. Joeff Williams.
P/C Loss Reserve, Life & Health Law Manuals Available
Two Academy law manuals are now available online for immediate purchase and download.
The P/C Loss Reserve Law Manual is designed to help appointed actuaries know the requirements for specific statements of actuarial opinion. The manual contains a compilation of insurance laws relating to P/C loss and loss expense reserves for all 50 states, Washington, D.C., and Puerto Rico. Users can directly access each jurisdiction's laws, making it a useful reference tool for actuaries. Order today.
The Life and Health Valuation Law Manual contains information to help appointed actuaries know the requirements of the NAIC model Standard Valuation Law and the Model Actuarial Opinion and Memorandum Regulation. It includes a concise summary of the valuation laws (and NAIC regulations) of all 50 states, the District of Columbia, and Puerto Rico. Order today.
Public Employment Opportunities
The Academy has long supported government employers who are seeking to hire qualified actuaries. See our Public Employment Opportunity Posting Policy for more information.
Public Policy Activity
Upcoming Events
In the News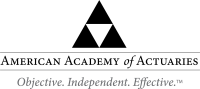 If you would like more information or to contact the Academy, please visit us at www.actuary.org/content/about-us
Follow the Academy on Facebook, LinkedIn, and Twitter. Listen to our podcast.
---
1850 M Street NW • Suite 300 • Washington, DC 20036 • 202.223.8196 • www.actuary.org
Copyright 2020 American Academy of Actuaries. All rights reserved.