This Week, Feb. 3–7, 2020
Read the latest news from the Academy.

Recent Academy Activity, Feb. 3–7, 2020
Academy Releases Year-in-Review Alert
The Academy released its 2019 year-in-review alert, which offers a comprehensive summary of last year's significant regulatory and legislative events at the state, federal, and international levels that are of interest to the U.S. actuarial profession. It includes Academy-related work in the past year in key areas, including flood insurance, climate risk, and terrorism insurance; health care insurance and issues including prescription drug costs, changes to the Affordable Care Act, and Medicare; principle-based reserving for life insurance; Social Security; lifetime income; and many other issues that are carrying into the 2020 election year. Read the Academy alert.
Save the Date: 'Separate Account Products' Life Webinar Set for This Month
The Academy's Life Practice Council will host a webinar later this month, "Separate Account Products," which will offer attendees information about the use of separate accounts in insurance products. Topics will include the history of separate account products in the United States, NAIC model laws and regulations applicable to separate account products, accounting and reporting practices for separate account products, and the effects of insulation in separate accounts. The webinar will be held on Tuesday, Feb. 25, from 1 p.m. to 2:30 p.m. EST. Registration will open soon.
P/C Loss Reserve, Life and Health Law Manuals Available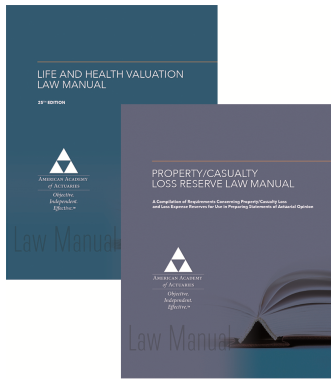 Place your order today. The Academy's two law manuals are available for immediate purchase and download.
The P/C Loss Reserve Law Manual is designed to help appointed actuaries and others know the requirements for specific statements of actuarial opinion. The manual contains a compilation of insurance laws relating to P/C loss and loss expense reserves for all 50 states, Washington, D.C., and Puerto Rico. Users can directly access each jurisdiction's laws, making it a useful reference tool for actuaries. Order today.
The Life and Health Valuation Law Manual contains information to help appointed actuaries and others know the requirements of the NAIC model Standard Valuation Law and the Model Actuarial Opinion and Memorandum Regulation. It includes a concise summary of the valuation laws (and NAIC regulations) of all 50 states, the District of Columbia, and Puerto Rico. Order today.
Public Employment Opportunities
The Academy has long supported government employers that are seeking to hire qualified actuaries. See our Public Employment Opportunity Posting Policy for more information.
Public Policy Activity
Upcoming Events
In the News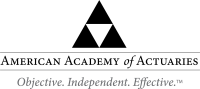 If you would like more information or to contact the Academy, please visit us at www.actuary.org/content/about-us
Follow the Academy on Facebook, LinkedIn, and Twitter. Listen to our podcast.
---
1850 M Street NW • Suite 300 • Washington, DC 20036 • 202.223.8196 • www.actuary.org
Copyright 2020 American Academy of Actuaries. All rights reserved.