This Week, Dec. 6 - 10, 2021
Read the latest news from the Academy.

Keeping You in the Know—Recent Academy Activity, Dec. 6–10, 2021
Academy Hosts Successful P/C Loss Reserve Opinions Seminar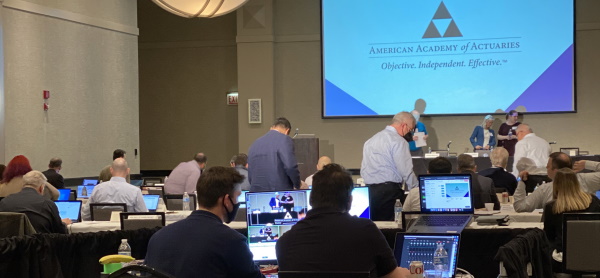 Seminar attendees prepare for a session

The Academy hosted a successful Seminar on Effective P/C Loss Reserve Opinions this week—a two-day hybrid event, with in-person sessions held in Chicago—that provided participants with information on the requirements and instructions for P/C actuaries working on reserve opinions. Sessions covered qualifications, reserve ranges, risk of material adverse deviation, relevant actuarial standards of practice (ASOPs), and responsibilities and recordkeeping. Interactive online discussions on case studies allowed remote participants to engage with and ask questions of the presenters.
Pension Webinar Examines Monetary Policy, Interest Rates
Tuesday's webinar—"What's the Deal With Low Interest Rates? Are They Harming the U.S. Retirement System?"—included discussion of the implications of low interest rates and recent monetary policy. Presenters Evan Inglis and Jerry Mingione looked at how the past decade's low interest rates have been driven by systemic factors such as low growth, aging demographics, and an economic shift toward technology and services, as well as aggressive monetary policy, which has been a key driver of both low rates and high capital asset values. Senior Pension Fellow Linda K. Stone moderated. Slides and audio will be available soon.
Save the date: The next pension webinar, "Funding Public Pension Plans—Theory and Practice," will be held on Jan. 25, 2022. Registration will open soon.
Upcoming Professionalism Webinars to Look at ABCD, USQS
Join the Academy for two upcoming professionalism webinars that will look at issues related the Actuarial Board for Counseling and Discipline (ABCD), and the just-released, soon-to-be-effective revised U.S. Qualification Standards (USQS). Continuing education (CE) credits and continuing professional education (CPE) credits under Joint Board for the Enrollment of Actuaries (JBEA) rules will be available, as will group-registration options.
Next Week—P/C Public Policy Webinar
Join the Academy next Thursday for the "P/C Public Policy Update" webinar, which will look at recent property/casualty issues, including Insurance regulatory developments surrounding diversity, equity & inclusion at the National Association of Insurance Commissioners (NAIC) and with state insurance departments; P/C risk-based capital (RBC); COVID-19's impact on medical professional liability insurance; and a discussion on the past, present, and future effects of the opioid epidemic on workers' compensation insurance. Panelists will be Medical Professional Liability Committee Chairperson Alison Milford, P/C RBC Committee Chairperson David Traugott, and Workers' Compensation Committee Vice Chairperson Derek Jones. Casualty Vice President Lauren Cavanaugh will moderate. The webinar will be held on Dec. 16 from 2 to 3:30 p.m. EST. Register today.
Public Policy Outreach
Social Security Committee member Brian Murphy presented virtually on Wednesday to the California Association of Public Retirement Systems on "Social Security—Financial Challenges and Reform Options." Murphy covered some of the committee's key work, the Academy's Social Security Game, Social Security program reform proposals, individual equity and social adequacy, and the program's financial condition based on the 2021 Trustees Report.
Reminder—Health Equity Work Group RFI Deadline Approaching
A reminder that the Jan. 14, 2022, deadline is approaching for the Health Equity Work Group's (HEWG) request for information (RFI) to solicit input to its work assessing whether and how health actuarial practices and methods affect health disparities. Comments should be submitted via email to healthequityRFI@actuary.org, include the phrase "HEWG Request for Information" in the subject line, and should not include any password-protected attachments. Comments may be sent via conventional mail to: Health Equity Work Group, American Academy of Actuaries, 1850 M Street NW Suite 300, Washington, DC 20036. Please contact Senior Health Policy Analyst Matthew Williams with questions—williams@actuary.org.
Public Employment Opportunities
The Academy has long supported government employers that are seeking to hire qualified actuaries. For more information, see our Public Employment Opportunity Posting Policy.
Public Policy in Focus
Learn more about how the Academy's public policy efforts support the profession, our members, and the public.
Upcoming Events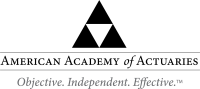 PLEASE DO NOT REPLY TO THIS EMAIL. THIS EMAIL ADDRESS IS NOT MONITORED.
If you would like more information or to contact the Academy, please visit us at www.actuary.org/content/about-us
Follow the Academy on Facebook, LinkedIn, and Twitter. Listen to our podcast.
To update your Academy email communication preferences, please login and update your Academy member profile.
---
1850 M Street NW • Suite 300 • Washington, DC 20036 • 202.223.8196 • www.actuary.org
Copyright 2021 American Academy of Actuaries. All rights reserved.