This Week, Dec. 20, 2021–Jan. 14, 2022
Read the latest news from the Academy.

Keeping You in the Know—Recent Academy Activity, Dec. 20, 2021–Jan. 14, 2022
Editor's Note: This is the first issue of 2022. Academy operations will be closed on Monday, Jan. 17, for Martin Luther King Jr. Day.
Kick-Start Your 2022 Professional Development With Pension & Life Webinars
Join the Academy this month for webinars presented by the Pension Practice Council and the Life Practice Council. Continuing education credit is available.
Academy Funds Diversity Scholarships for Drake Symposium
The Drake Symposium on Insurance, which focuses on insurance and actuarial science, is offering six diversity scholarships funded by the Academy for the April event. Current university students of under-represented backgrounds who are interested in the actuarial profession are encouraged to apply. Recipients must be available to travel to Des Moines, Iowa, from April 8–10. The deadline to apply is Feb. 15; for more information, click here.
Review Your Membership Profile and 2022 Membership Dues
Members can update their profile, subscribe to Academy alerts, and review archived professionalism and public policy webinars via the member login page. Membership dues for 2022 were due on Jan. 1—please click here to pay membership dues online. If you have any questions or need additional information, please do not hesitate to contact the Membership Department at 202-785-6925 or membership@actuary.org.
Health Equity Work Group Extends RFI Deadline to Feb. 15
The Health Equity Work Group (HEWG) has extended its request for information (RFI) deadline by a month, until Feb. 15. The HEWG is soliciting input to its work assessing whether and how health actuarial practices and methods affect health disparities. Learn how to share your input here.
Pension Issue Brief Examines Life Expectancy
The Pension Committee released an issue brief, Interpreting Pandemic-Related Decreases in Life Expectancy, which looks at the issue of life expectancy in the context of Centers for Disease Control and Prevention (CDC) provisional life expectancy estimates.
Academy Groups Send Research, Comments to NAIC on Climate
The Climate Change Joint Task Force submitted a comment letter to the NAIC's Climate and Resiliency (EX) Task Force addressing an exposed proposal by the NAIC for a new climate disclosure, based on the Financial Stability Board's Task Force on Climate-related Financial Disclosures guideline. The comments are based on research conducted by the Academy's Climate-Related Financial Disclosures Work Group, submitted along with the comment letter.
GAO Seeks Nominees for Advisory Committee
The U.S. Government Accountability Office (GAO) has issued two requests for nominations to serve on health policy-related federal commissions. One is for nominations to the Medicaid and Children's Health Insurance Program (CHIP) Payment and Access Commission (MACPAC); nominations are due by Jan. 27. See GAO's Federal Register notice for more information. The other is for nominations to the Medicare Payment Advisory Commission (MedPAC); nominations are due by Feb. 11. See the GAO Federal Register notice for more information. Self-nominations are accepted for both commissions.
New 'Actuary Voices' Features Lisa Slotznick
The latest episode of "Actuary Voices" features Lisa Slotznick, vice chairperson of the Committee on Qualifications and a past Academy Board member and casualty vice president. Slotznick also received an Outstanding Volunteerism Award in 2015. Subscribe to "Actuary Voices" via iTunes, Spotify, or other podcast services. Listen now.
Recently Released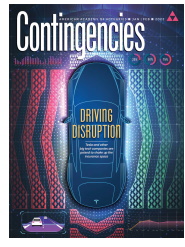 The January-February Contingencies looks at why Tesla and other big tech companies are poised to shake up the insurance space in its cover story, "Driving Disruption," and features the first President's Message from new Academy President Maryellen Coggins.
The December Actuarial Update recaps two Academy professionalism webinars and answers follow-up questions from November's professionalism webinar on self-regulation in the "Professionalism Counts" column.
The Fall/Winter ASB Boxscore covers recent Actuarial Standards Board (ASB) activity, including the ASB's adoption of revisions to Actuarial Standard of Practice Nos. 2, 3, and 22, and shares a look ahead at the ASB's upcoming work in early 2022.
Slides & Audio Available From December's Professionalism Webinars
Slides and audio from December's two professionalism webinars are now available; to access them, please visit the professionalism webinars page.
Academy Alerts
Public Policy in Focus
In the News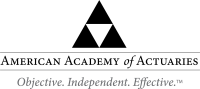 PLEASE DO NOT REPLY TO THIS EMAIL. THIS EMAIL ADDRESS IS NOT MONITORED.
If you would like more information or to contact the Academy, please visit us at www.actuary.org/content/about-us
Follow the Academy on Facebook, LinkedIn, and Twitter. Listen to our podcast.
To update your Academy email communication preferences, please login and update your Academy member profile.
---
1850 M Street NW • Suite 300 • Washington, DC 20036 • 202.223.8196 • www.actuary.org
Copyright 2021 American Academy of Actuaries. All rights reserved.