This Week, Aug. 12 - 16, 2019
Read the latest news from the Academy.

Recent Academy Activity, Aug. 12–16, 2019
One Week Remains to Vote for Academy's Regular Directors
Members have just one more week to vote for regular director positions on the Academy's Board for terms that will begin at the close of the Academy's Annual Meeting. All Academy members eligible as of the July 19 voting eligibility cutoff date should have received the Aug. 8 email from our election vendor, Intelliscan (academy2019@intelliscaninc.net); those without an email address will receive ballots by regular mail. If you haven't seen the email, please check your junk-mail folder.
Online voting will run through Friday, Aug. 23, at 11:59 p.m. EDT. If you need help with or have questions about your ballot, send an email to Keith Weir (kweir@intelliscaninc.com). We encourage members to take part in familiarizing themselves with the Nominating Committee's slate of the newest leaders of the Academy who will help us fulfill our mission to serve the public and the U.S. actuarial profession. Visit the Academy's Board Election Center for more information.
Capitol Forum Webinar Considers National Retirement Policy
The Academy hosted a Capitol Forum webinar this week, "Toward a U.S. National Retirement Policy—A Dialogue on Key Elements for Success," which looked at key issues involving U.S. retirement security and the increasing need for the establishment of a comprehensive national retirement policy that articulates guiding principles for the U.S. retirement system. Eric Keener, chairperson of the Retirement System Assessment and Policy Committee, moderated; presenters represented the Heritage Foundation, the New School for Social Research, and the Bipartisan Policy Center. Slides and audio are available for logged-in Academy members.
Essential Elements paper: Related, the Academy has released a new Essential Elements paper, "Creating a National Retirement Policy," outlining the ways in which a comprehensive national retirement policy could potentially address concerns about retirement security in the United States. Essential Elements is a series designed to make actuarial analyses of public policy issues clearer to general audiences.
Academy Moves Forward Representing the U.S. Profession Internationally
In furtherance of the Academy's updated international strategy to represent the U.S. profession's interests more directly with supranational organizations, the Academy on Thursday sent comments to the International Association of Insurance Supervisors (IAIS) in response to the IAIS' public consultations requests related to the Supervisory Material and to the Holistic Framework for Systemic Risk in the Insurance Sector.
As noted in the letter, "Just as insurance markets differ markedly from one another internationally, so do national requirements for the qualification of actuaries." In addition to providing general comments, the Academy provided several technical suggestions—clarifications and additions—for improving Insurance Core Principle (ICP) 16.
Annual Meeting Reminder—One Month Left for Early Discounts
Earn continuing education credit and learn how actuaries make a difference on public policy/professionalism issues at the 2019 Annual Meeting and Public Policy Forum, Nov. 5-6 in Washington, D.C. Visit our website to learn more about the event and to see what's on the agenda. Early registration discounts are ending soon so make sure to register by Sept. 13 to save.
Public Policy Outreach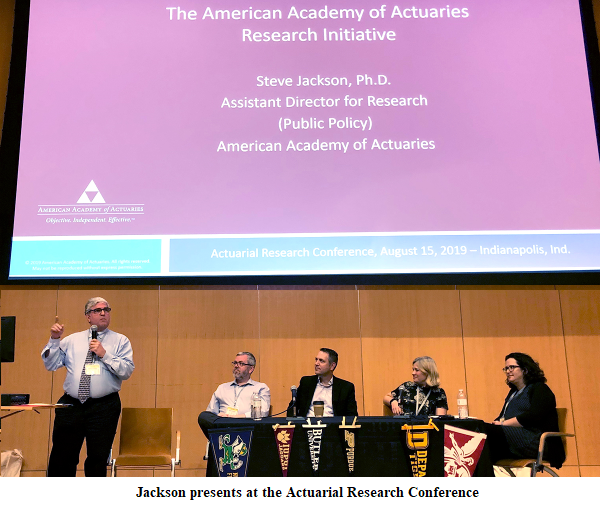 Steve Jackson, Academy assistant director for research (public policy), presented an overview of the Academy's research initiative—its goals, infrastructure, and projects—at the Actuarial Research Conference on Thursday in Indianapolis.
Public Employment Opportunities
The New York State Department of Financial Services is seeking to fill two positions: chief actuary and supervising actuary, casualty. Information about qualifications and how to apply is available at the links; applications must be received by Aug. 23.
The Academy has long supported government employers that are seeking to hire qualified actuaries. See our Public Employment Opportunity Posting Policy for more information.
Alert
Public Policy Activity
Upcoming Events
In the News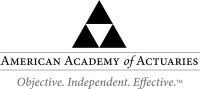 Follow the Academy on Facebook, LinkedIn, and Twitter.

---
1850 M Street NW • Suite 300 • Washington, DC 20036 • 202.223.8196 • www.actuary.org
Copyright 2019 American Academy of Actuaries. All rights reserved.