This Week, April 29-May 3, 2019
Read the latest news from the Academy.

Recent Academy Activity, April 29 – May 3, 2019
Pension Practice Council Members Visit Capitol Hill
Members of the Academy's Pension Practice Council (PPC) visited federal policymakers on Capitol Hill in Washington, D.C., on Monday and Tuesday to discuss current and upcoming legislative and other policy initiatives, including multiemployer pension plan reform, multiple employer plan initiatives, Social Security, and many others. Among the PPC members who made the Capitol Hill visits were Josh Shapiro, Academy vice president, pension; Bruce Cadenhead, chairperson of the Pension Committee; and Scott Hittner, vice chairperson of the PPC.
North American Actuarial Council Meets in Ottawa
Starting Friday, Academy presidential leadership are attending the spring North American Actuarial Council (NAAC) meeting, hosted by the Canadian Institute of Actuaries in Ottawa. Attendees were treated to a Friday morning presentation by a member of the Canadian Senate, the Honorable Pierre J. Dalphond, in the temporary Senate chamber, who provided a very interesting overview of the role and current challenges of the Senate of Canada. Other presentations Friday in conjunction with the NAAC meeting included one from Natalia Moudrak, director of the Infrastructure Adaptation Program at the Intact Centre, and one from Jean-Claude Ménard, former chief actuary of Canada, about the Canadian pension system.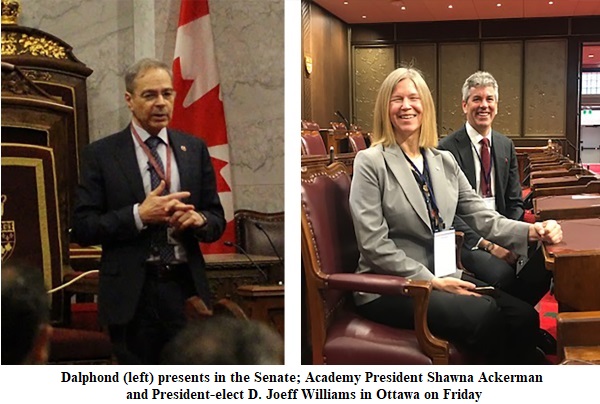 Actuarial Update, Contingencies Released
The April Actuarial Update lead story notes that Tom Campbell has been nominated to be the Academy's next president-elect. Campbell, a life actuary and current Academy secretary-treasurer, has served on the Academy's Board of Directors and on the Committee on Qualifications; has been vice president, life; and has presented at multiple Academy professionalism forums. Also in this issue, more coverage of the Academy's first professionalism webinar of the year, on ethical decision-making; and the "Professionalism Counts" column gives an overview of the Academy's professionalism resources.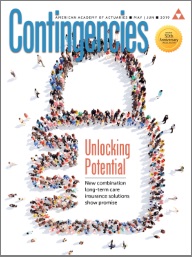 The May/June issue of Contingencies—which marks its 30th anniversary—includes a special section about what the magazine has meant for the profession over the years. The cover story, "Unlocking Potential," explores combination long-term care insurance products and how they might meet the needs of a large—and growing—segment of the population. Other features include "Drilling Down on Drug Prices," examining the lengthy pharmaceutical development pipeline; and "Taking Stock," a look back at the golden age of mutual funds. Other pieces include Academy President Shawna Ackerman's President's Message about maintaining a resilient profession; communicating clearly with the help of ASOP No. 41; and a humorous Commentary piece, "Tales of a Sixth-Grade Actuary."
Next Week—Post-NAIC Life Webinar
Next Friday, the Academy will host a "Life Post-NAIC Update" webinar, at which speakers will give an overview of key life insurance issues discussed at last month's NAIC Spring 2019 National Meeting, including a recap of NAIC Life Actuarial Task Force activity. This webinar will be held on May 10 from noon to 1:30 p.m. EDT. Register today.
Alerts
Public Policy Activity
Upcoming Events
In the News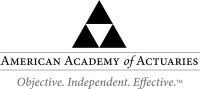 Follow the Academy on Facebook, LinkedIn, and Twitter.

---
1850 M Street NW • Suite 300 • Washington, DC 20036 • 202.223.8196 • www.actuary.org
Copyright 2019 American Academy of Actuaries. All rights reserved.