This Week, November 2–6, 2020
Read the latest news from the Academy.

Recent Academy Activity, Nov. 2–6, 2020
It's a Wrap for the Academy's First Virtual Annual Meeting and Public Policy Forum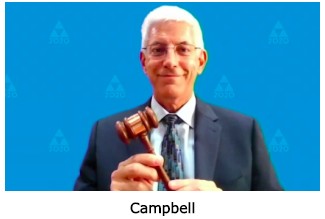 The Academy successfully held its Virtual 2020 Annual Meeting and Public Policy Forum Thursday and Friday. The event featured a number of plenary and practice-area breakout sessions on timely topics. The event also marked the Academy presidential transition with Tom Campbell succeeding D. Joeff Williams to become the Academy's 56th president. In his outgoing remarks, Williams noted one important lesson from a turbulent 2020 is that "remaining 'effective' means pivoting to adapt to change … when the world changes, what's 'effective' changes." See the presidential transition video on our Facebook page.
Attendees had exclusive access to hearing directly from a number of high-profile speakers, including:
Keynote addresses by Charlie Cook of the Cook Political Report, and presidential historian Michael Beschloss, who analyzed this week's presidential and congressional election outcomes. In his first public engagement since the election, Cook gave an overview of the presidential race and congressional results, and Beschloss put the election into historical context. "I'd rather have an accurate result than a fast result," Beschloss said of the ongoing vote counting. "I think those of you who are actuaries would feel the same way about what you do professionally."

National Association of Insurance Commissioners (NAIC) President-Elect and Florida Insurance Commissioner David Altmaier, who discussed—and took questions from attendees about—the NAIC's diversity and equity initiative and other work of the NAIC in this challenging year. The NAIC "welcomed the letter from the Academy [sent in early September] with your commitment to be part of this discussion," Altmaier said. "We look forward to the input and feedback from your members."

In an introduction to the professionalism plenary session on uncertainty, Sheila Bair, past chairman of the Federal Deposit Insurance Corporation, laid the groundwork for a discussion of the fundamental elements of actuarial professionalism as a decision-making framework to approach uncertainty. In a professionalism panel of past Academy presidents (and President-Elect Maryellen Coggins), Tom Terry said that in times of stress like this year's pandemic, "I would argue that this is where our professionalism means even more."

At the closing public policy plenary session on Friday, Anand Parekh, an M.D. and chief medical advisor at the Bipartisan Policy Center, provided observations and lessons learned on the public health response to the COVID-19 pandemic. Parekh outlined some promising vaccine work, but that's "really a 2021 proposition," he said, adding that the time between now and Inauguration Day will be critical, with the pandemic forecast to potentially cause more than 100,000 U.S. deaths in the colder months ahead.

Property/casualty, health, life, and pension breakout sessions covered a range of current public policy issues including cyber risk—on which the Academy released a new paper, Cyber Breach Reporting Requirements—An Analysis Of Laws Across The United States—and COVID-19 and the future of health care delivery and payment (health), implications of the SECURE Act (life) and retirement in the 21st century (pension) and many others.
Volunteers, Service Award Winners Honored
The Academy also presented its annual service awards. Arnold Dicke received the Jarvis Farley Service Award, which honors an actuary whose volunteer efforts on behalf of the Academy have made significant contributions to the advancement of the profession. Dicke received the award for his nearly three decades of volunteer service in more than 35 roles that included vice president, life; a member of the Board of Directors and the Council on Professionalism; as chairperson and a member of many other Academy committees and work groups. See the Facebook Live video (delivered on his behalf by daughter, Nora Gilbert).
Katie Campbell received the Robert J. Myers Public Service Award, which honors an actuary for a single noteworthy public service achievement or a career devoted to public service. She received the award in recognition of her service at the Alaska Division of Insurance, where she advanced the cause of consumer interests. Her work through the NAIC has also been heralded for her conscientious contributions to the development of many life and health actuarial regulatory initiatives that have had application nationwide. Campbell currently serves as actuary at the Interstate Insurance Product Regulation Commission. See the Facebook Live video.
Four Academy members received the Outstanding Volunteerism Award: Christian Benjaminson, chairperson of the Multiemployer Plans Committee; Dave Heppen, chairperson of the Workers' Compensation Committee; Donna Megregian, chairperson of the Life Practice Council's Illustrations Work Group; and Jim Whelpley, a member of the Health Practice Council's ASOP No. 6 Practice Note Work Group.
For more coverage, including the breakout sessions, see the November Actuarial Update, to be published later this month.
Professionalism Outreach
Actuarial Board for Counseling and Discipline (ABCD) member and incoming chairperson David Driscoll provided an overview of the ABCD and its activities and processes to the Actuaries Club of Nebraska's virtual meeting on Nov. 4. The presentation included a look at the precepts of the Code of Professional Conduct and how actuaries can request guidance from the ABCD on actuarial matters they believe may affect their obligations under the Code.
Earn CE at the Pension Webinar on Modeling ASOP, Coming Nov. 17
The Pension Committee of the Pension Practice Council is presenting a webinar, "Practice Note on ASOP No. 56, Modeling: A Discussion of the Exposure Draft," in less than two weeks. Presenters will provide an overview of the recently released exposure draft of the practice note, Modeling—For Pension Actuaries. Continuing education and continuing professional education credit under Joint Board for the Enrollment of Actuaries rules will be available. The webinar will be held on Tuesday, Nov. 17, from 3:30 to 5 p.m. EST. Register today.
Register for December's Virtual Seminar on Effective P/C Loss Reserve Opinions
The Academy's Seminar on Effective P/C Loss Reserve Opinions is designed for your convenience and needs during these challenging times with travel restrictions and stay-at-home remote work. Seminar sessions—to be held on Dec. 9–10 and 14–15—will begin at 1 p.m. EST each of the four days and run through the afternoon. Group registrations are available. Mark your calendars and register today.
Upcoming Events
In the News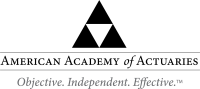 If you would like more information or to contact the Academy, please visit us at www.actuary.org/content/about-us
Follow the Academy on Facebook, LinkedIn, and Twitter. Listen to our podcast.
---
1850 M Street NW • Suite 300 • Washington, DC 20036 • 202.223.8196 • www.actuary.org
Copyright 2020 American Academy of Actuaries. All rights reserved.