This Week, November 16–20, 2020
Read the latest news from the Academy.

Recent Academy Activity, Nov. 16–20, 2020
Editor's note: Due to the upcoming Thanksgiving holiday, the Academy will not publish This Week next week. The next issue will be published in two weeks, on Dec. 4.

Happy Thanksgiving From the Academy
Academy President Tom Campbell's Thanksgiving message to members this week includes a link to "The Meaning of Your Membership," which highlights the Academy's work in 2020, a year which has seen much activity as well as uncertainty. The 2021 membership renewal period has begun; to renew your membership, click here.
Pension Webinar Covers Modeling Practice Note
The Academy's Pension Committee hosted a webinar Tuesday, "Practice Note on ASOP No. 56, Modeling: A Discussion of the Exposure Draft," which offered an overview of the recently released exposure draft of the practice note, Modeling—For Pension Actuaries. The presenters—Pension Committee members Margaret Berger and Grace Lattyak, with Chairperson Bruce Cadenhead moderating—discussed their views of the implications for pension actuaries, outlined by the draft practice note, of the new cross-practice ASOP. A robust case study section featuring all three presenters capped off the session, and they invited questions, which presenters said will help inform the committee as it works toward publishing a final practice note. Comments on the exposure draft are encouraged. Slides and audio of this presentation are available free to logged-in Academy members.
December Professionalism Webinar to Cover Actuarial Communications
Clear and appropriate communication is an essential and fundamental component of actuarial work—so much so that it is emphasized throughout the various elements of our professionalism infrastructure. Communication can also come into play in discussions of qualifications and often arises in cases that come before the Actuarial Board for Counseling and Discipline (ABCD). In this webinar—"Clear as a Bell: Professionalism Aspects of Communication"—experts from the Committee on Qualifications, the Actuarial Standards Board, and the ABCD will discuss communication across the professionalism spectrum.
Presenters will be Tom Campbell, Academy president; Maryellen Coggins, Academy president-elect; and Ken Kent, ABCD member. Brian Jackson, Academy general counsel and director of professionalism, will moderate. The webinar will take place from noon to 1:30 p.m. EST on Monday, Dec. 14. Register now.
Professionalism Outreach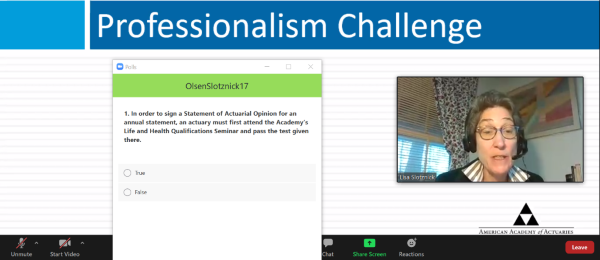 Committee on Qualifications member Lisa Slotznick and Actuarial Standards Board member Cande Olsen kicked off the Southeastern Actuaries Conference/Actuaries' Club of the Southwest Joint Virtual Meeting with a pre-meeting professionalism seminar on Wednesday. They reviewed the professionalism framework housed in the Academy and key developments with life, health, and cross-practice actuarial standards of practice. The session concluded with an interactive "Professionalism Challenge," putting more than 20 professionalism multiple-choice poll questions to the audience followed by an interactive discussion.
COVID-19 Pension Webinar Set for December
This webinar, "The Impact of COVID-19 on Retirement Plans," will cover the short- and long-ranging impacts of COVID-19 on pension plans—public, private, and multiemployer—and their sponsors, recognizing that much is still uncertain. The panel will discuss the stress placed on certain plan sponsors and governments brought on by the current economic environment as a result of the pandemic and the actions taken (or not taken) in response. This webinar will also examine how actuaries might reflect this current and expected experience in response to the financial and demographic considerations for each plan, which will vary widely. The presenters will cover two Academy issue briefs—Impact of COVID-19 on Pension Plan Actuarial Experience and Assumptions, Including Mortality and The Impact of COVID-19 Pandemic on Public Pension Plans (publication forthcoming). The webinar will be held on Tuesday, Dec. 15, at noon EST. Register today.
Save the Date—Pension Webinar on Capital Market Assumptions
Save the date: The Pension Practice Council will host a webinar, "Setting Capital Market Assumptions and the Current Environment," next month. Presenters will discuss setting assumptions and how current markets impact their approaches. The webinar will be held on Thursday, Dec. 10, at noon EST. Registration will open soon.
Coming Soon—Annual Seminar on Effective P/C Loss Reserve Opinions
Register for next month's Seminar on Effective P/C Loss Reserve Opinions, offered this year as a virtual event that will cover the latest requirements for these opinions, including regulatory guidance and actuarial qualification standards. The seminar will include intensive presentations, case studies, and open dialogue and Q&A. Seminar sessions—to be held on Dec. 9–10 and 14–15—will begin at 1 p.m. EST each of the four days and run through the afternoon. Daily and group registrations are available. Don't miss out—register today.
Public Policy Activity
The Lifetime Income Risk Joint Committee submitted comments to the Department of Labor on an interim final regulation with request for comments regarding pension benefit statements and lifetime income illustrations.

Members of the Individual and Small Group Markets Committee and Active Benefits Subcommittee met with the Congressional Budget Office officials Thursday to discuss the impacts of COVID-19 on premiums and enrollment for 2021 and beyond in the private insurance markets.
Upcoming Events
In the News
PropertyCasualty360 reported on Tom Campbell becoming the Academy's new president at the Annual Meeting and Public Policy Forum.

A Brookings Institution report cited the Academy's 2002 issue brief on raising the retirement age for Social Security.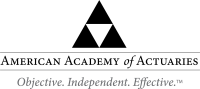 If you would like more information or to contact the Academy, please visit us at www.actuary.org/content/about-us
Follow the Academy on Facebook, LinkedIn, and Twitter. Listen to our podcast.
---
1850 M Street NW • Suite 300 • Washington, DC 20036 • 202.223.8196 • www.actuary.org
Copyright 2020 American Academy of Actuaries. All rights reserved.